Raspberry Baked Brie
This Raspberry Baked Brie is sweet, savory, and perfect for entertaining during the holiday season. It makes an easy and impressive appetizer with minimal prep time!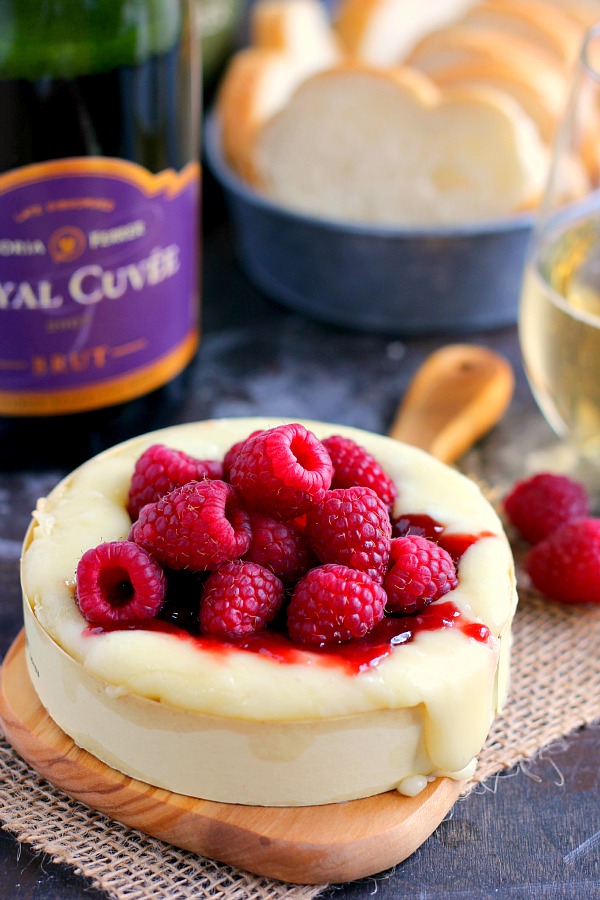 Decorating the Christmas tree, wrapping presents, making cookies, parties, shopping, get-togethers, more wrapping (oh, the wrapping). It's never ending, right?
That is the joy of the holiday season, friends! It's busy and goes by in the blink of an eye, and I wouldn't have it any other way. Except maybe to slow down the time just a little.
I look forward to the hustle and bustle of the holiday season every year, except for the wrapping part. That, I can definitely do without. It often looks like a five-year-old wrapped gifts when I attempt it, so I just leave that all to the hubster, or stuff my gifts into pretty gift bags. I'm obsessed with those, no joke!
But the hubster and I have a pretty good system worked out though, as he doesn't mind wrapping and I thoroughly hate it! So I assemble the gift, get it ready, write out the name tag, and then pass it over to the hubster to wrap. Not a bad deal, right?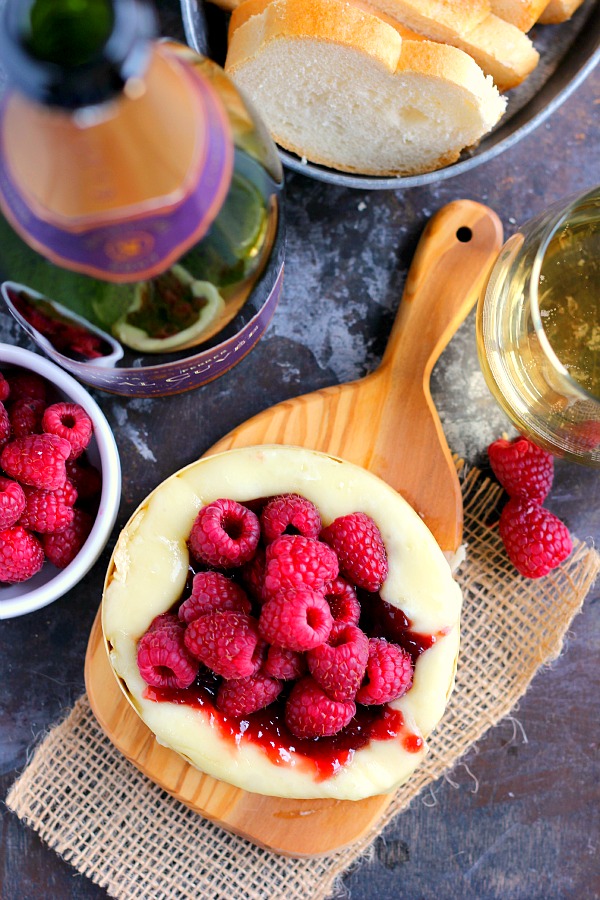 When it comes to parties and get-togethers, it's all me. I love thinking of the perfect appetizers or dishes to serve that capture the flavors of the season. And every year I challenge myself to make a new and unique dish that will a favorite of everyone.
So when I had the opportunity to try Gloria Ferrer Sparkling Wine, I knew this Raspberry Baked Brie would go along perfectly with it. If you've never heard of Gloria Ferrer Caves & Vineyards before, then you're in for a special treat. It's Carneros' original sparkling wine house, which was founded and owned by the Ferrer family of Spain.
And that's why this Raspberry Baked Brie and Sonoma Brut sparkling wine from Gloria Ferrer make the perfect combination. This sparkling wine has a delicate pear and floral notes, with hints of almond. It makes a delicious complement to enjoy with this appetizer.
Like most of my recipes, this Raspberry Baked Brie is an effortless appetizer that's ready in no time.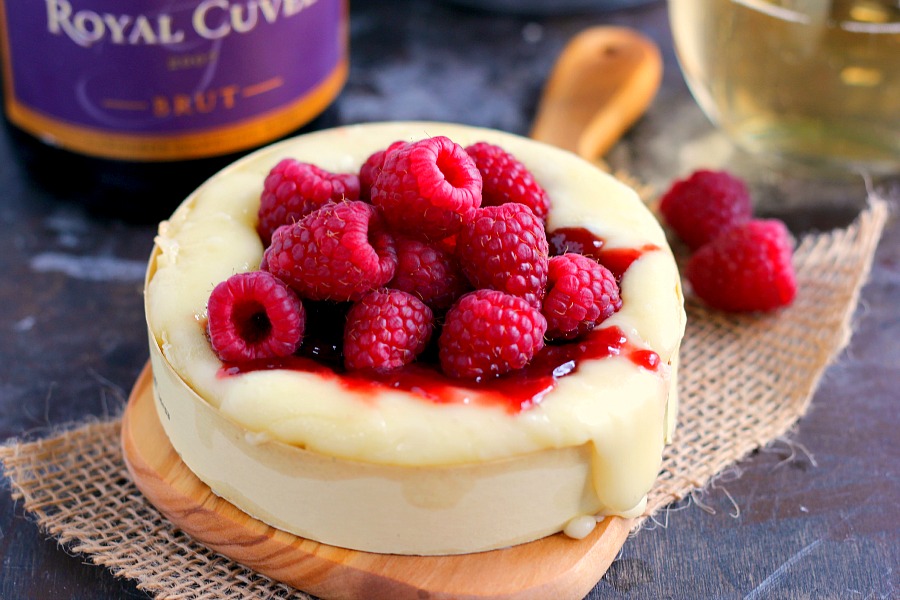 Ingredients for Raspberry Baked Brie
By using just three ingredients, you can have this appetizer prepped and ready to go in less than 20 minutes. And with the holidays being as busy as they are, that's a winner in my book!
Here's what you'll need to make this baked brie with jam:
Brie
Raspberry jam
Fresh raspberries
How to Make Raspberry Baked Brie
This is one of the few baked brie recipes without pastry. Baked brie appetizers often involve wrapping the cheese in puff pastry first. It's too time consuming, in my opinion. Pass!
Here's how to make this easy baked brie:
To start, you'll cut the rind off of the brie and place it into a baking pan. Pop the brie into the oven for about 10 minutes, or until the cheese starts to melt.
When the brie is ready, top it with some raspberry jam, followed by some fresh raspberries.
Serve the baked brie with some french bread or crackers and get ready to dive in.
The Raspberry Baked Brie is bursting with a savory flavor from the cheese, along with hints of sweetness from the raspberries. It will wow your taste buds and impress all of your holiday guests this season!
How Long to Bake Brie
This easy brie appetizer needs to bake for just 10 to 12 minutes, or until the cheese is melted.
What to Serve with Baked Brie
This baked brie with raspberry jam pairs perfectly with almost any crunchy, carby side. A few options include:
French bread slices
Bagel chips
Pretzels
Crackers
Can I Use Another Type of Jam?
You sure can! There are so many jam and fruit pairings that go well with baked brie. Strawberry, blackberry, apricot, you name it!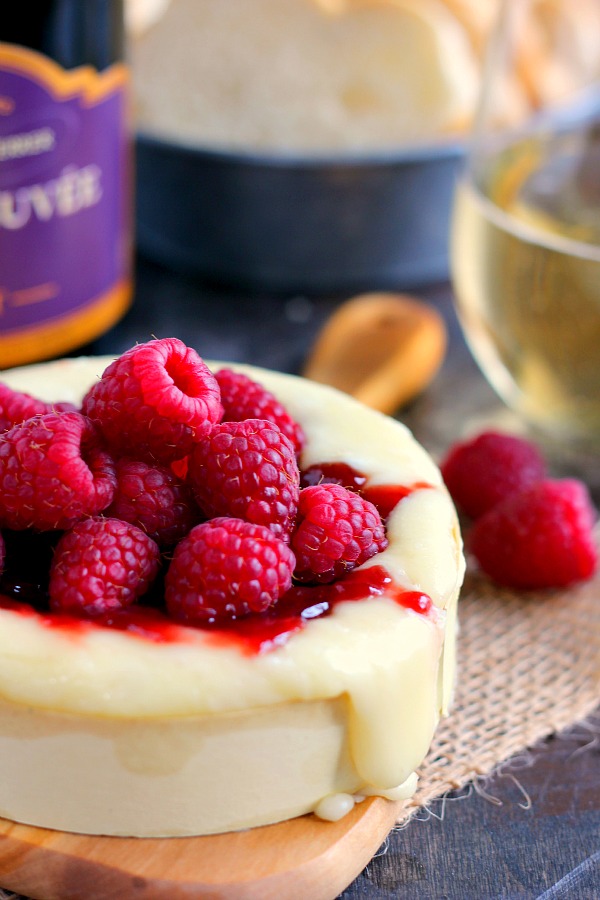 Tips for Making Baked Brie with Jam
Cut the top rind off the brie before baking it. If you don't, it'll be impossible to cut off cleanly once the cheese comes out of the oven.
Wait to add the berries until the brie comes out of the oven. You don't want to cook them!
This baked brie appetizer is best enjoyed immediately.
Looking for more easy appetizers? I've got you covered!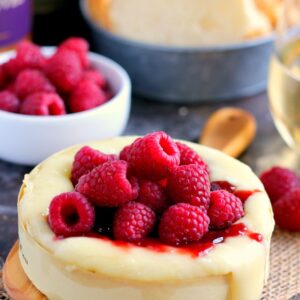 Raspberry Baked Brie
This Raspberry Baked Brie is sweet, savory, and perfect for entertaining during the holiday season.
Ingredients
1 (8 ounce) wheel of brie
3 tablespoons raspberry jam
1 cup fresh raspberries
French bread or crackers for dipping, , if desired
Instructions
Preheat the oven to 375°F. Cut the top of the rind off of the brie and place onto a baking pan, either back into the holder or rind side down.

Bake for 10-12 minutes, or until the cheese starts to melt.

Remove from oven and spread with raspberry jam, then top with fresh raspberries. Serve immediately with french bread or crackers, if desired.
Serving: 1serving, Calories: 164kcal, Carbohydrates: 9g, Protein: 8g, Fat: 11g, Saturated Fat: 7g, Cholesterol: 38mg, Sodium: 240mg, Potassium: 95mg, Fiber: 1g, Sugar: 6g, Vitamin A: 223IU, Vitamin C: 6mg, Calcium: 76mg, Iron: 1mg