Stuffed Pizza Rolls
These Stuffed Pizza Rolls taste just like your favorite pizza, combined into a roll and drizzled with a zesty, buttery glaze!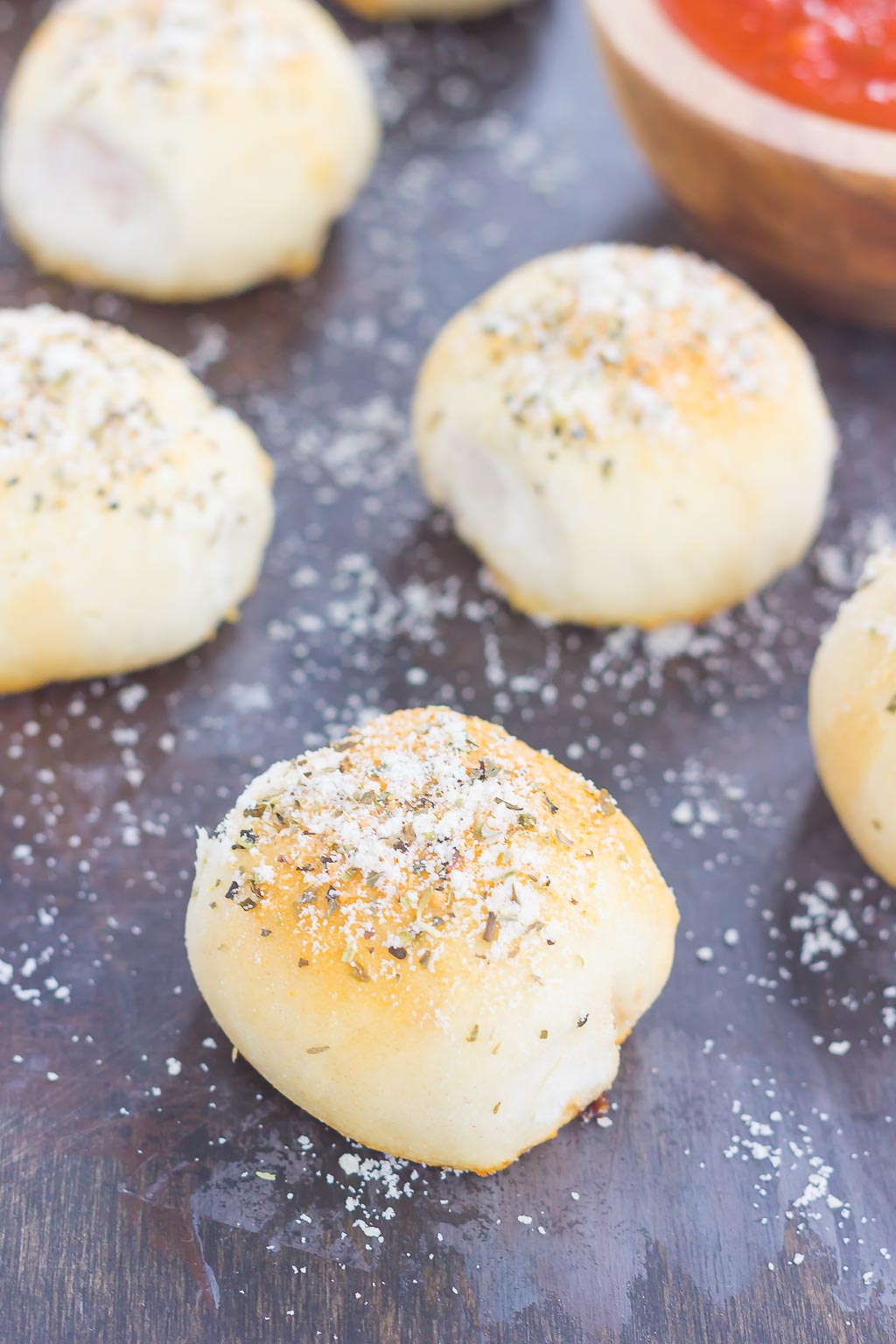 It's a well-known fact in my family that the hubster is a sports addict.
Football, baseball, basketball, and hockey, my husband loves it all! He records various sporting events and talk shows on TV, listens to sports radio, reads ESPN magazine, checks the game scores online, and watches whatever he can to get his sport fix.
If you have a question about sports, chances are the hubster knows it. His knowledge of anything related to the subject continues to amaze me. I always tease him that he missed his calling in life to go into sports broadcasting.
Myself, on the other hand, isn't really into sports. I don't really watch any type of sporting event on TV (unless it's college basketball during the NCAA or the occasional Chicago Bulls game). But other than that, it's a snooze fest for me. While I do enjoy going to sporting events, the rest of it isn't as appealing as it is to my sports-loving husband.
However, I love to create tasty game day snacks. I'll take any excuse that I can to whip up something to munch on! And if I have something delicious to snack on, I can last just a little bit in front of the TV watching football. It's all about the snacks, guys!
So in honor of sports fans everywhere (and those who just love a good snack), I created these homemade Stuffed Pizza Rolls!
Ingredients for Stuffed Pizza Rolls
These Stuffed Pizza Rolls taste just like your favorite pizza, combined into a roll and drizzled with zesty, buttery glaze. And if you're anything like me and can't get enough of pizza, you're going to love these bites!
Refrigerated biscuits
Pepperoni
Mozzarella and Parmesan cheese
Unsalted butter
Italian seasoning and garlic powder
Pizza sauce
How to Make Pizza Rolls
This zesty snack took just minutes to prepare! Here are the basic steps to making stuffed pizza rolls in the oven:
You simply flatten refrigerated biscuits, sprinkle in some mozzarella cheese and pepperoni, and then shape the dough into balls.
You then brush on a delicious seasoning of butter, garlic, and Italian seasoning, and pop these cuties into the oven.
Serve with warmed pizza sauce, and you have yourself a game day winner!
These Stuffed Pizza Rolls are the perfect game snack! Hubster-approved, simple to make, and full of pizza flavor, you'll be baking these bites all the time.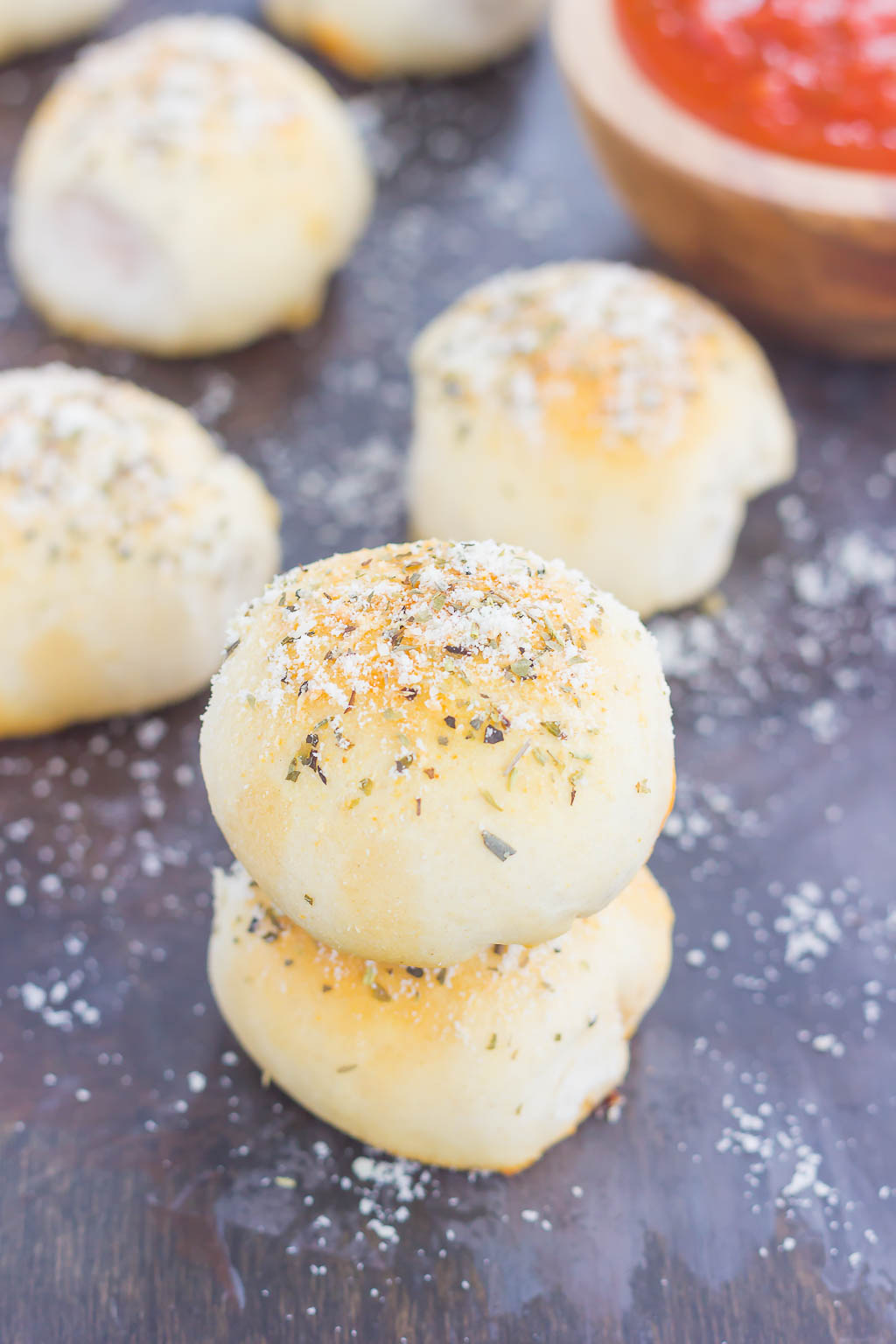 Can I Prepare These in Advance?
These homemade pizza rolls are best enjoyed right away, however leftovers will keep up to four days in the fridge. You can reheat leftover rolls in the microwave.
Recipe Variations to Try
Make it vegetarian: Omit the pepperoni and make cheese-stuffed pizza rolls instead!
Add veggies: You can also add sautéed veggies to the middle of the rolls. You MUST sauté the veggies first to remove some of their moisture, otherwise they'll make the rolls soggy.
Add cheese: The shredded mozzarella and Parm pair well with so many types of cheese. Feel free to customize these rolls as you see fit!
Tips for Making the Best Pizza Rolls
I used refrigerated biscuit dough to make this recipe, but I imagine store-bought pizza dough would also work.
Be sure to pinch the bottom of the rolls shut so none of the cheese filling falls out.
I highly recommend serving these rolls with warm pizza or marinara sauce.
An Easy Video Tutorial for Stuffed Pizza Rolls: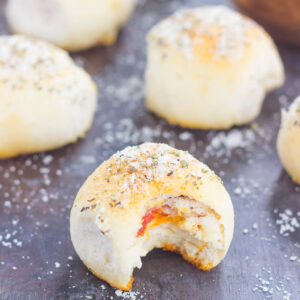 Stuffed Pizza Rolls
These Stuffed Pizza Rolls taste just like your favorite pizza, combined into a roll and drizzled with a zesty, buttery glaze!
Ingredients
1 (16.3 ounce) can refrigerated biscuits
3 ounces pepperoni, , roughly chopped (about ¼ cup)
½ cup shredded mozzarella cheese
2 tablespoon unsalted butter, , melted
½ teaspoon Italian seasoning
½ teaspoon garlic powder
¼ cup grated Parmesan cheese
Pizza sauce for dipping, , if desired
Instructions
Preheat oven to 400°F. Lightly spray a casserole dish or 9-inch pie pan with cooking spray. Set aside.

Flatten each biscuit with the palm of your hand (or rolling pin). Sprinkle mozzarella cheese and pepperoni onto the center of each biscuit.

Working one at a time, pinch the sides of the roll upwards to seal the dough, and then roll into a ball. Place into prepared dish. Repeat with each remaining biscuit.

Combine the melted butter, Italian seasoning, and garlic powder in a small bowl. Lightly brush the butter mixture on top of each roll. Sprinkle Parmesan cheese over the tops.

Bake for 10-12 minutes, or until the rolls brown slightly on top and the dough is firm. Remove from oven and let cool slightly. Serve with pizza sauce, if desired.
Serving: 1g