These Root Beer Popsicles taste just like a classic root beer float, but in frozen form. Filled with sweet root beer and creamy vanilla ice cream, these popsicles are the perfect treat to beat the heat!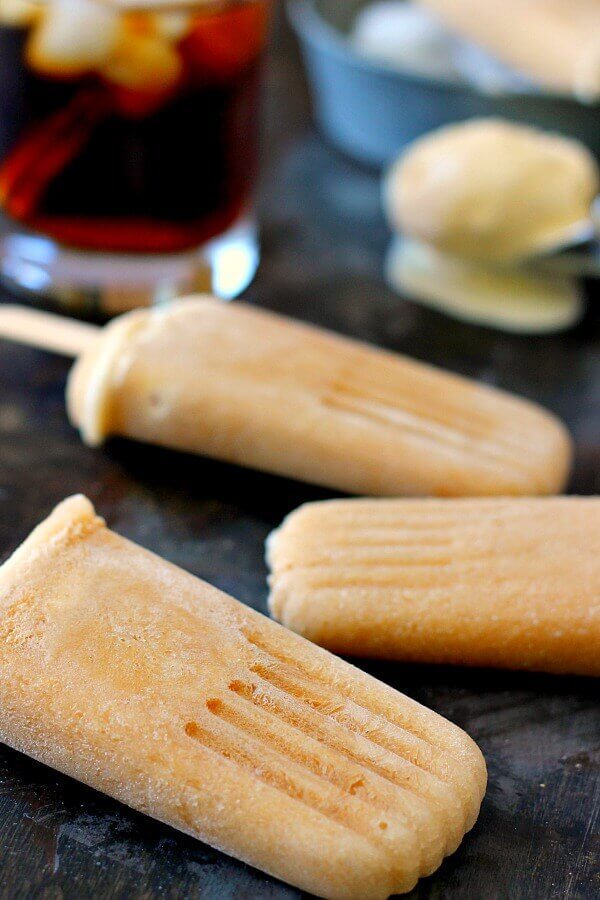 Today we're talking about a classic dessert.
One that involves root beer, ice cream, and a mug. Yep, just in case you couldn't tell by the title of this recipe, it's root beer floats. How do you feel about this dessert-drink? Love 'em, hate 'em, or never remember to make them?
If you chose the latter, then you're not alone. While I do enjoy root beer floats, I can't remember the last time that I actually had one!
When I was little, I remember going to a diner-type restaurant with my parents. Whenever someone would order a root beer float, otherwise known as a black cow, they had to stand on their chair and moo like a cow. Needless to say, I hardly ever ordered a black cow there!
Now that I'm an adult, I still get a craving for root beer every now and then. I don't drink much pop, but there are those times where I just crave a root beer or Dr. Pepper. And especially since it's summer, there's nothing like an icy cold pop to quench my thirst.
So when I was a craving a frozen treat last week, I decided to put my love for root beer and ice cream together and make these root beer float popsicles. Smooth, creamy, and bursting with ice cream, these popsicles will restore your love for root beer.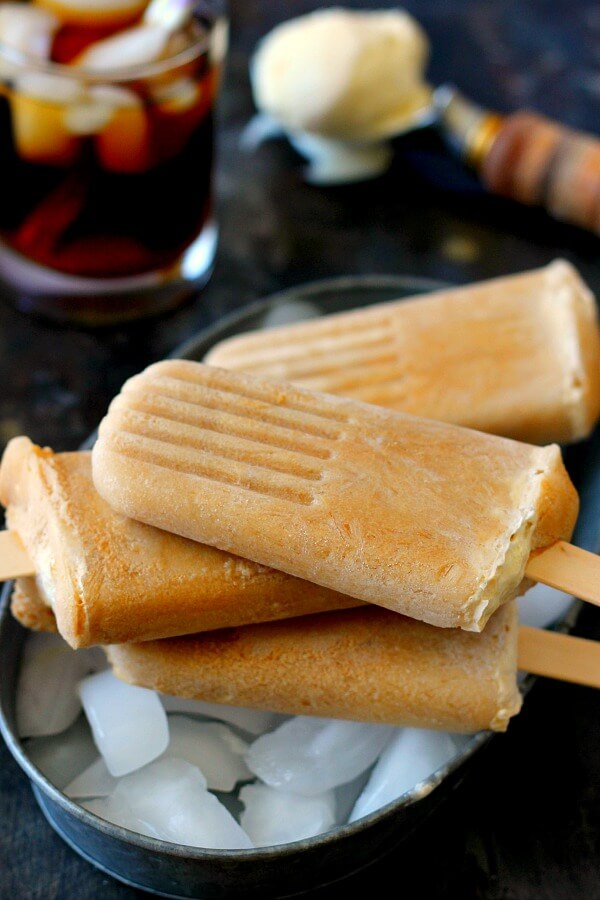 Root Beer Popsicles Ingredients
These frozen pops contain just two ingredients and are a breeze to whip up. You knew that was coming, right?
All you need is some root beer, vanilla ice cream, and popsicle molds.
How to Make Root Beer Popsicles
Pour the root beer into a large container and stick it in the freezer so that it turns very cold (but not frozen) in order to prevent the ice cream from melting when mixed in.
Once the root beer has turned very cold, mix in about 2 scoops of vanilla ice cream. You don't want the ice cream to dissolve, but rather you just want to break it into chunks.
Take about a tablespoon of vanilla ice cream and drop it into the bottom of each popsicle mold. Pour the root beer mixture into each mold, filling almost to the top.
Take another spoonful of ice cream and spread it on the top.
Insert your popsicle sticks and freeze until ready to eat.
One bite and these root beer float popsicles will be your new favorite treat. The smooth root beer and creamy ice cream creatives a popsicle that will have you craving the classic drink all summer long.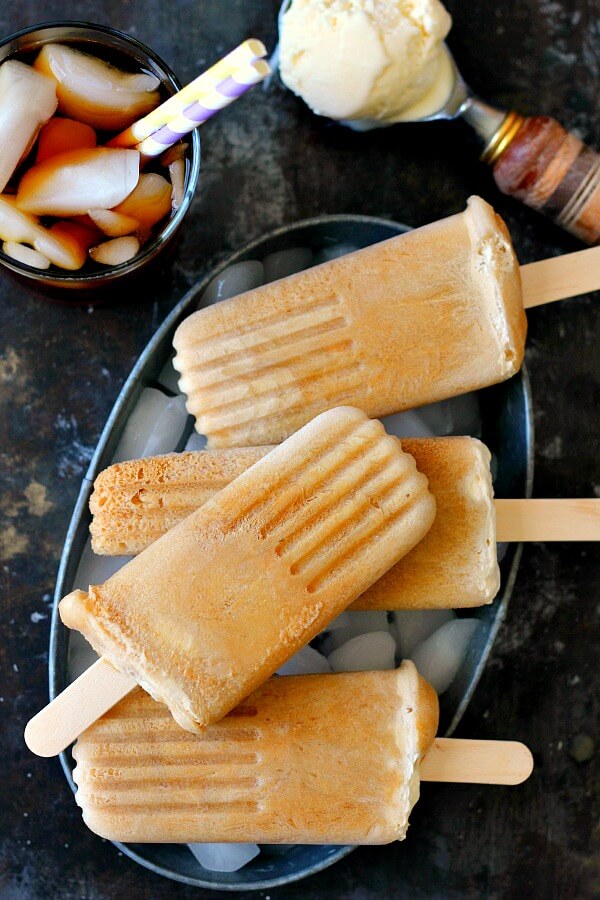 Can I Use Another Type of Pop?
I don't see why not! Try making these as Coke float popsicles, or use cream soda or another favorite pop. The vanilla ice cream pairs well with almost any pop!
Can I Use Diet Root Beer?
I used regular root beer, but you can use any kind you'd like. Just be sure it's a root beer you'd happily drink, otherwise you won't like the flavor of your root beer popsicles.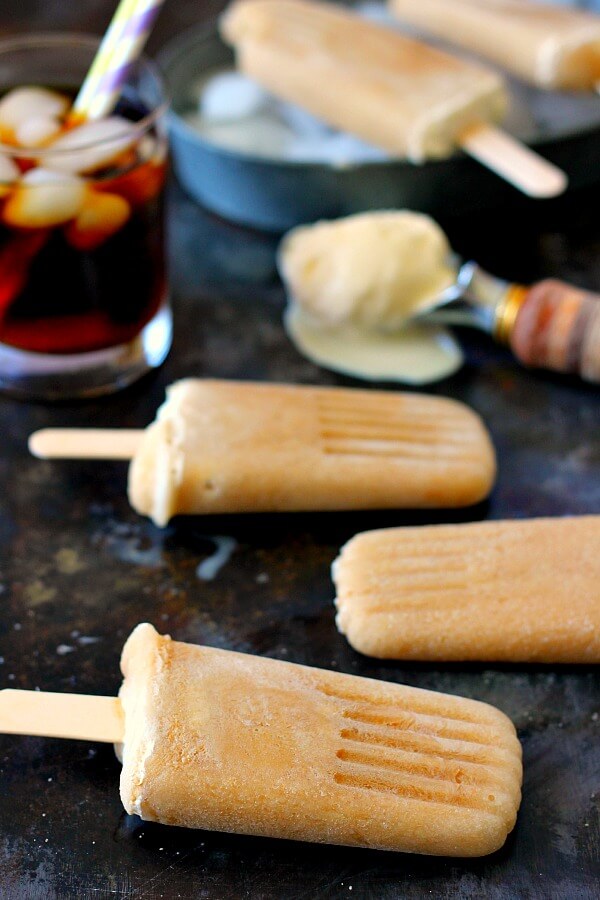 Tips for Making Root Beer Popsicles
I used regular vanilla ice cream, but you can probably use vanilla frozen yogurt or low-fat vanilla ice cream if desired. Again, as long as you like the flavor and texture of the ice cream, you'll probably like it in your pops.
If you'll be serving these root beer popsicles to kids, double check that your root beer is caffeine-free (most brands are, but you never know!).
If you're struggling to get the popsicles out of the molds, briefly run the molds under warm water so the popsicles come out easier.
Looking for more frozen desserts? I've got you covered!
Root Beer Float Pops
These Root Beer Popsicles taste just like the classic drink, but in frozen form. Filled with sweet root beer and creamy vanilla ice cream, these popsicles are the perfect treat to beat the heat!
Ingredients
12

ounces

Root Beer

(or enough to fill 6 popsicle molds)

4

scoops

+ 6 tablespoons vanilla ice cream

, divided
Instructions
In a large bowl, add the root beer and place into the freezer for about 10-15 minutes until it turns very cold (but not frozen). This will reduce the melting of the ice cream once it's added in.

Remove the root beer from the freezer and add in 4 scoops of ice cream. Gently stir to break up the scoops into small chunks.

Pour the root beer mixture into each popsicle mold (slightly less than 3/4 full).

Place 1 tablespoon of ice cream onto the top of each mold. Insert the popsicle sticks and freeze for at least 2 hours, or until frozen.
Notes
See my tips for making these root beer popsicles in the post above. 
Nutrition
Serving:
1
g
|
Calories:
114
kcal
|
Carbohydrates:
16
g
|
Protein:
2
g
|
Fat:
5
g
|
Saturated Fat:
3
g
|
Cholesterol:
19
mg
|
Sodium:
43
mg
|
Potassium:
88
mg
|
Fiber:
1
g
|
Sugar:
15
g
|
Vitamin A:
185
IU
|
Vitamin C:
1
mg
|
Calcium:
59
mg
|
Iron:
1
mg