This Slow Cooker Barbecue Pulled Pork is made with just a few ingredients, almost no prep work, and makes the most delicious meal!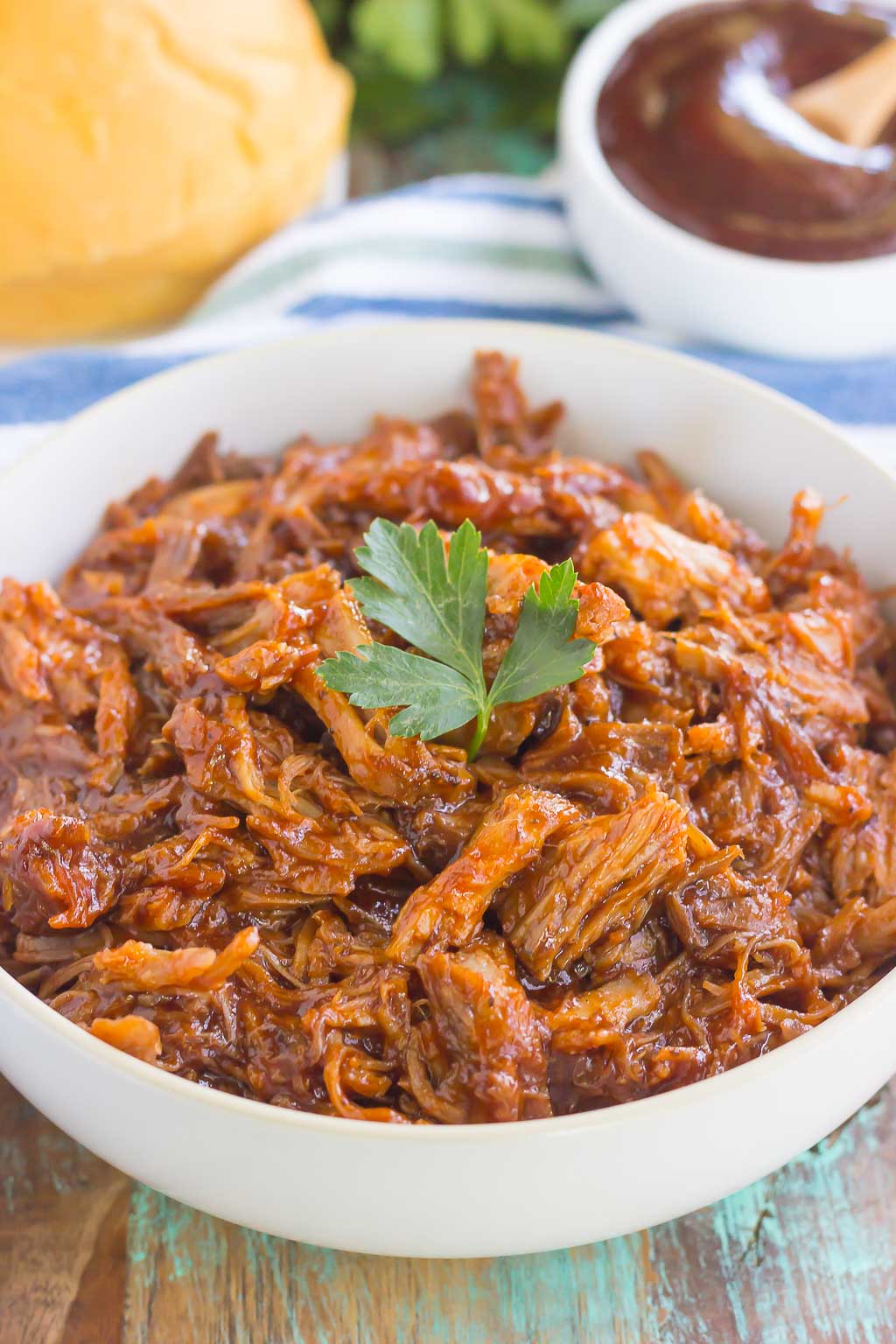 **September 2017 update! This recipe was originally posted in June 2014. i decided that the photos desperately needed updating, so i reshot the recipe (but still kept the ingredient list and directions the same). i also kept the original post/story below that i wrote three summers ago!**
Summer is in full swing, barbeque season is here, and the days feel like they'll never end. I love this time of year, don't you? I am especially excited for the 4th of July! Not only does it fall on a Friday (which means a shortened work week for me), but it's a great way to start the weekend!
The hubster and I are headed to Arlington Park, which is a horse race track, to enjoy some fun in the sun with a few friends. And while we're not big into gambling, it will be fun to watch the races and enjoy a few adult beverages. Days like this make me wish that summer would never end.
I'm also looking forward to enjoying some delicious food over the weekend. Burgers and hot dogs will always be classic summer staples to me, but one other dish that I always associate with the season is barbecue pulled pork. Though it's not something that you just throw onto the grill like a burger, it sure does taste delicious on those hot summer days.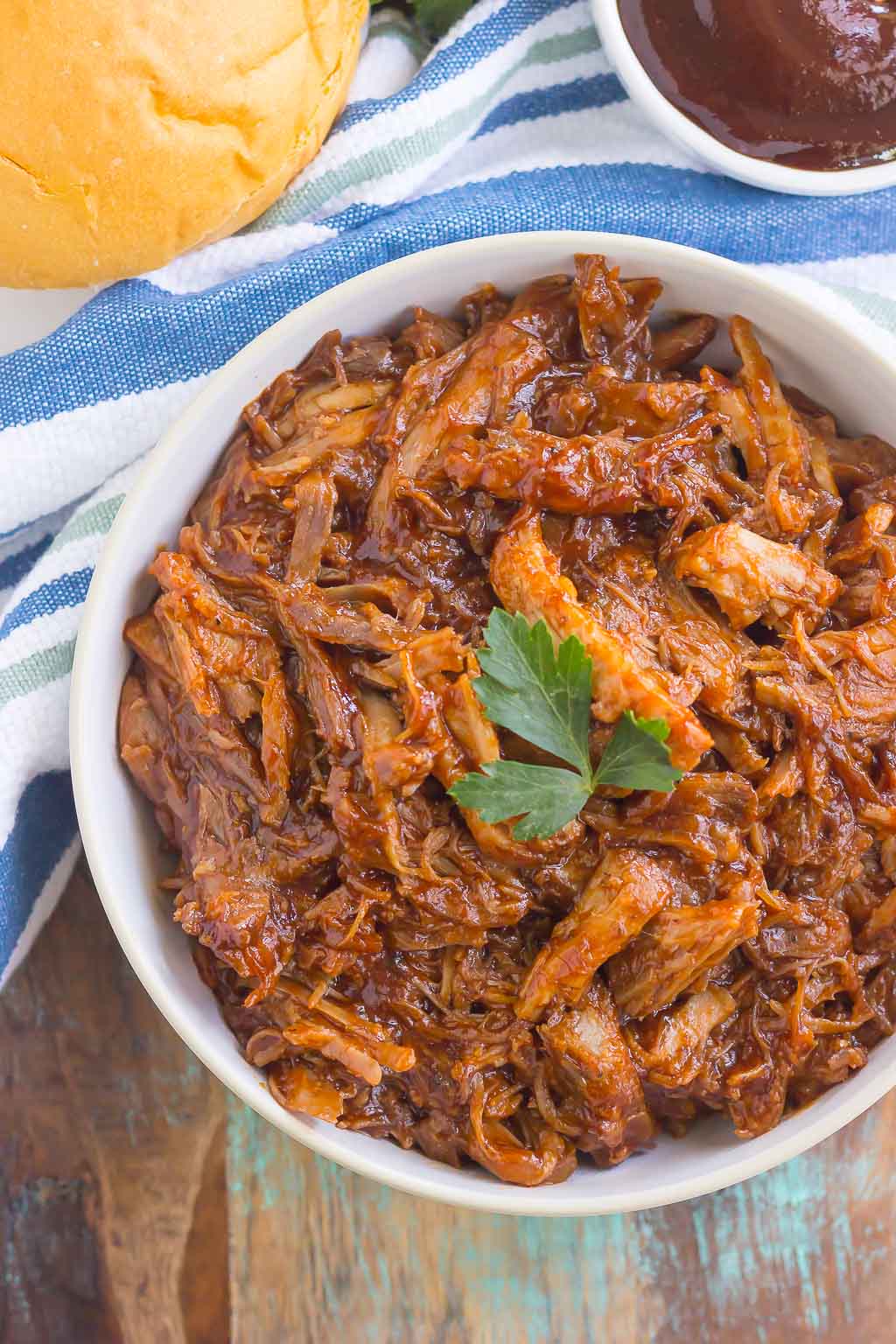 And because I plan on eating some tasty BBQ food over the holiday weekend, I wanted to share my Slow Cooker Barbecue Pulled Pork recipe with you.
I make it in the slow cooker so that it doesn't heat up the house, and because it's just so delicious that way! And guess what? It's just five simple ingredients. That's it! Hardly any prep time, either. So you can throw this pork in the slow cooker, enjoy the summer weather, and pop back into the house when it's almost finished.
This is one of my favorite recipes that I make, and the hubster whole-heartedly agrees. In fact, he often requests that I make this Slow Cooker Barbecue Pulled Pork, which means it's definitely a winner! BBQ + pork = summer amazingness!
I have made this pork with several different cuts of meat, but I find that the boston butt works the best. It's less fatty, meatier, and tastier that other cuts. But if you have pork shoulder or spare ribs, those work just as well.  I usually buy a 2.5 pound cut, which feeds the hubster and I for dinner, plus another two servings for leftovers later in the week.
It's also important that you use a good barbecue sauce, because you want it smothered in the tastiest stuff you can find! My go-to sauce is (and will always be) Sweet Baby Ray's. Man, I love that sauce! So delicious! But use whatever sauce is your favorite kind.
And finally, my secret ingredient (or probably not-so secret since I'm sure you've heard of this before) is root beer.
Yes, you read that right. Root beer marinates the pork for most of the duration of the cooking process, making the pork incredibly moist, tender, and all-around delicious. The root beer brand isn't as important as the barbecue sauce, though. I usually just use a store brand bottle of root beer, because you will end up draining the liquid towards the end.
And don't worry about ending up with pork tasting like root beer. Although it adds a slight tang, it doesn't take like the soda. Now you're intrigued, right? I told you this pork is good!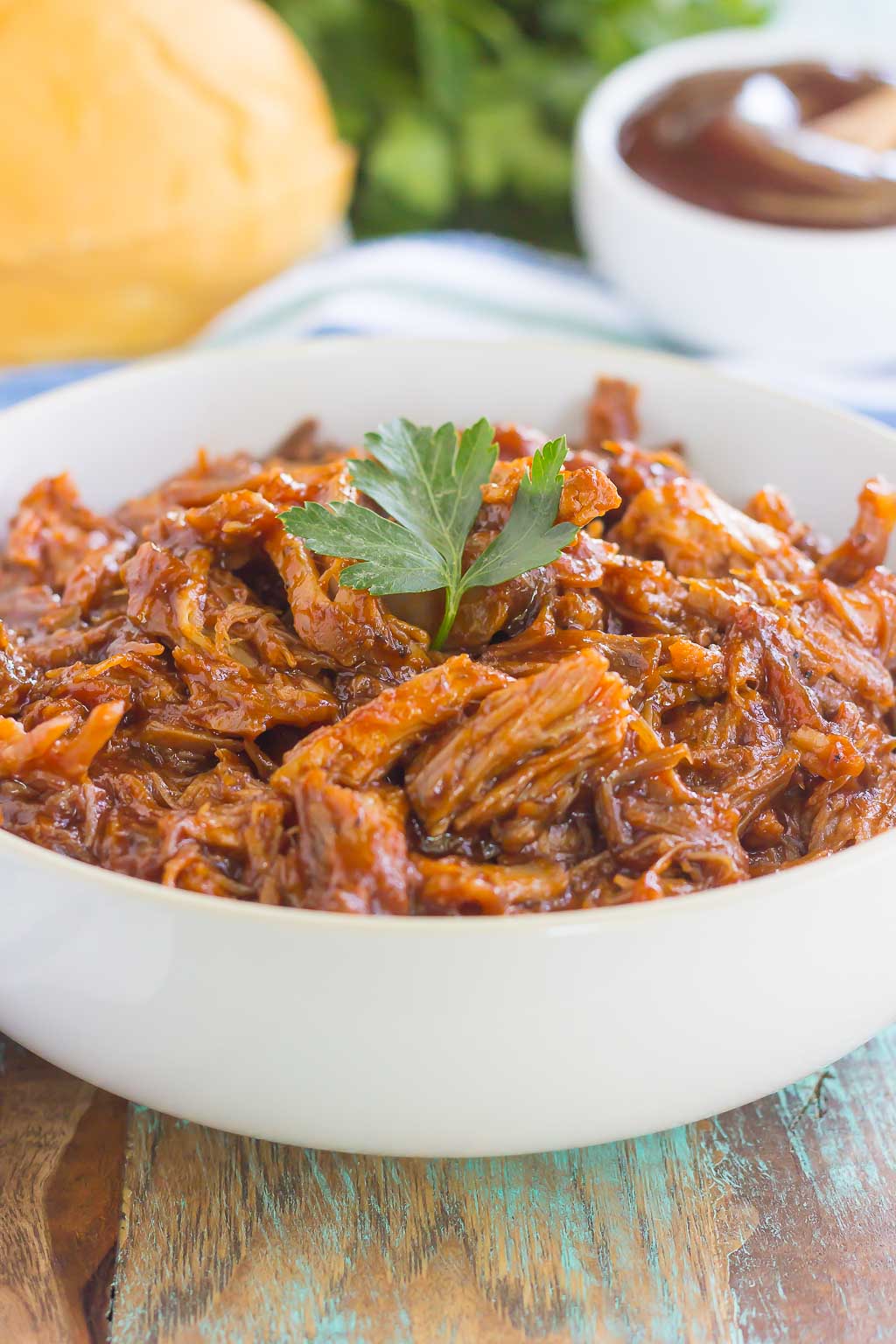 Did I mention how incredibly easy this is to prepare? So easy, guys! You first season your pork with salt, pepper, and garlic powder. Skip the garlic powder if you don't like it, but if you've been hanging around here long enough, you know that I absolutely love garlic! So for me, it's a necessary seasoning!
Don't bother trimming the fat from the pork. I made the mistake when I first made this barbecue pork (years ago) and it took me forever to trim! Little did I know that because the pork will become tender, the fat will just tear away when it's time to shred. So learn from my mistake and don't trim the fat before it's cooked! Trust me!
After the pork is seasoned, place it in the slow cooker. Add enough root beer to cover the pork about ¾ up the sides. Cover and cook on low for 5 ½ hours, or on high for 3 ½ hours.
When the timer rings, drain the root beer from the slow cooker and place the pork on a cutting board. Now it's time to shred! I use two forks to shred the pork, but use whatever you think would be easiest. You will find that the fat magically falls off. Amazing, right? After the pork is shredded, return to the slow cooker. Add in the barbecue sauce, mix well, cover, and then cook for another half hour. And that's it!
Have some toasty buns ready to go and you've got yourself a delicious pulled pork sandwich waiting for you. This tastes delicious for leftovers, too. Definitely a perfect summer (or anytime) meal in our house!
So if you're looking for a delicious summertime dish, why not try this Slow Cooker Barbecue Pulled Pork? Moist, tender, and full of flavor, this is guaranteed to be a hit with everyone!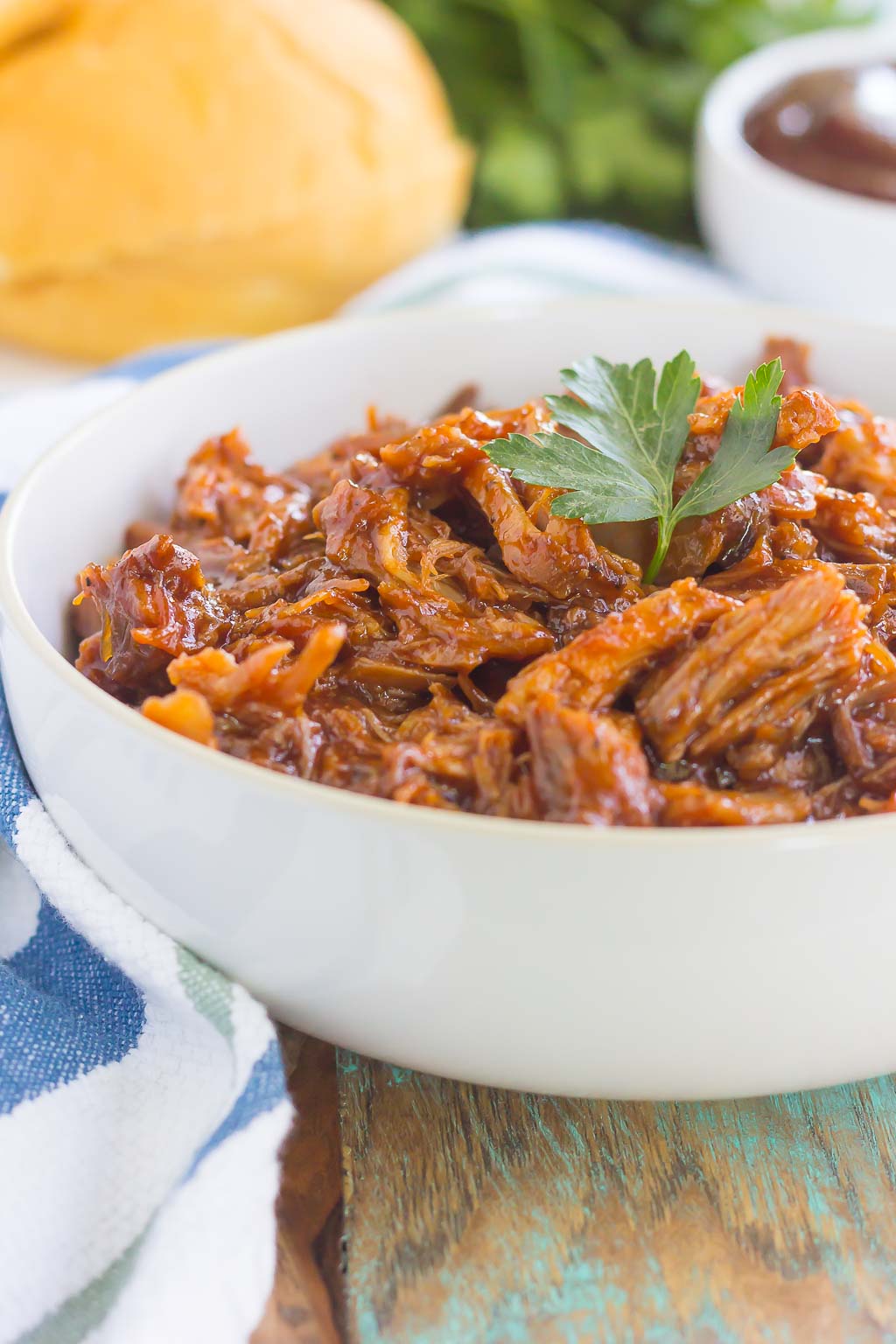 subscribe to my youtube channel to see how easy this recipe is to make!
Looking for more slow cooker recipes? I've got you covered!
Slow Cooker Barbeque Pulled Pork
This Slow Cooker Barbecue Pulled Pork is made with just a few ingredients, almost no prep work, and makes the most delicious meal!
Total Time
4
hours
5
minutes
Ingredients
2½

pounds

Boston butt pork roast

pork shoulder or spare ribs works well, too

1

teaspoon

garlic powder

½

teaspoon

salt

½

teaspoon

black pepper

4

cups

root beer soda

4-5

cups

barbecue sauce

any kind
Instructions
Line slow cooker with a slow cooker liner or lightly grease with non-stick cooking spray.

Season pork on both sides with garlic powder, salt, and pepper. Place pork into slow cooker. Pour root beer over pork, ensuring that it covers pork ¾ of the way up sides.

Cover and cook on low for 5 ½ hours or on high for 3 ½ hours.

After pork is cooked, remove from slow cooker and place onto cutting board. Shred pork using two forks. Discard any fat.

Drain root beer from slow cooker and place shredded pork back into it. Pour barbecue sauce over pork and mix well. Cover and cook on low for another half hour. Serve on toasty buns, if desired.
Notes
I found that the boston butt cut of pork works best for this recipe, but pork shoulder or spare ribs will work just as well.
I used Sweet Baby Ray's barbeque sauce, but any kind will do. Just be sure to pick a kind that you like, as this will make or break the taste of your pork!
The brand of root beer doesn't matter, as you will end up draining all of the liquid from the pork when it's finished cooking.
Nutrition
Serving:
1
serving
|
Calories:
447
kcal
|
Carbohydrates:
71
g
|
Protein:
27
g
|
Fat:
6
g
|
Saturated Fat:
1
g
|
Cholesterol:
71
mg
|
Sodium:
1734
mg
|
Potassium:
762
mg
|
Fiber:
1
g
|
Sugar:
60
g
|
Vitamin A:
320
IU
|
Vitamin C:
1
mg
|
Calcium:
59
mg
|
Iron:
2
mg