Banana Bread Granola
This Banana Bread Granola is crunchy, hearty, and tastes just like banana bread! It's the perfect breakfast or snack to keep you full and satisfied!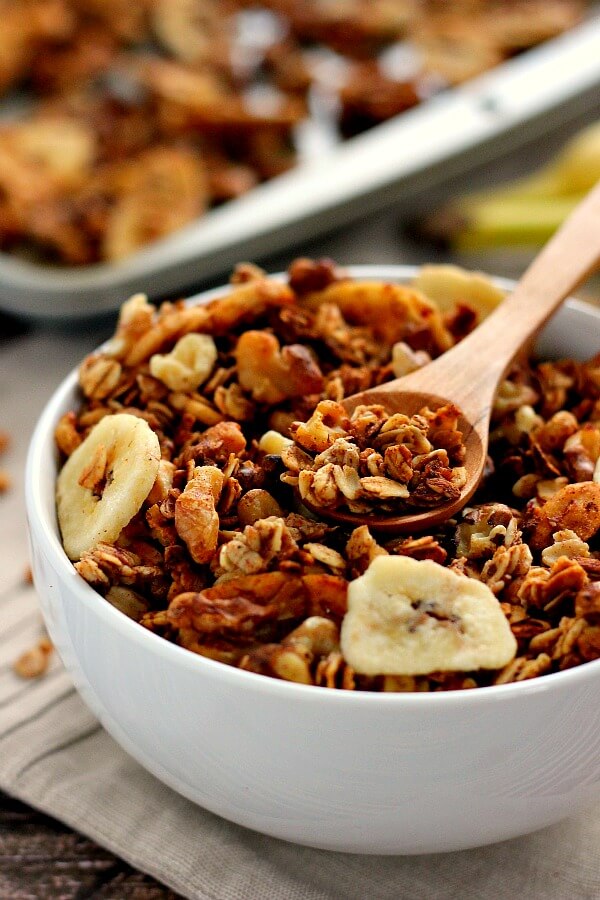 Bananas are one of my favorite fruits to bake with. I love the sweet taste and flavor that it gives to this baked oatmeal and peanut butter banana bread. And because we always have some overripe bananas sitting on our kitchen counter, I'm constantly thinking of new recipes to make.
The hubster eats a banana just about every day, but once they start turning brown, he won't touch them. So that's when I hoard those overripe ones for baking. After all, the dark the better, right? And lately, the hubster has been ignoring a lot of overripe bananas, so I've been overflowing with ones to use for baking.
And after I made my
Baked Banana Bread Oatmeal
, I just couldn't get the sweet and hearty flavors out of my mind. Most food bloggers don't make a recipe more than once or twice, but I've made this breakfast three times already. I love the combination of oats and bananas together, so it's an automatic winner in my book.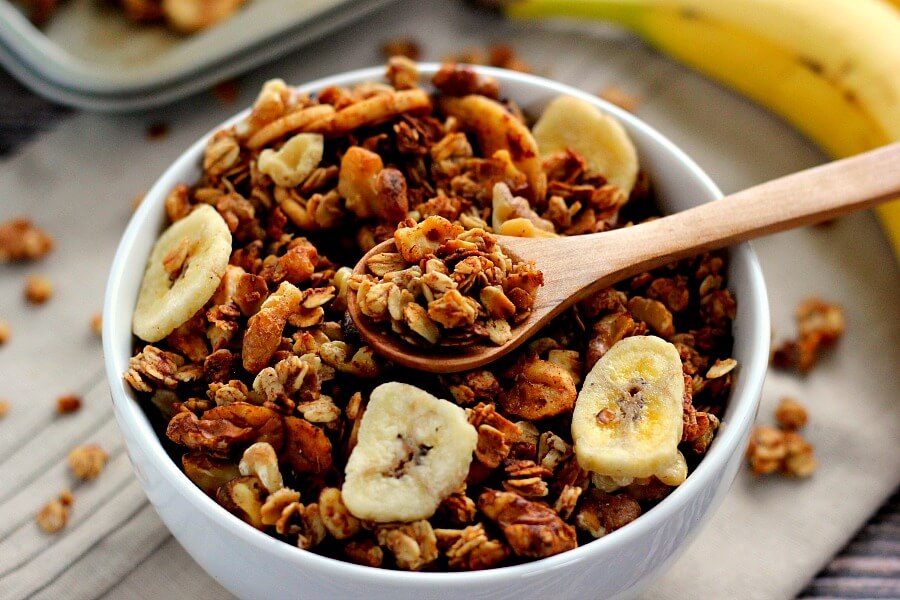 So when I was looking at those brown bananas last weekend, my mind immediately jumped to granola. I absolutely love taking on the challenge of creating new granola combinations. But since it's been a while since I made a batch of granola (this pumpkin spice kind was my last granola creation) I decided that it was time to get creative again.
This Banana Bread Granola is crunchy, hearty, and tastes just like banana bread. With a combination of oats, walnuts and banana chips, this granola is jam-packed with banana flavor and so easy to make. If you're banana lover like myself, then this was made for you!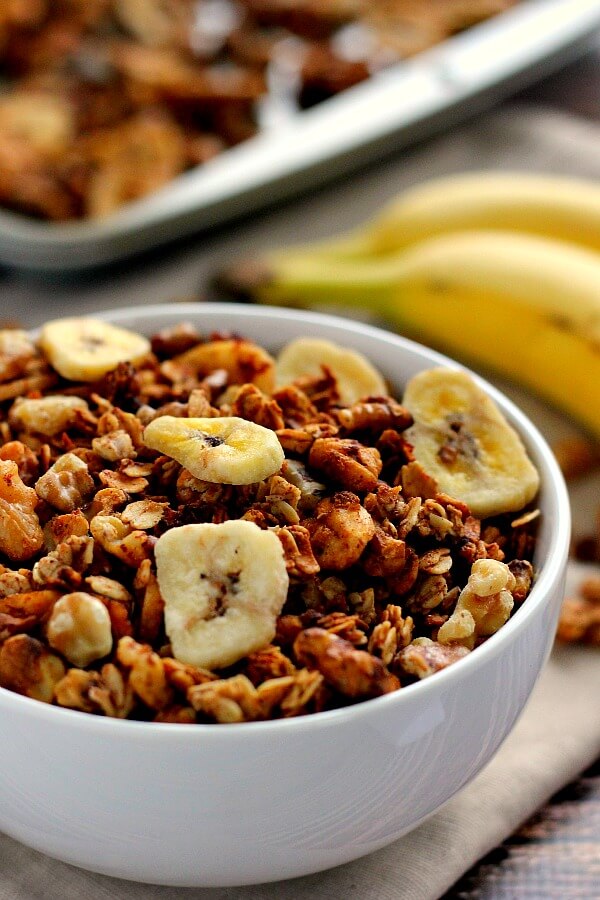 If you've ever made granola before, you know that it can sometimes be temperamental!
I've had my fair share of recipe failures, mainly by adding in to much of a liquid ingredient or cooking it for too long. But I'm happy to report that I perfected this Banana Bread Granola! It has just the right amount of flavor, combined with healthy ingredients, to give you that delicious banana bread taste.
And the best part is that this Banana Bread Granola is so easy to make!
It's also very versatile, so if you don't like walnuts, feel free to swap them out with almonds or pecans. The dried banana chips also give this granola a delicious twist and crunch. So if you like these chips, then they're a must for this granola.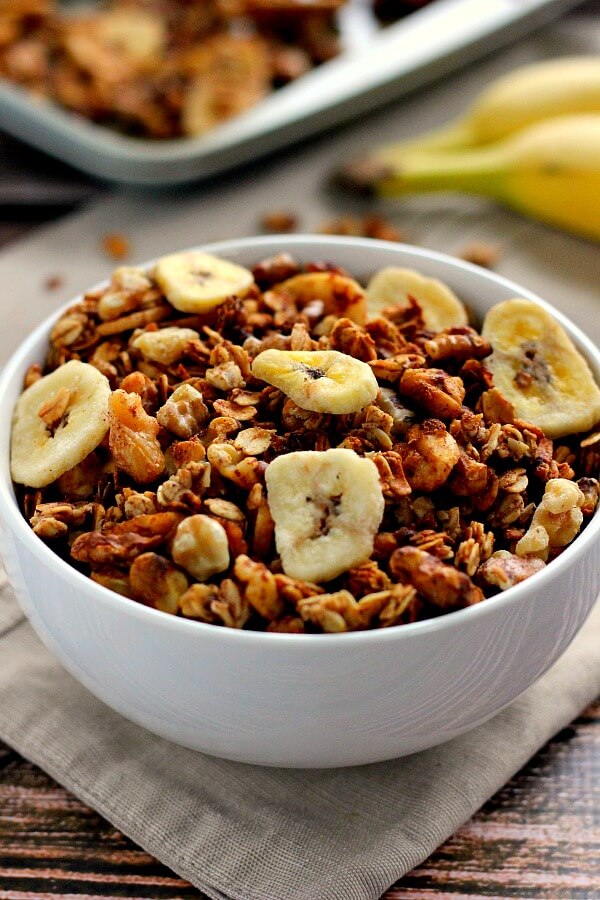 It's important to let this Banana Bread Granola cool completely on the baking pan once you take it out of the oven. It will continue to crisp up as it cools, resulting in the perfect crunch and texture.
One bite and I was hooked! This granola literally tastes like banana bread, but in a healthier, crunchier form. I literally was eating this by the handful, as I just couldn't get enough of the fresh taste.
This Banana Bread Granola is the perfect treat to munch on or to sprinkle on some yogurt or use as a delicious cereal. So if you always have those overripe bananas staring back at you or love banana bread, then this granola is perfect for you!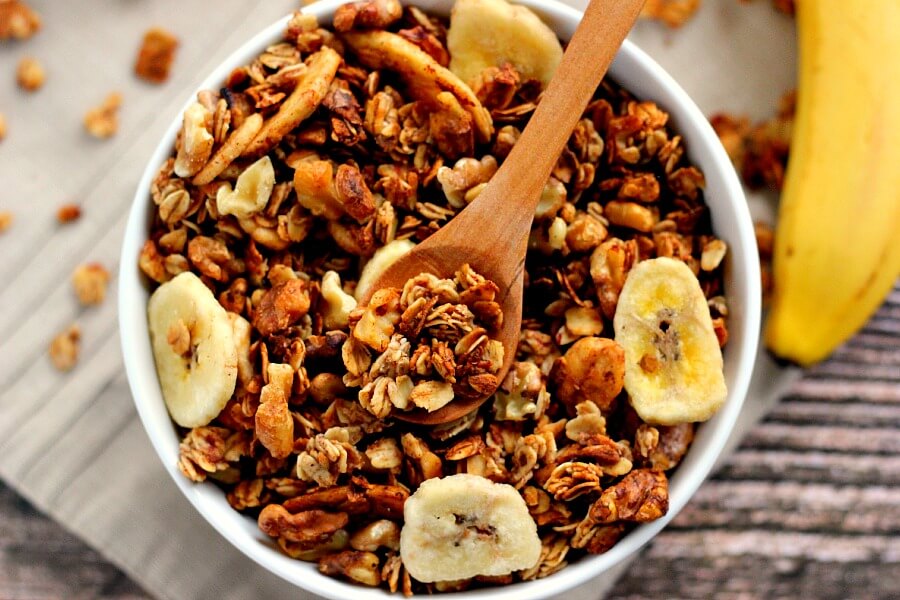 Looking for more granola recipes? I've got you covered!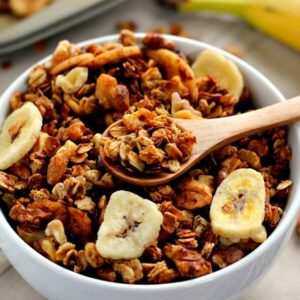 Banana Bread Granola
This Banana Bread Granola is crunchy, hearty, and tastes just like banana bread.
Ingredients
3 cups old-fashioned oats
¾ cup walnuts, chopped
1½ cups dried banana chips
½ tablespoon ground cinnamon
½ teaspoon salt
Dash of nutmeg
1½ large banana, mashed
¼ cup melted coconut oil
¼ cup honey
2 teaspoons vanilla bean paste, or vanilla extract
Instructions
Preheat oven to 350°F. Line a large baking pan with parchment paper. Set aside.

In a large bowl, combine the oats, walnuts, banana chips, cinnamon, salt, and nutmeg. Set aside.

In a medium bowl, combine the mashed banana, coconut oil, honey, and vanilla. Stir until well blended.

Add the wet mixture to the oats and mix until thoroughly combined. Spread oat mixture onto baking pan in an even layer.

Bake for 25-30 minutes, stirring halfway through, until granola is browned. Remove from oven and let cool completely on baking pan. Store in an airtight container at room temperature.
Notes
Granola will keep in an airtight container for up to three weeks.
Serving: 1g, Calories: 309kcal, Carbohydrates: 37g, Protein: 5g, Fat: 17g, Saturated Fat: 9g, Sodium: 119mg, Potassium: 263mg, Fiber: 5g, Sugar: 15g, Vitamin A: 22IU, Vitamin C: 2mg, Calcium: 28mg, Iron: 2mg