Strawberry Mousse
This Strawberry Mousse is a smooth and creamy dessert that is made with just four simple ingredients. Topped with a fresh strawberry this light and easy dessert is a delicious treat!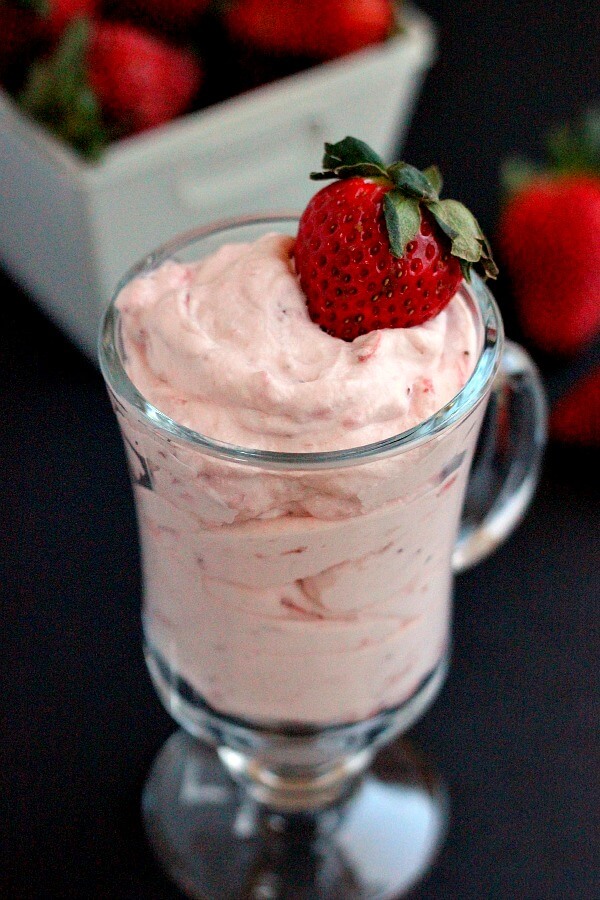 You could say that I'm on a bit of a strawberry kick right now. First, I made this strawberry sauce and now I'm whipping up this homemade strawberry mousse. I hope you like strawberries, friends! And if you don't, then we can't be friends. Of course, I'm only joking, and I promise to share some non-strawberry recipes next week!
But if strawberries are the name of your game, then I've got another winner for you. This strawberry mousse is smooth, creamy, and made with just four ingredients. It's subtly sweet and the perfect dessert for the warm weather ahead of us and all things having to do with spring.
And if you've been hanging around here long enough, then you know I'm a big fan of no-bake desserts. This peanut butter cheesecake and these cherry pie bites have been a hit with both the hubster and you guys. So naturally, it was time for me to create another no-bake dessert.
This fresh strawberry mousse is perfect to eat with just a spoon (my favorite) or to use as a dip for brownies, cookies, and pretty much everything in between. The light and fluffy texture, combined with a burst of strawberries, will be just the thing you need to brighten up your day.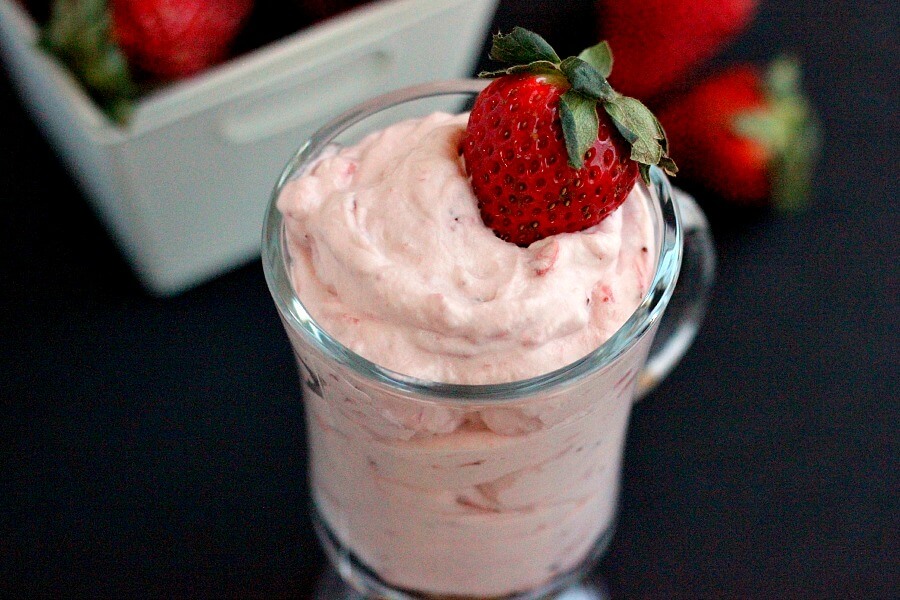 Strawberry Mousse Ingredients
Unlike my cheesecakes, this easy strawberry dessert is not made with any cream cheese. I kept it simple and delicious, only using the following:
Heavy cream
Powdered sugar
White sugar
I adapted this mousse from my Whipped Strawberry Delight recipe and it couldn't have turned out more delicious! It's decadent an easy recipe for those strawberry lovers out there.
And when I say this Strawberry Mousse is easy to make, I really mean that. With just four ingredients, how could it not be?
How to Make Strawberry Mousse
Here's the deal! This strawberry mousse dessert takes just 10 minutes to prep, then it needs to hang out in the fridge to set.
Whip some heavy cream until it forms stiff peaks.
Add in some powdered sugar.
Once that's all set, gently fold in the strawberry sauce.
Refrigerate the Strawberry Mousse for at least an hour so that it can firm up. Once it's ready, feel free to indulge!
Can I Use Frozen Strawberries?
No, I recommend using fresh strawberries to make this easy strawberry dessert. Fresh berries will be sweeter and the texture will be better.
Can I Prep Strawberry Mousse in Advance?
Not really. I recommend eating this homemade strawberry mousse the day you make it. The whipped cream becomes less light and fluffy the longer it sits in the fridge.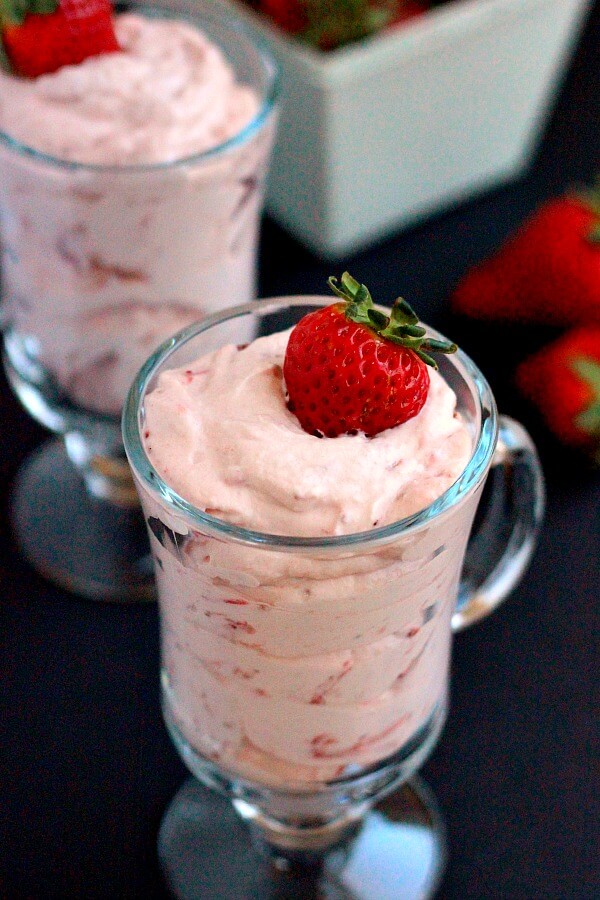 Tips for Making Strawberry Mousse
To make this dessert, I used my fresh strawberry sauce as the main component. But if you're pressed for time or don't want to make the sauce, feel free to use some pureed strawberries instead. But go for it and make the strawberry sauce, it literally takes just minutes!
Don't skip the chill time when making this fresh strawberry dessert. If you don't chill the mousse dessert before serving it, it won't be the right texture!
This strawberry mousse is best enjoyed the day it's made, but leftovers will keep up to 2 days in the fridge.
Looking for more strawberry recipes? I've got you covered!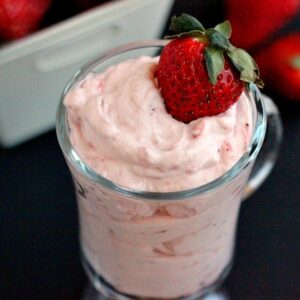 Strawberry Mousse
This Strawberry Mousse is smooth, creamy, and made with just four ingredients.
Ingredients
2 cups heavy whipping cream, (make sure it's cold)
3 tablespoons powdered sugar
½ teaspoon vanilla bean paste, (or vanilla extract)
1 cup Fresh Strawberry Sauce, (alternatively, you can use 1 cup pureed strawberries)
Instructions
In a large bowl, beat cream with an electric hand mixer or stand mixer with fitted paddle attachment until stiff peaks form, about five minutes.

Add in sugar and vanilla and mix well. Gently fold in strawberry sauce.

Spoon mousse into small bowls or glasses, filling about ½of the way full. Repeat with the rest of servings. Refrigerate for at least one hour.

Remove from refrigerate and garnish with additional strawberries, if desired.
Serving: 1serving, Calories: 652kcal, Carbohydrates: 66g, Protein: 3g, Fat: 44g, Saturated Fat: 27g, Cholesterol: 163mg, Sodium: 63mg, Potassium: 133mg, Fiber: 1g, Sugar: 30g, Vitamin A: 1765IU, Vitamin C: 12mg, Calcium: 82mg, Iron: 1mg