I think it's safe to assume that I love apples. From my cinnamon applesauce, glazed apple oatmeal cookies, apple cinnamon muffins, and apple butter (coming soon!), this delectable fruit screams fall to me. Sure, I'll eat apples any time of the year, but they seem to taste even better when the leaves start changing and the weather gets cooler. Agreed?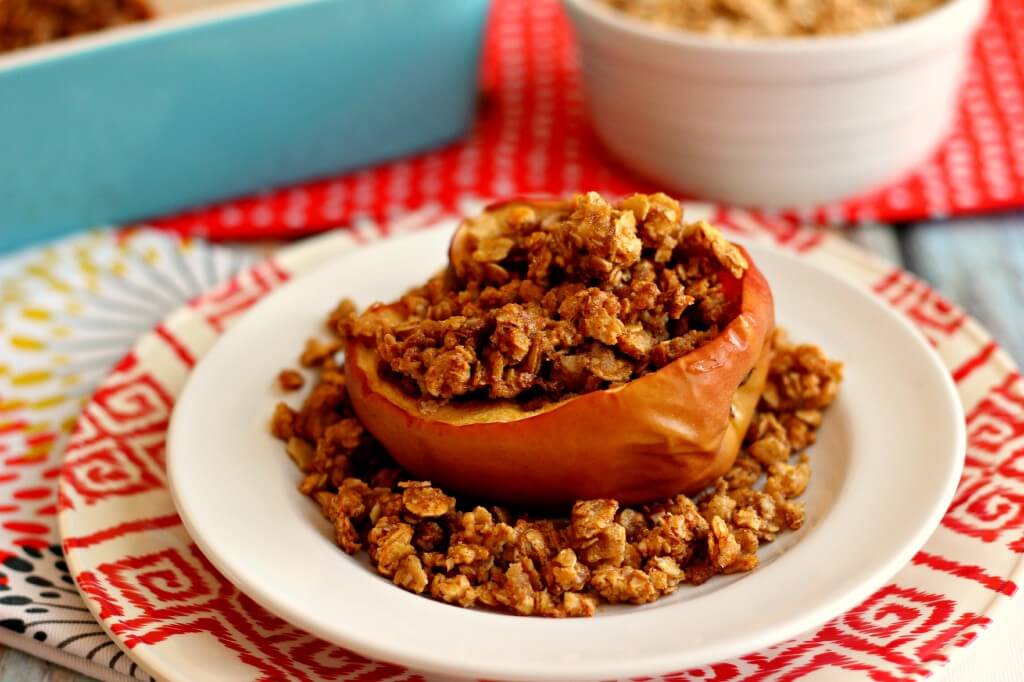 Well, pull up a chair, pour some coffee, and keep on reading because you're going to love my newest apple creation! Paula Dean, one of my favorite cooks, inspired this recipe. And it's definitely on my top list of seasonal favorites! Baked Apples with Granola. Does it get any better than that?
These Baked Apples with Granola make the perfect breakfast, mid-morning snack, or healthy dessert. This dish does call for some sugar, but since apples and granola are involved, it can't be that bad…right? The apples bake up soft and full of flavor. One bite and it's almost like tasting a warm and cozy applesauce, with a sprinkling of granola! And because you spice up the granola with a mixture of cozy fall flavors, it makes a sweet and crunchy topping for the apples.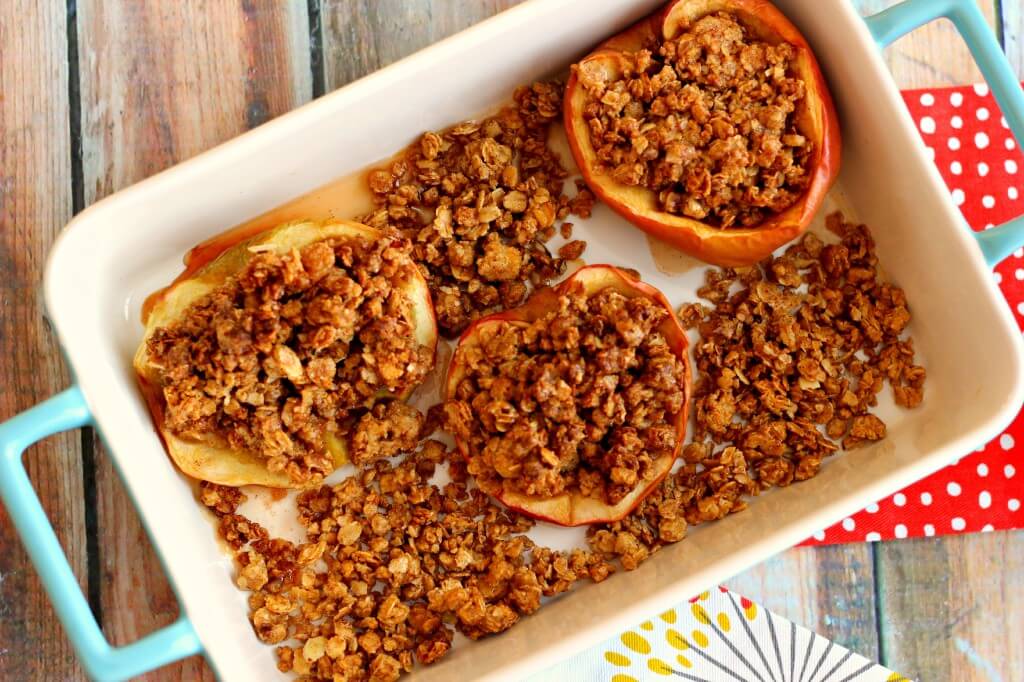 And guys, this recipe is so easy! There is no peeling or slicing of apples with these babies! You simply slice an apple in half, scoop out the middle, fill with a granola mixture, and pop 'em in the oven. What could be easier than that?
Baked Apples with Granola have quickly become my favorite fall snack. And since I always have an extra apple or two lying around my kitchen, it's also a quick and healthy way to whip up a delicious treat.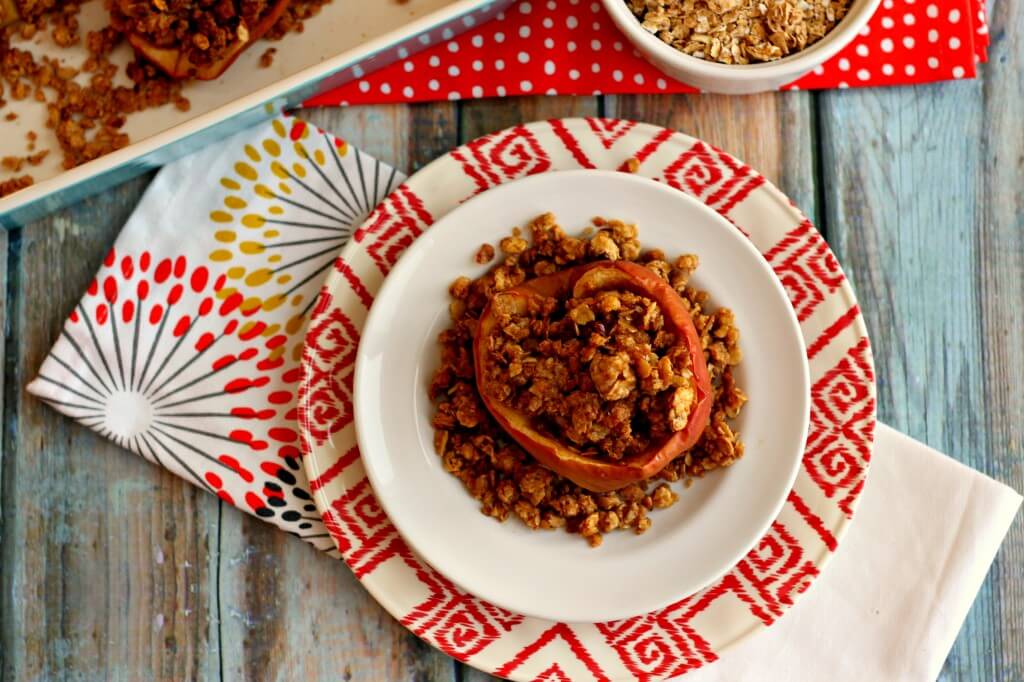 So if you're looking for a new (and mouthwatering) way to use up those apples, give these Baked Apples with Granola a try! You'll love the soft apple texture, combined with the sweet and hearty granola!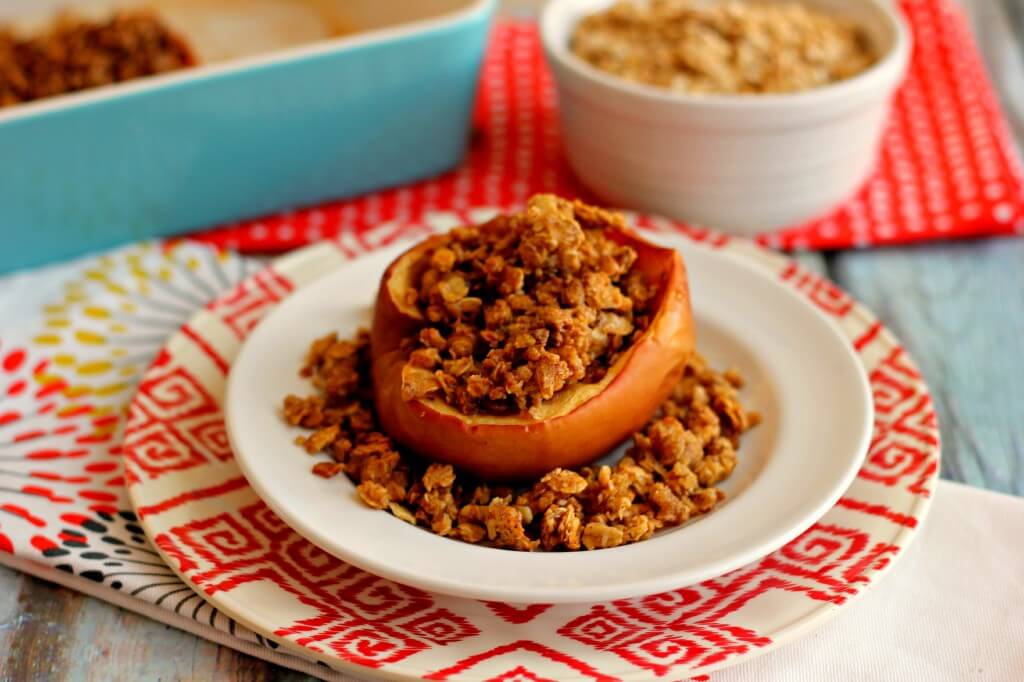 Yields 4 servings
Baked Apples with Granola
These Baked Apples with Granola make the perfect breakfast, mid-morning snack, or healthy dessert.
10 minPrep Time
50 minCook Time
1 hrTotal Time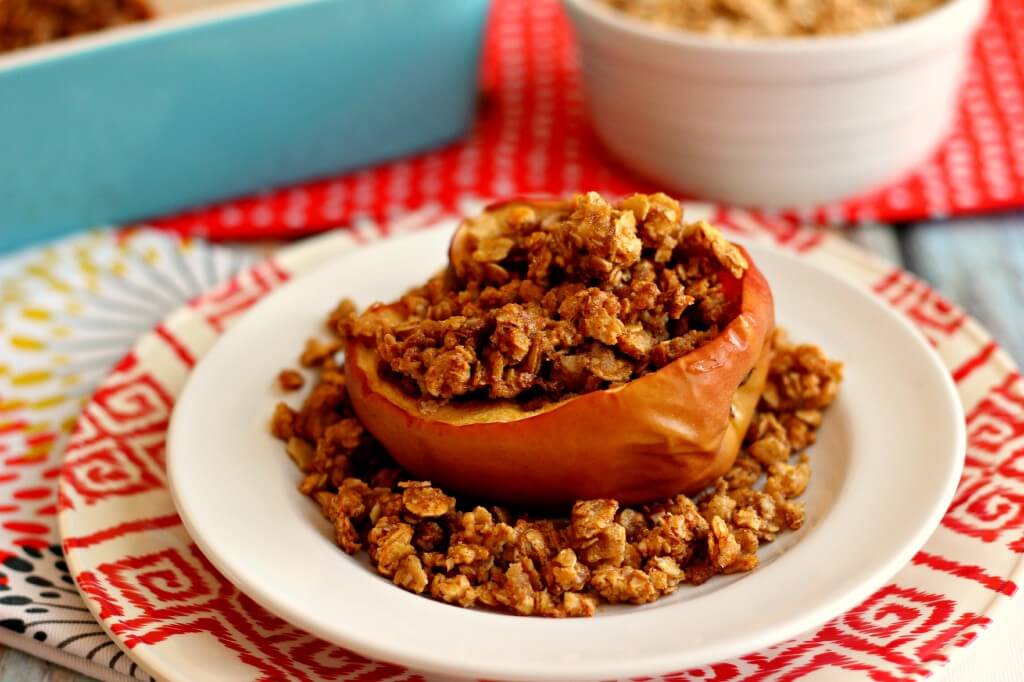 Ingredients
2 apples, halved (I used honey crisp, but any kind will do)
1 cup granola
1/4 cup firmly packed brown sugar
2 tablespoons butter, melted
1/2 teaspoon vanilla extract
1/2 teaspoon cinnamon
Instructions
Preheat oven to 350F.
Carefully scoop out apple filling, leaving about 1 /4 inch apple shell left in skin. Set apples in a 13X9 baking dish.
In a medium bowl, stir together granola, brown sugar, butter, vanilla, and cinnamon.
Spoon mixture into apple halves.
Cover dish with aluminum foil and bake for 20 minutes.
Remove foil and bake for another 15-20 minutes, or until apples are tender.
Remove from oven and let cook slightly.
Enjoy!
Notes
Inspired by Paula Deen's Fall Baking magazine.
Apples are best eaten the same day.
7.8.0.1
12
https://www.pumpkinnspice.com/baked-apples-granola/