Caprese Bites
Caprese Bites make an easy appetizer that's ready in minutes. Fresh basil, mozzarella cheese, ripe tomatoes and a drizzle of balsamic glaze top toasted bread slices for the perfect bite. If you love caprese flavors, then this simple snack was made for you!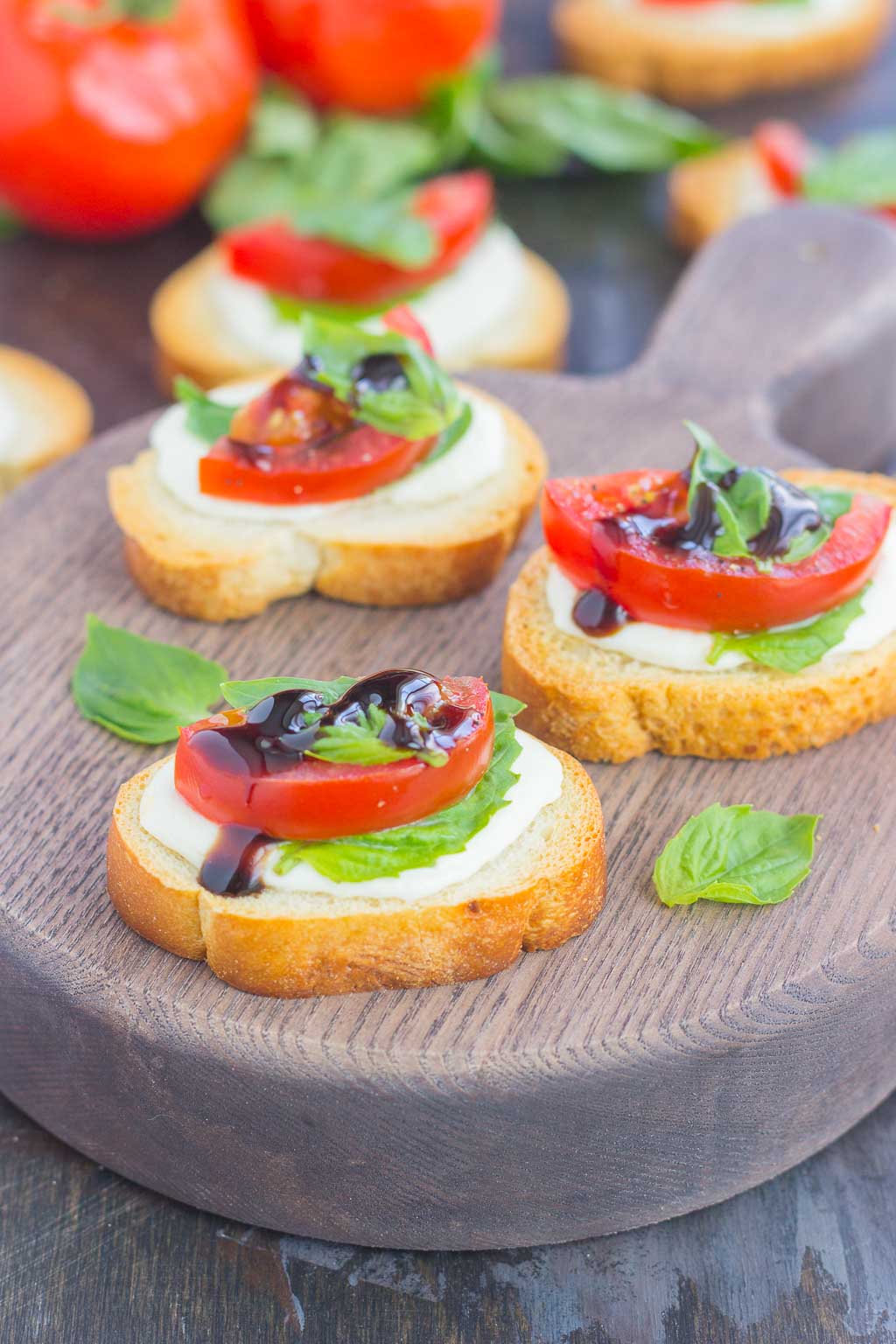 I'm mildly obsessed with anything involving caprese ingredients. Mozzarella, basil, tomatoes….that's just about the perfect combination in my book. Whether it's in the form of a salad, sandwich, or bruschetta, it reminds me of summer.
Panera Bread used to make a delicious caprese salad. It was only available in the summer, and whenever it came out, I promptly went there to devour the salad.
I haven't seen it at Panera for the past few years, but I always think about the delicious ingredients during the summer. Of course, other places offer caprese dishes, too. And when I'm in the mood, those dishes often appear on my plate, and are gone in a flash.
So it was no surprise that I was thinking of creamy mozzarella, fresh basil, and juicy tomatoes last weekend. Summer staples, right? But instead of putting those ingredients into a salad, I went with a different option. Caprese Bites!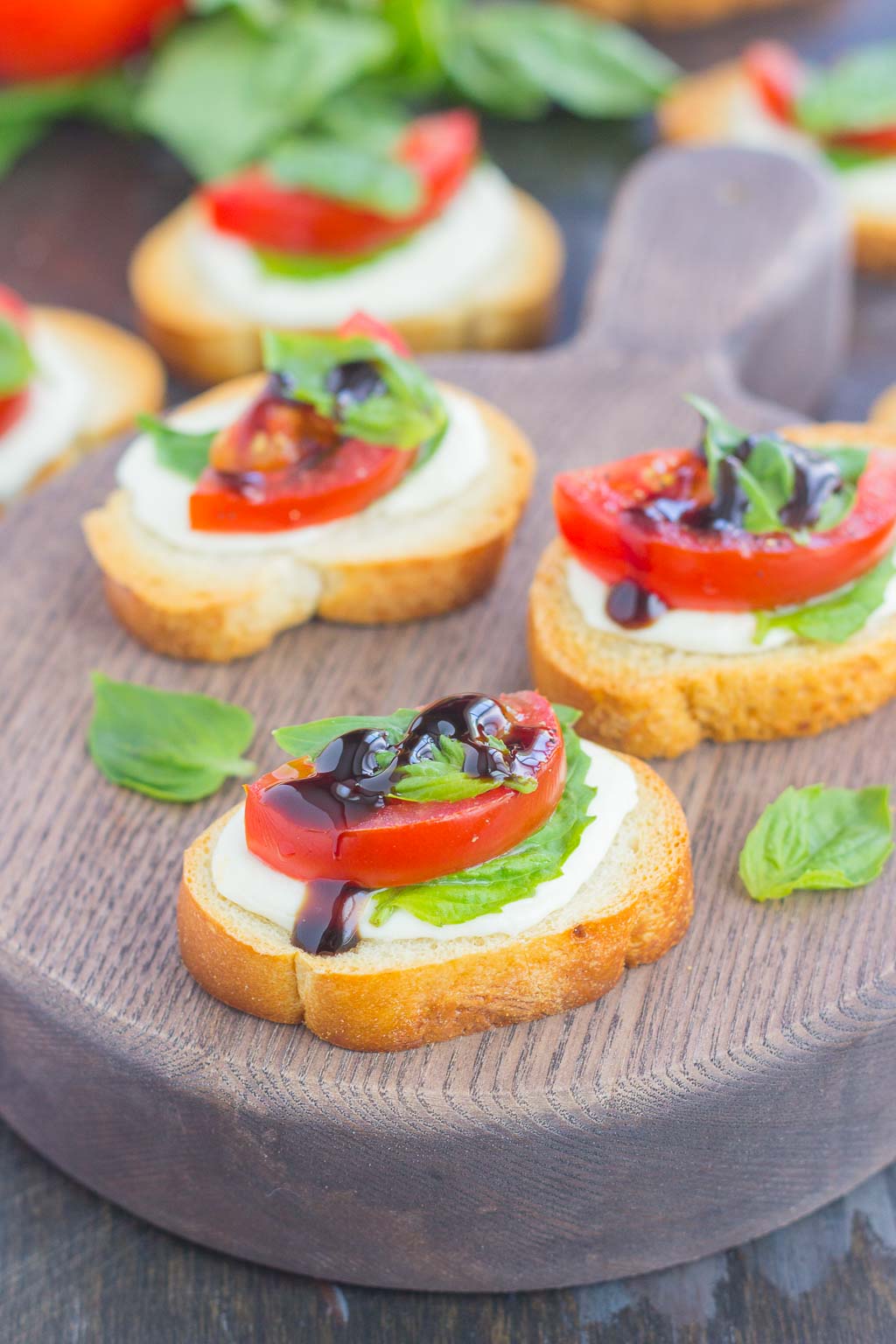 Caprese Bites Ingredients
The ingredients for this caprese appetizer are fairly simple:
French bread
Mozzarella cheese
Fresh basil leaves
Tomatoes
Olive oil
Balsamic glaze (optional)
How to Make Caprese Bites
One bite of this easy tomato, mozzarella, and basil appetizer and I was sold. The fresh basil, combined with the mozzarella and tomatoes reminded me of eating my favorite salad at Panera.
I chose to first toast the bread with a touch of olive oil before I layered the ingredients.
I then added a slice of fresh mozzarella, diced tomatoes, and chopped basil leaves.
Pop it in the oven for about 10 minutes and voila! Caprese heaven!
Feel free to drizzle with some balsamic glaze for a bruschetta taste.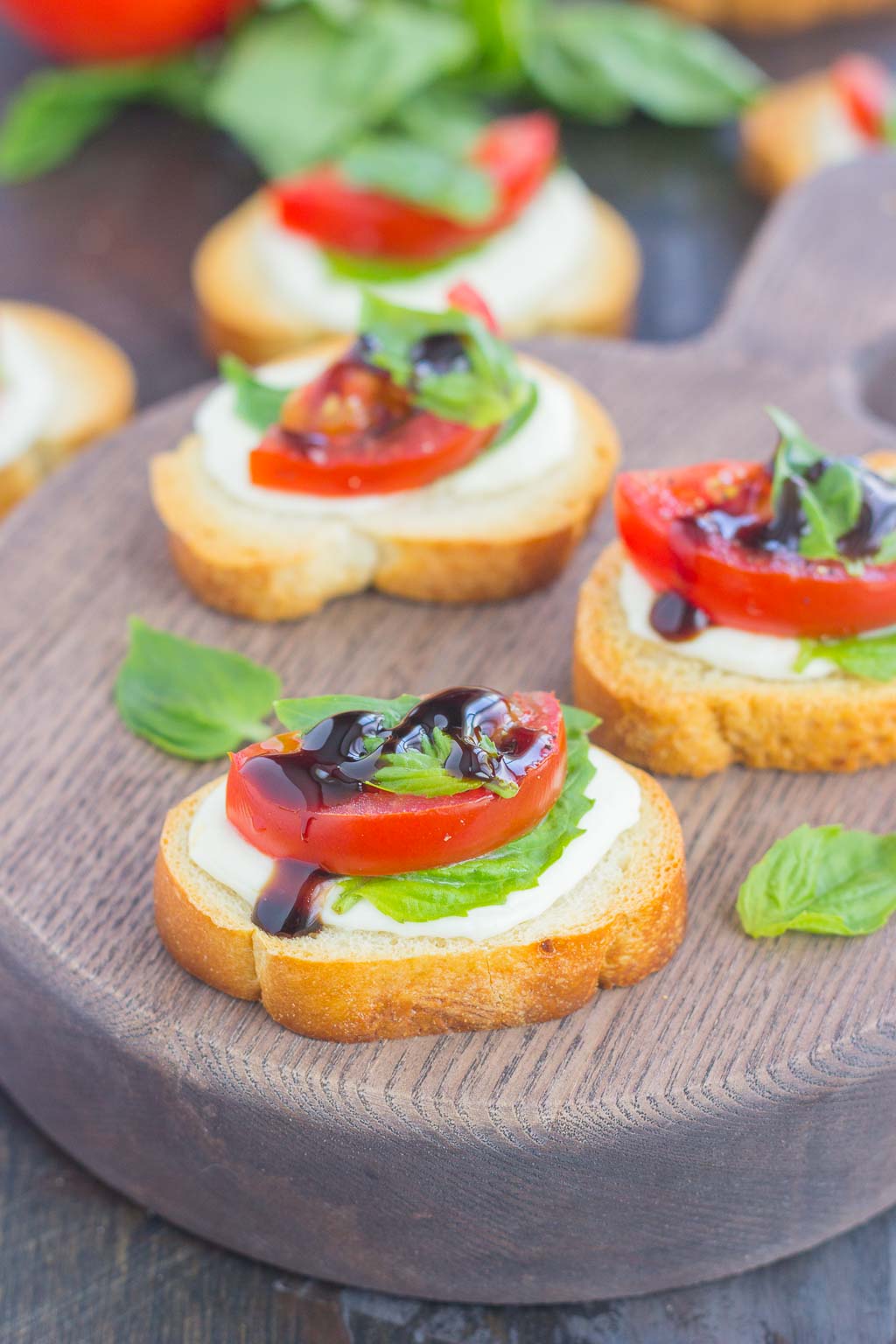 Can I Prep This Appetizer in Advance?
Once assembled, I recommend baking and eating the tomato mozzarella caprese bites immediately. However, you can slice the bread, tomatoes, mozzarella, and basil ahead of time and store them separately until you're ready to assemble everything.
Tips for Making This Caprese Appetizer
I used campari tomatoes, but Roma or plum tomatoes will also work.
Note that this recipe calls for fresh mozzarella, which comes packed in water.
The balsamic glaze on top is optional, but highly recommended. I found a pre-made glaze in the vinegar aisle of my local grocery store.
Looking for more caprese recipes? I've got you covered!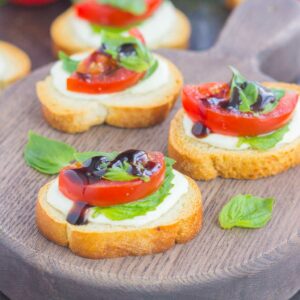 Caprese Bites
Caprese Bites make an easy appetizer that's ready in minutes. Fresh basil, mozzarella cheese, ripe tomatoes and a drizzle of balsamic glaze top toasted bread slices for the perfect bite.
Ingredients
1 French baguette, , cut into 20-25 slices, 1/2 inch thick
2 tablespoons olive oil
5 campari tomatoes, , sliced and then each slice cut in half
½ cup fresh basil leaves, , chopped or cut in half (depending on the size)
12 ounces fresh mozzarella cheese, , sliced into 20-25 thin discs
Salt and pepper, , to taste
Balsamic glaze , , for topping
Instructions
Preheat oven to medium broil and position oven rack near top.

Brush olive oil over tops of bread slices and place onto a large baking pan.

Place in the oven and broil 2-3 minutes, until the tops of the bread are just starting to turn golden. Remove from oven. Set oven to 400°F.

Place one mozzarella slice, basil leave, and two tomato slices onto top of bread. (See note below). Repeat with remaining ingredients until bread slices are prepared.

Sprinkle salt and pepper over each baguette slice. Place into oven and bake for 8-10 minutes, or until cheese is melted.

Remove from oven and let cool for 5 minutes. Drizzle with balsamic glaze, if desired.
Notes
For the tomatoes, you may substitute Roma, plum, etc.
I found a prepared balsamic glaze near the cooking vinegar section of my grocery store.
Alternatively, you can toast bread and then top with mozzarella cheese and bake until melted. Then, top with basil and tomatoes with cooking, if desired.
Bites are best served immediately.
Caprese bites will keep covered in the refrigerator for up to 2 days.
Serving: 1g, Calories: 213kcal, Carbohydrates: 36g, Protein: 8g, Fat: 4g, Saturated Fat: 1g, Cholesterol: 6mg, Sodium: 434mg, Potassium: 360mg, Fiber: 3g, Sugar: 4g, Vitamin A: 1025IU, Vitamin C: 17mg, Calcium: 97mg, Iron: 2mg