This White Chocolate Boo Bark is is filled with creamy white chocolate, Oreo cookies, and chewy candy corn. It's so easy to make and is the perfect snack to munch on during Halloween!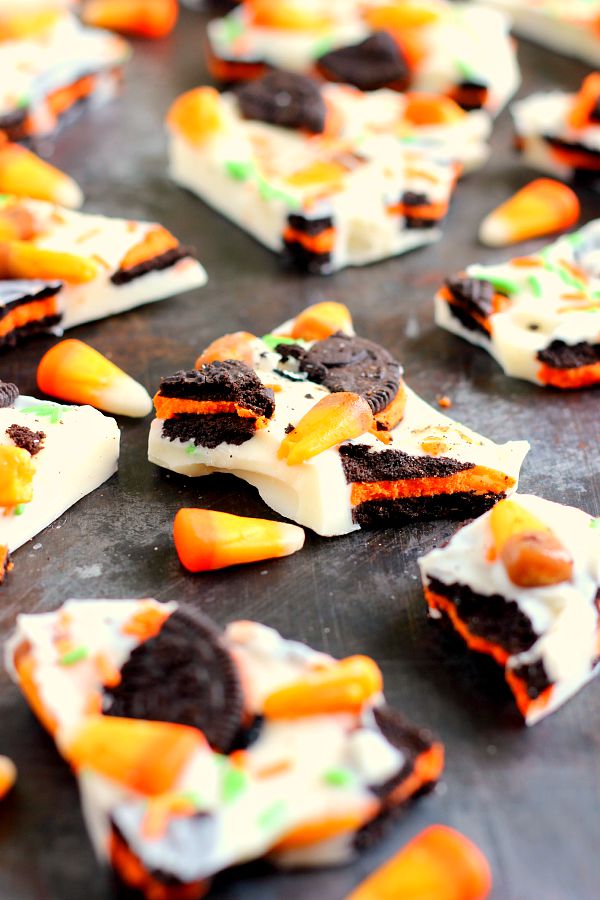 We're just about into the last week of October, which means that Halloween is almost here! I look forward to Halloween every year because I love passing out candy to all of the trick-or-treaters in my neighborhood. There are so many cute costumes, that I eagerly open the door and usually pass out way too much candy to each kid.
In fact, last year I ran out of candy in just under an hour. And I bought two big bags! Lesson learned for this year: go easy on the candy. After all, the kids are trick-or-treating all over the neighborhood, not just at my house.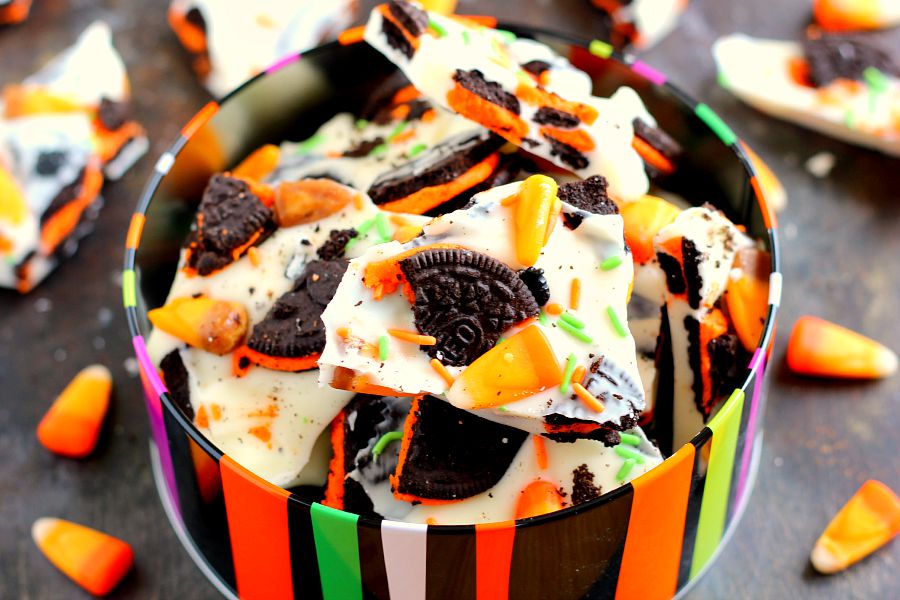 But back to the candy, do you love picking it out as much as I do? I'm kind of picky on what I choose to pass out, the main reason being because I always stash aside a little pile for myself. And I'm all about picking out the variety packs, but it has to include Reese's peanut butter cups. That's a necessity. And bonus points if Baby Ruth's, Snickers, and M&Ms are in there, too.
Luckily, I found the perfect variety pack of candy this year and am doing my best to not open it before next week. The main reason why I can resist the chocolate is because of my latest (and greatest) candy creation. This White Chocolate Boo Bark is is filled with creamy white chocolate, Oreo cookies, and chewy candy corn. It's so easy to make and is the perfect snack to munch on during Halloween.
And this White Chocolate Boo Bark was made just you (and me) which means that no sharing was needed. That's right, the trick-or-treaters get the store-bought candy and I get to snack on this homemade version. I'd say this is a win-win situation right here.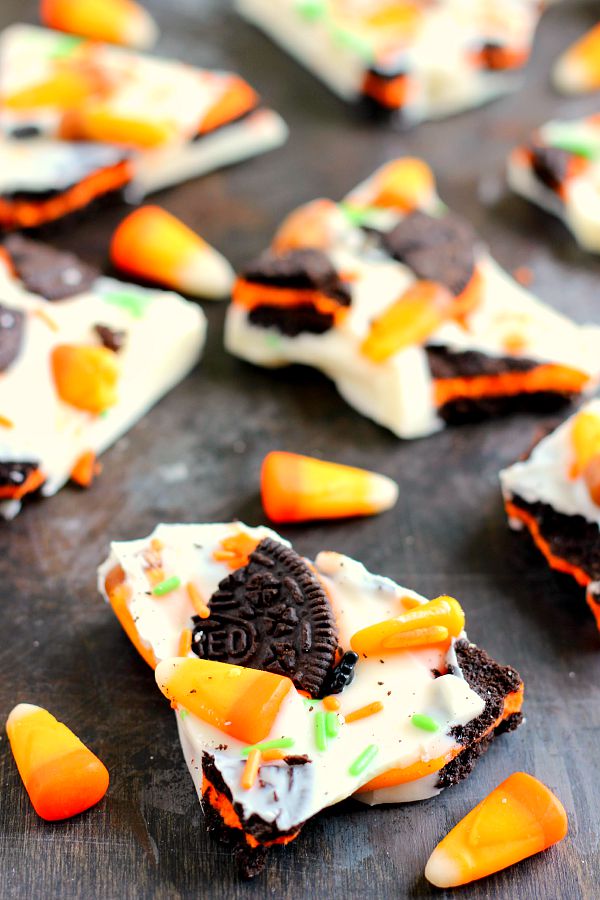 One of my very first blog posts (please excuse the not-so-pretty pictures) was this caramel toffee bark and it became extremely popular on Pinterest. I haven't made another bark since then, so I thought Halloween was the perfect time to create a festive version. And this White Chocolate Boo Bark does just the trick! With just four ingredients, you can have this treat prepped and made in about 10 minutes. Doesn't get much better than that, right?
And the best part about this White Chocolate Boo Bark (besides the delicious taste) is that it's easy to change it based upon your tastes. If you prefer milk chocolate, use that instead! Don't like candy corn? Swap it out for your favorite type. See what I mean? It's the best kind of goody for everyone. But, please, add the sprinkles, it's just more fun!
So if you're enjoying Halloween out 'n about or are just relaxing, you need this White Chocolate Boo Bark in hand. It's so good that you'll be making it all year long!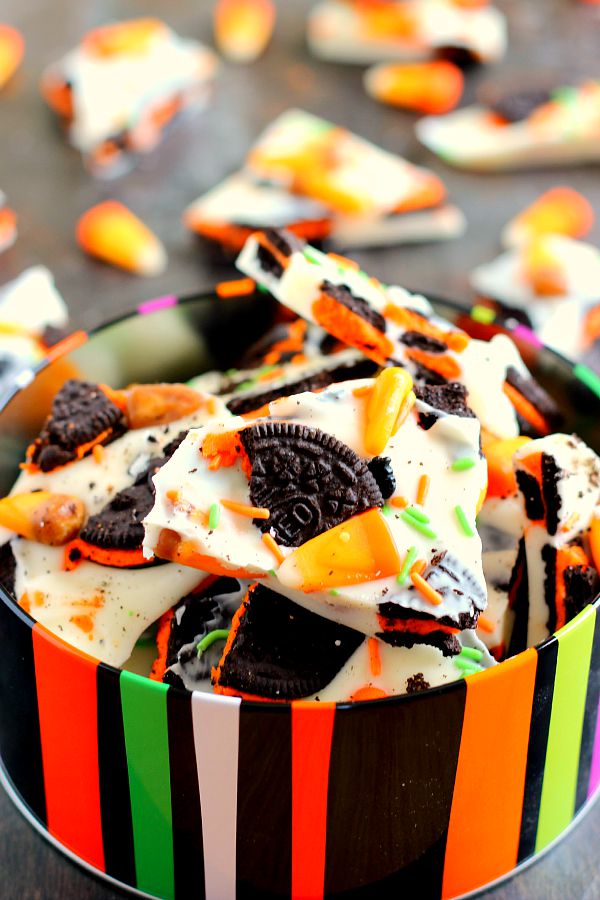 Looking for more Halloween treats? I've got you covered!
Yields 6-8 servings
White Chocolate Boo Bark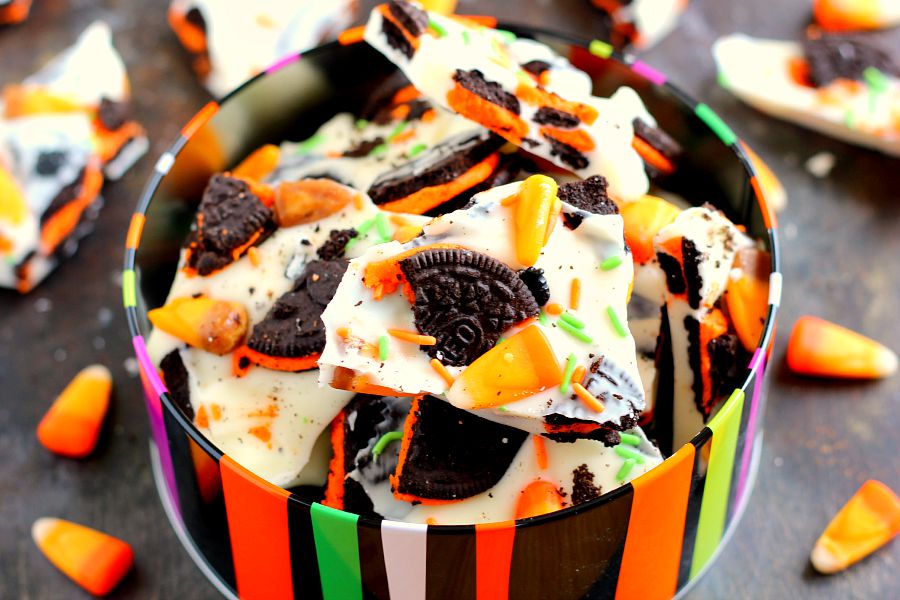 Ingredients
16 ounces white chocolate (I used a white chocolate bar)
20-25 Oreo cookies, roughly chopped
1 1/4 cup candy corn
2 tablespoons Halloween sprinkles
Instructions
Line a 13 x 9 baking pan with parchment paper, making sure that extra paper hangs over the sides for easy lifting once chocolate is hardened.
Place about 3/4 of the chopped oreos and candy corn onto the prepared pan. Set aside.
In a medium bowl, microwave white chocolate until fully melted and smooth, stirring every 30 seconds so that chocolate doesn't burn.
Once chocolate is melted, pour over toppings in pan.
Gently press in the remainder of cookies, candy corn, and sprinkles.
Place pan into the freezer to harden for 30 minutes (or into the refrigerator for one hour).
Once ready, lift parchment paper by overhang and set on counter. Chocolate will lift right out of paper.
Break into large pieces by hand or using a knife.
Enjoy!
Notes
Bark will keep in an air tight container for up to one month if left on the counter, or will keep in the refrigerator for several months.
This bark is easy to adjust to your tastes, so feel free to swap out the white chocolate with dark chocolate, add pretzels, different cookies, etc.
7.8.1.2
9
https://www.pumpkinnspice.com/white-chocolate-boo-bark/