Bacon and Tomato Frittata
This post has been sponsored by Kiolbassa Smoked Meats. All thoughts and opinions are my own.
This Bacon and Tomato Frittata is a simple dish that's ready in less than an hour. Filled with crisp bacon, tender mushrooms, spinach and tomatoes, this recipe makes a delicious breakfast or brunch!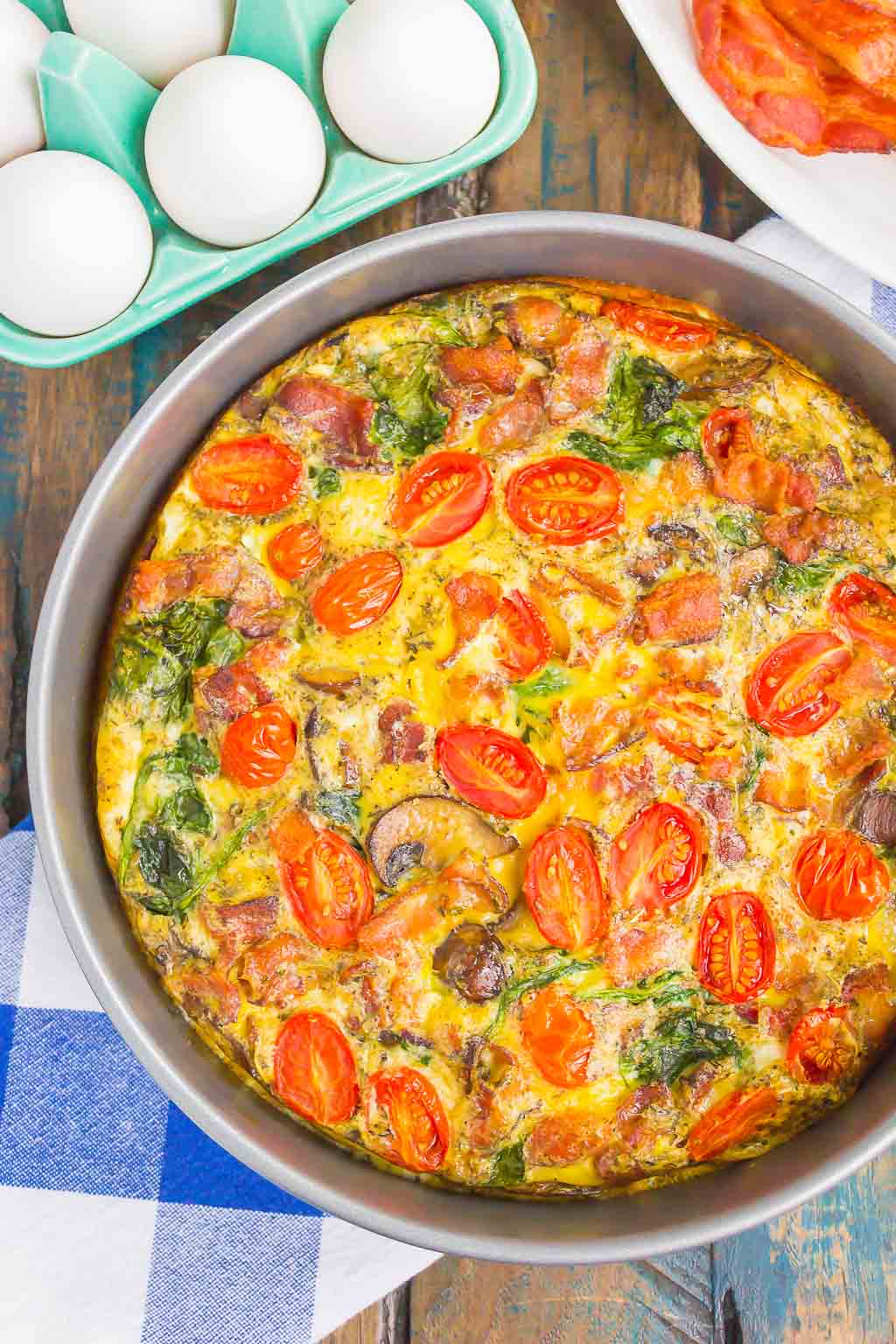 I'm always looking for new breakfast ideas around here.
Sure, I have some tried and true favorites that I make often, and you do too! Remember these breakfast quesadillas, that baked banana bread oatmeal and these cinnamon sugar french toast sticks? Delicious!
So when I stumbled across new Kiolbassa Smoked Meats at Meijer, I knew I found another winner for breakfast. Yep, you guessed it…this easy frittata recipe!
Kiolbassa Dry Cured Bacon is loaded with delicious flavor. Most bacon on the market is full of water and chemicals. But Kiolbassa bacon is dry-cured. They apply a spice blend to each pork belly before curing it for up to ten days. The result is wonderful flavor and thick, meaty bacon. Mmm mm good!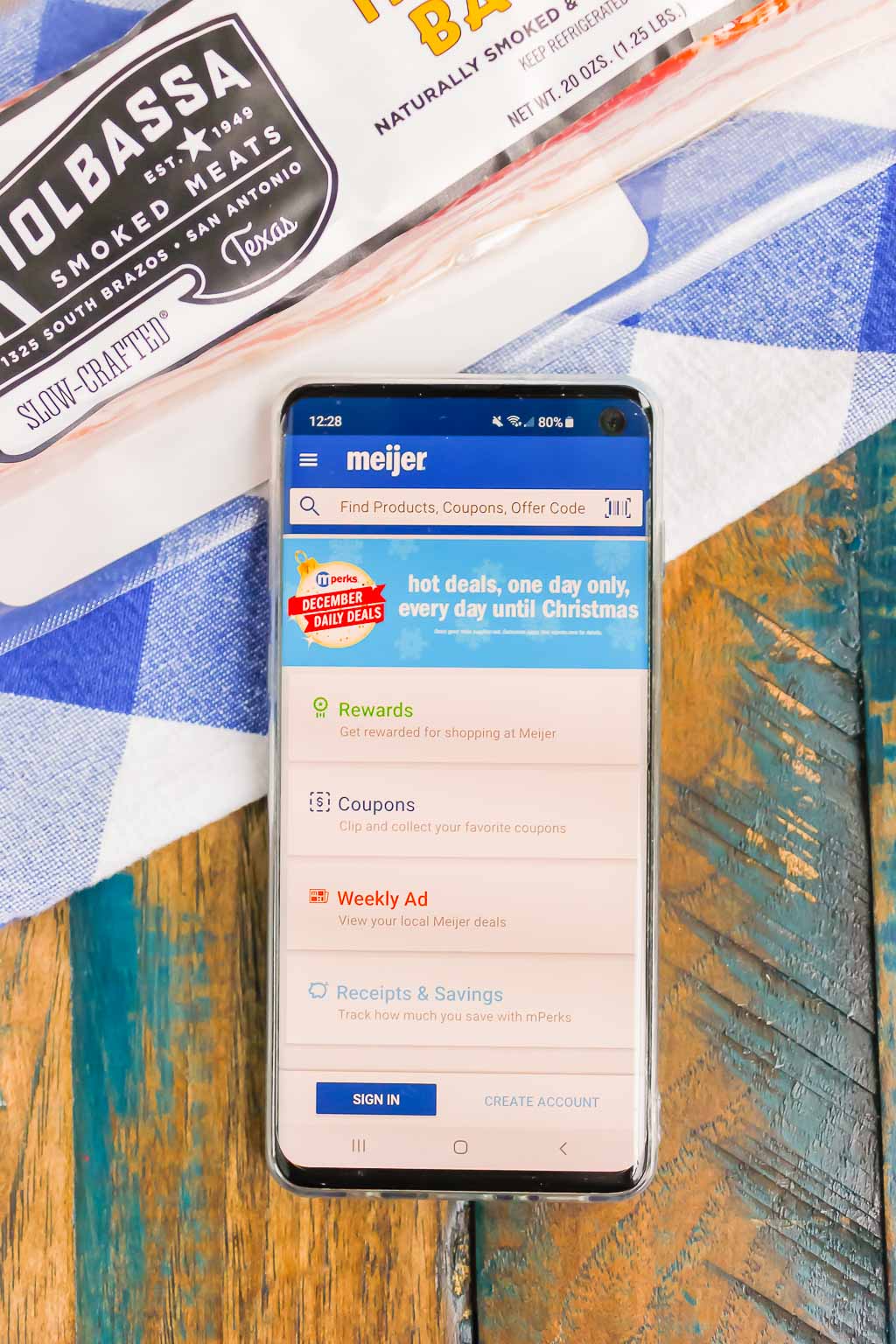 I love shopping at Meijer and do so on a weekly basis. It has everything I need at great prices. So, I was happy to find this new product in the smoked meats section. Do you love Meijer, too? Save now at Meijer! Head in store for a discount on Kiolbassa Smoked Meats Dry Cured Bacon or Breakfast Links.
After heading home with Dry Cured Bacon, I whipped up this easy bacon frittata. Not only is it perfect to serve for a crowd (hello, holiday house guests!), but it makes the most delicious breakfast or brunch option. Plus, you can make this ahead of time, too!
Filled with Dry Cured Bacon, mushrooms, cherry tomatoes, spinach and cheese, this hearty dish is loaded with flavor and ready in no time. Easy-peasy and filled tasty ingredients. How good does that sound?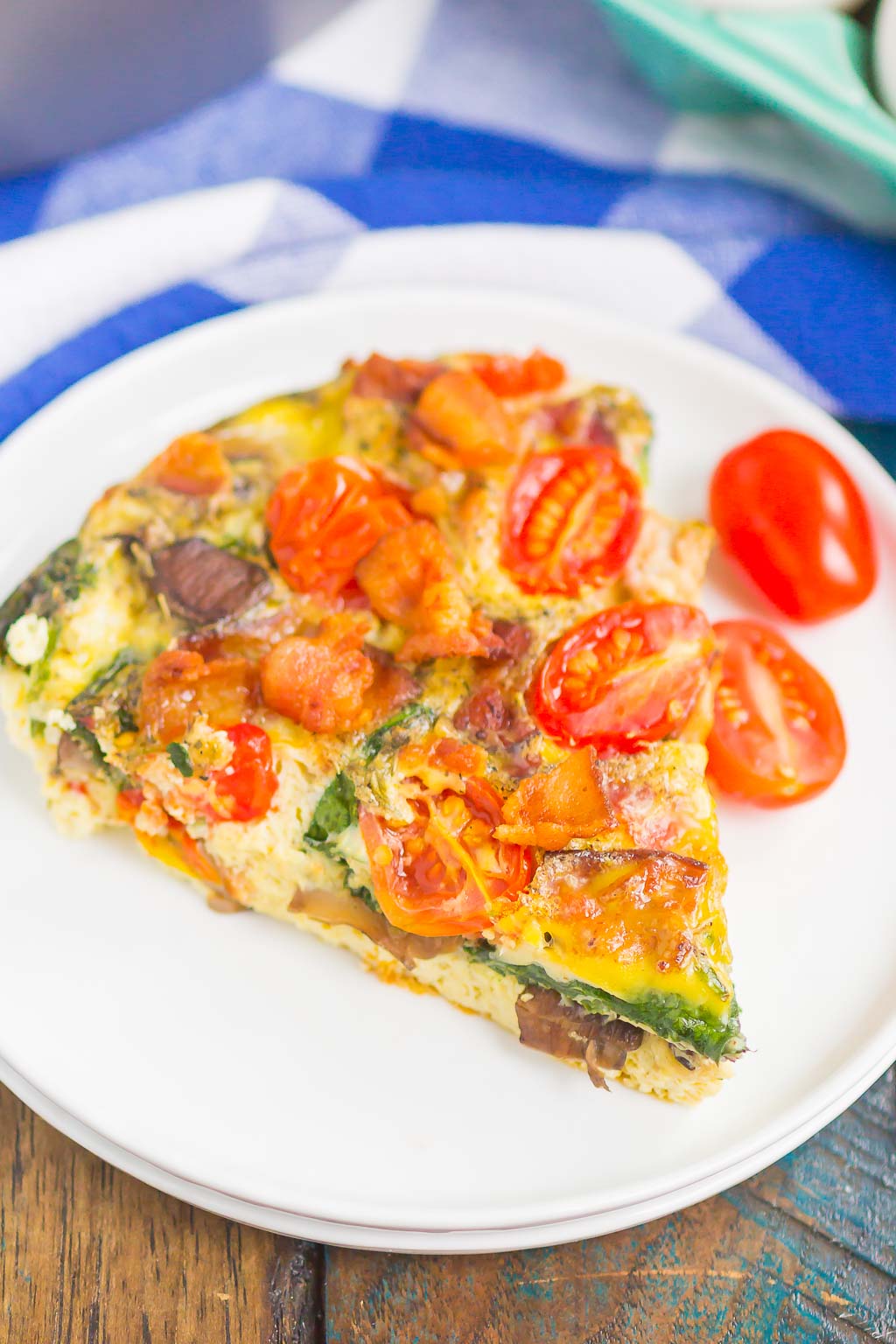 How to make Bacon and Tomato Frittata:
This bacon tomato frittata is incredibly easy to make and can be ready in about 45 minutes. It's perfect for when you need breakfast ready for brunch, your family, or even dinner.
To start, cook the Dry Cured bacon in a large skillet until crisp and brown, and then remove to another plate and set aside.
In the same skillet, sauté some mushrooms until tender, and then add in some fresh baby spinach and stir to wilt.
When mushrooms are cooking, whisk the eggs, milk, seasonings, and cheese together.
Pour the egg mixture into a prepared pan, along with bacon and mushroom mixture. Add some cherry tomatoes on top and let the oven work its magic.
Can I make a frittata the night before?
Absolutely! This easy breakfast frittata is the best make-ahead dish for busy mornings. Simply make this dish from start to end, and then refrigerate once cooled. The refrigerated frittata can last for up to five days before serving. And that means you can have breakfast ready for most of the week.
How do you know when the frittata is done?
Cut a small slit into the center of the frittata. If the egg runs into the cut, you will need to bake it longer. If the eggs are set (and not runny), the frittata is ready.
Can I freeze a frittata?
You sure can! This bacon spinach tomato frittata will last roughly three months in the freezer. When ready to serve, let thaw and then reheat in the microwave or oven.
Can I reheat a frittata?
Yes! You can reheat this tomato frittata in the microwave or oven (set oven to350°F). Keep in mind that the eggs are already cooked, so you don't want to overcook the eggs again.
Variations of Bacon and Tomato Frittata:
Add more veggies! Toss in some asparagus, bell peppers, broccoli or onions for even more flavor.
Experiment with different cheese! Gouda, feta, asiago, or goat cheese would pair beautifully in this frittata recipe.
Use different seasonings or fresh herbs! A touch of basil, thyme, or rosemary would complement this frittata.
Have I convinced you to make this simple bacon frittata yet? If you're looking for an easy breakfast recipe, you've come to the right place. I guarantee this dish will be a favorite all year long!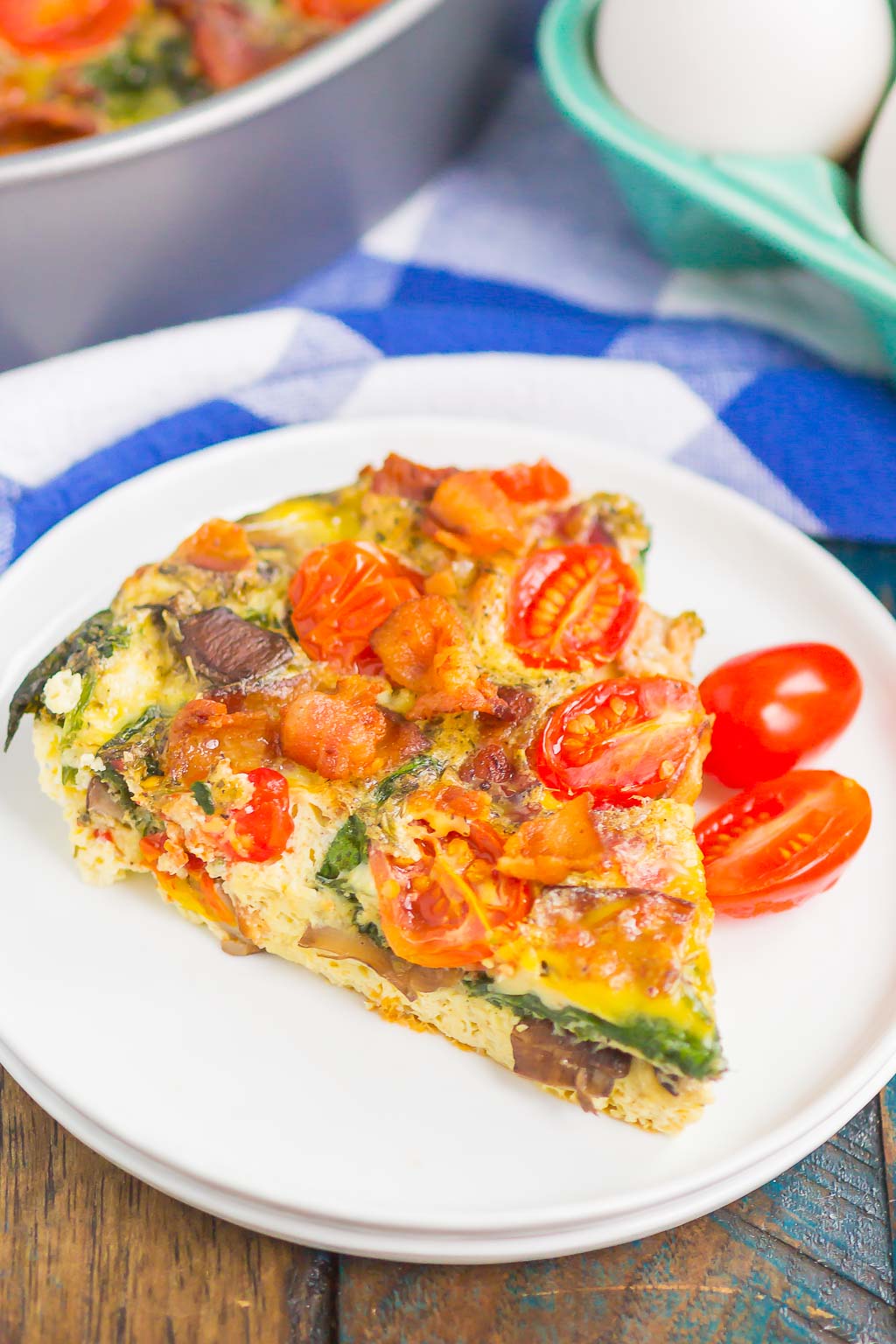 Looking for more easy breakfast recipes? I've got you covered!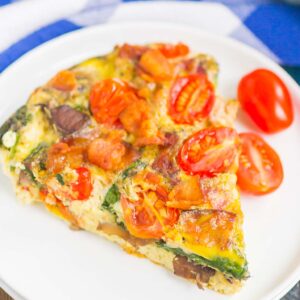 Bacon and Tomato Frittata
This Bacon and Tomato Frittata is a simple dish that's ready in less than an hour. Filled with crisp bacon, tender mushrooms, spinach and tomatoes, this recipe makes a delicious breakfast or brunch!
Ingredients
8 strips Kiolbassa Dry Cured Bacon, chopped
1 tablespoon unsalted butter
8 ounces baby bella mushrooms, sliced
2 cups fresh baby spinach
8 eggs
½ cup milk, any kind
1 teaspoons Italian seasoning
1 teaspoon garlic powder
½ teaspoon salt
½ teaspoon black pepper
½ cup shredded mozzarella cheese
½ cup cherry tomatoes, halved
Instructions
Preheat oven to 350°F. Lightly grease a 9-inch round pan with cooking spray. Set aside.

In a large skillet, cook Kiolbassa Dry Cured Bacon over medium heat until brown and crisp, about 5-7 minutes. Remove to a paper towel lined plate and set aside.

Wipe skillet clean and add unsalted butter to melt. Add mushrooms and sauté until tender, about 3-4 minutes, Once mushrooms are almost cooked through, add spinach and stir to wilt, then remove skillet from heat.

As mushrooms are cooking, prepare eggs. In a large bowl, whisk eggs, milk, Italian seasoning, garlic powder, salt, pepper, and cheese. Pour into prepared pan.

Add cooked bacon and mushroom spinach mixture to egg mixture. Top with halved tomatoes and a sprinkling of extra cheese, if desired.

Cook for 30-35 minutes, or until eggs are set and edges start to pull away from pan. Let cook for 5 minutes and then serve.
Notes
Frittata can be refrigerated for up to five days and frozen for up to three months. See my tips and tricks for making this bacon and tomato frittata above recipe box.
Save now at Meijer! Head in store for savings on Kiolbassa Smoked Meats.