Buttermilk Pancakes
These Buttermilk Pancakes are thick, fluffy, and ready in just 25 minutes. One bite and you'll fall in love with the taste and texture of these homemade pancakes. You'll never go back to the boxed kind again!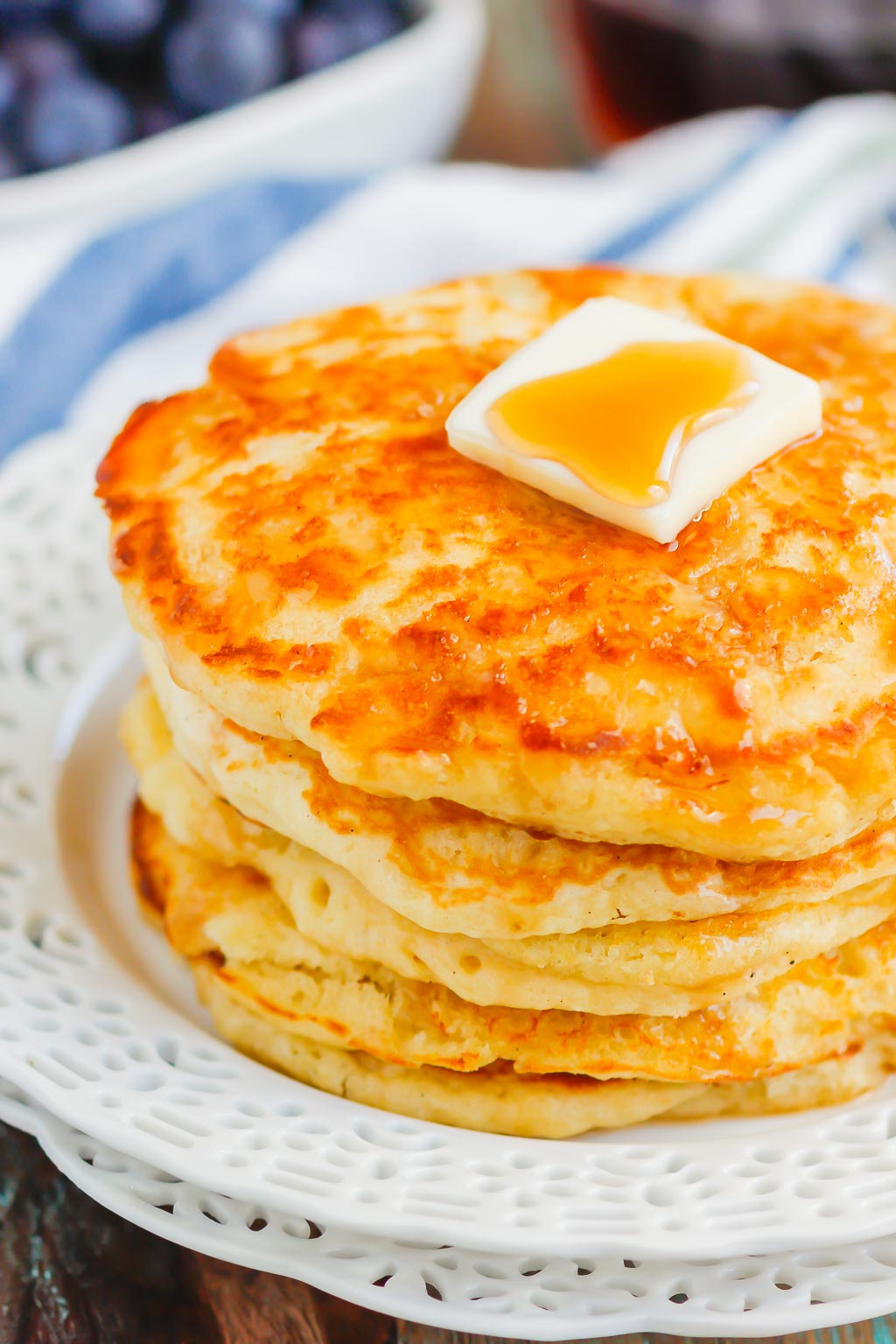 The Fluffiest Buttermilk Pancakes
Nothing is as good as sinking into a bite of fluffy buttermilk pancakes for breakfast. This recipe is my favorite and always gives a good result.
These homemade buttermilk pancakes will make you feel like a rockstar in the kitchen and give your family a warm breakfast to start the day.
And nothing is more comforting than pancakes for breakfast, and this recipe takes me back to childhood. Memories of hot pancakes, melting butter, and fresh maple syrup are always comforting. Knowing I can offer that same comfort to my family in just a few steps is just what I want in a recipe.
Easy breakfast ideas are the name of my game, friends!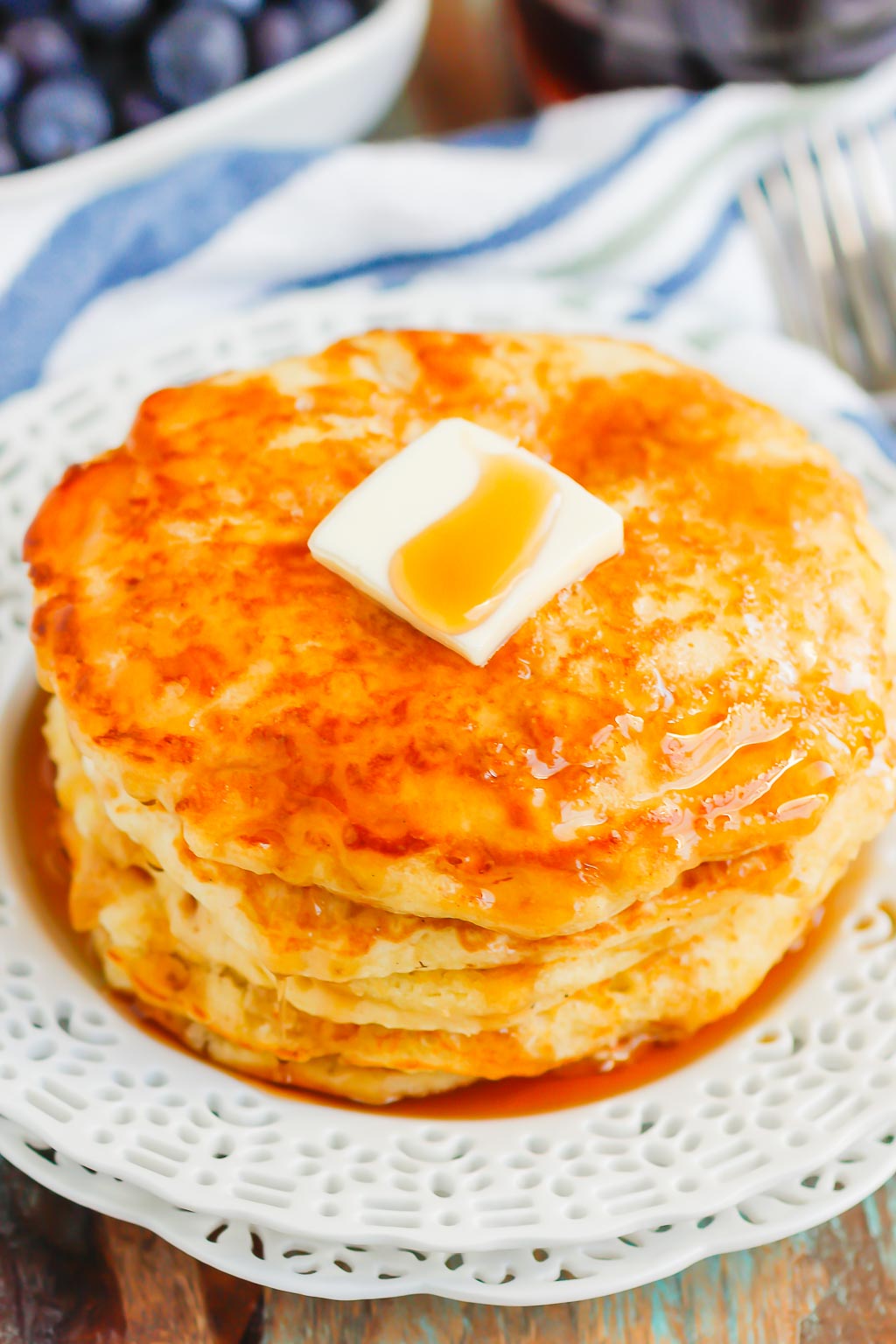 Buttermilk Pancakes Ingredients
One thing I love about this buttermilk pancake recipe is that it doesn't call for any special ingredients. Here's all you'll need to make buttermilk pancakes from scratch:
All-purpose flour
Granulated sugar
Baking powder
Baking soda
Salt
Buttermilk
Eggs
Unsalted butter
How to Make Buttermilk Pancakes from Scratch
It's not at all difficult to make the world's fluffiest buttermilk pancakes! Here are the basic steps:
Whisk together the dry ingredients in one bowl and the wet in another.
Combine the two and stir until just combined.
Melt some butter in a preheated electric griddle or skillet.
Pour 1/2 cup of pancake batter onto the buttered skillet and cook until bubbles form on top. Flip, then cook until done.
Top with favorite pancake toppings, and enjoy!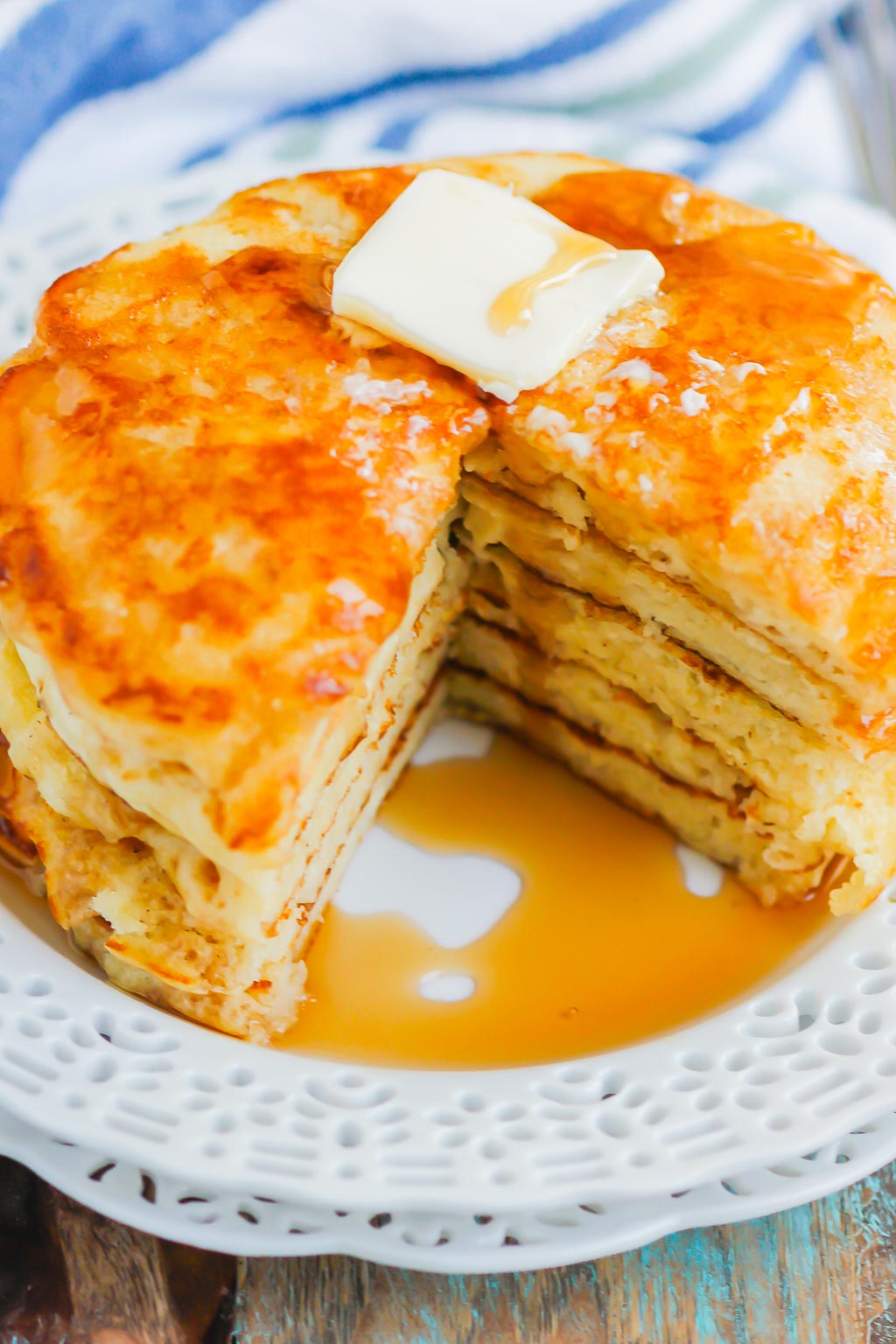 How to Make Homemade Buttermilk
A buttermilk pancake isn't the same without buttermilk to mix into the recipe. Sometimes, however, we don't have buttermilk on hand. So, making your own is a must.
To make homemade buttermilk, simply combine 1 cup of milk with 2 tablespoons lemon juice or white vinegar. Stir well, and allow to sit for 5 minutes before adding to your recipe. This works flawlessly for every recipe that needs buttermilk as an ingredient. You can make this and store in your refrigerator in an airtight container or jar for up to one week before use.
Can I Add Mix-Ins to this Pancake Recipe?
You sure can! This basic pancake recipe is ideal for a base when you want to add in anything from chocolate chips to fresh berries. I've often added items to the mix before cooking to add a bit of texture and added flavor.
Have fun getting creative with things like fruit, chocolate bits, or even chunks of candy bars. There are tons of great things to go into your pancakes but know this recipe is delicious without anything extra mixed into them.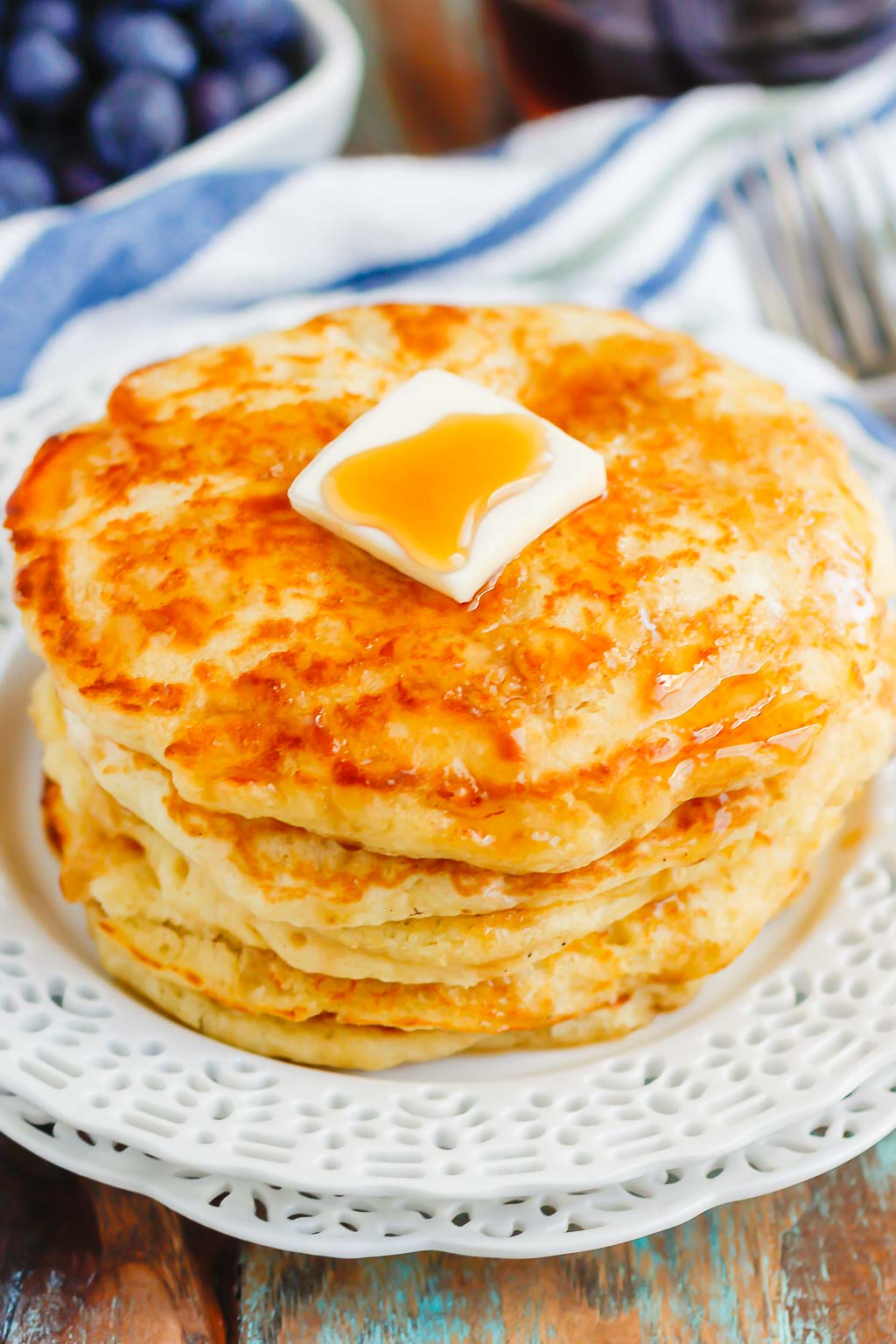 Best Toppings for Fluffy Buttermilk Pancakes
If you prefer to have toppings to add after cooking, that is another great option. A pancake bar is a ton of fun for kids, especially on special days like birthdays or holidays. Adding tons of options for topping your pancakes is a must. Below are a few you might like:
Chocolate syrup, strawberry syrup, caramel syrup, butterscotch syrup, or blueberry syrup
Fresh whipped cream or whipped topping
Chopped peanuts, pecans, or walnuts
Powdered sugar
Chocolate chips, butterscotch chips, or peanut butter chips
Diced fresh fruit (strawberries, blackberries, apples, mango, pineapple, or blueberries)
Can I Freeze Pancakes?
Yes! Pancakes are always a great addition to your freezer for fast breakfasts. Just make pancakes as directed, let them cool completely, then put them in a large freezer storage bag. I prefer separating each pancake with a slip of waxed paper so they don't stick together. This makes thawing easier and means you can grab just a few at a time and heat them.
To reheat frozen pancakes, you can place on a plate and microwave, or you can pop into the toaster for a minute to toast and heat through. Remember to date and label the storage container to make sure you always know what everything is easily in your refrigerator.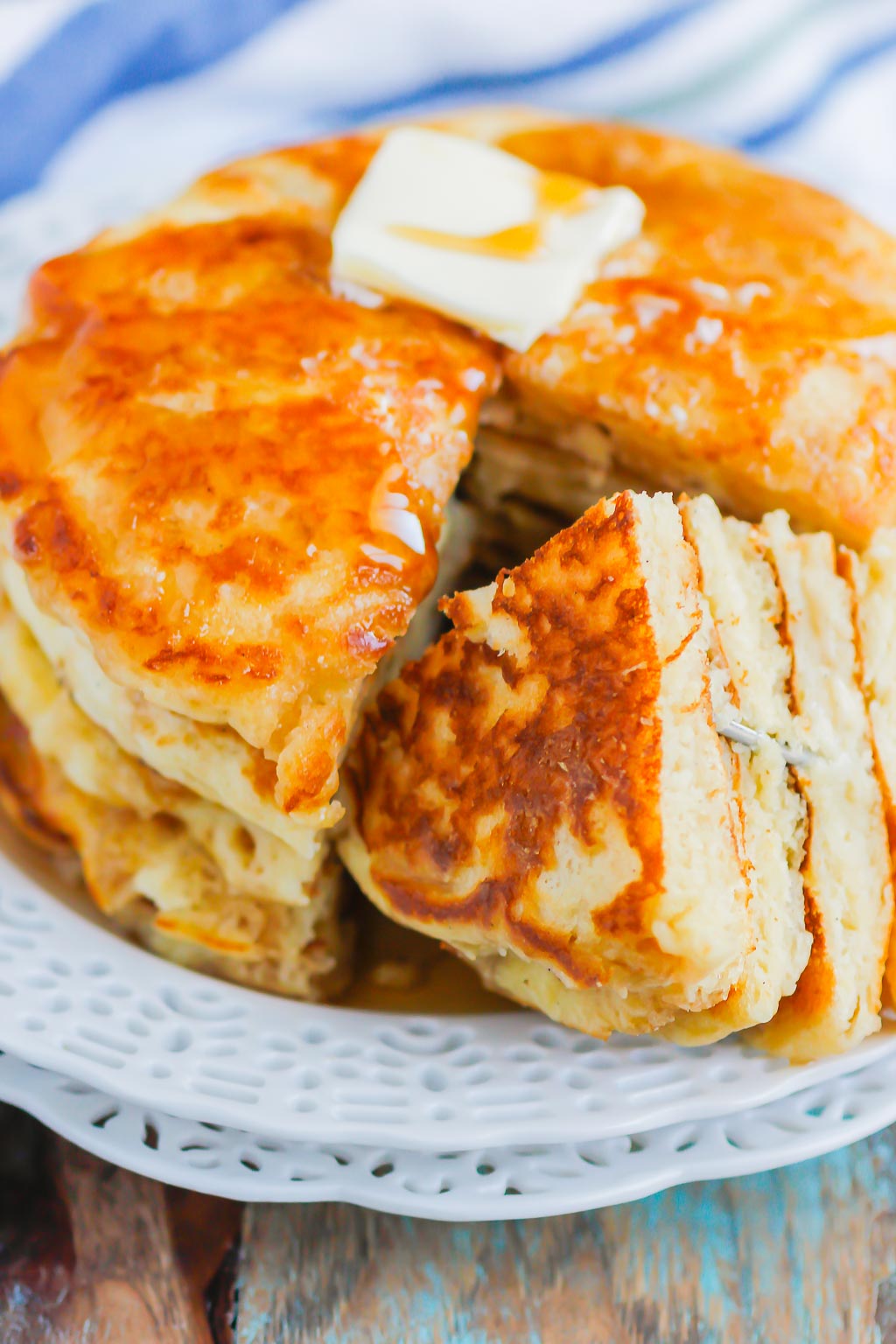 Tips for the Best Buttermilk Pancakes
Once you've added the wet ingredients to the dry, mix only until the batter comes together. It's okay if a few streaks of flour remain — you do NOT want to overmix the batter, otherwise your buttermilk pancakes won't turn out nice and fluffy.
I like to use vanilla bean paste in my homemade buttermilk pancakes to really amp up the vanilla flavor, but you're welcome to use vanilla extract if that's what you have on hand.
Note that buttermilk pancakes from scratch are best fresh, but they can be stored in the fridge for up to 2 days as well.
Looking for more pancake recipes? I've got you covered!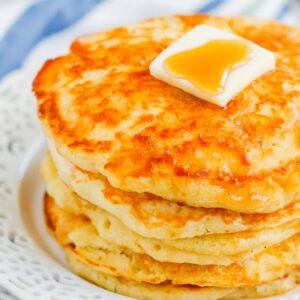 Buttermilk Pancakes
These Buttermilk Pancakes are thick, fluffy, and ready in just 25 minutes. One bite and you'll fall in love with the taste and texture of these homemade pancakes. You'll never go back to the boxed kind again!
Ingredients
2 cups all-purpose flour
3 tablespoons granulated sugar
2 teaspoons baking powder
1 teaspoon baking soda
½ teaspoon salt
2 cups buttermilk
2 large eggs
¼ cup unsalted butter, , melted and slightly cooled
1 teaspoon vanilla bean paste, (or vanilla extract)
4 tablespoons unsalted butter, , divided (for greasing pan)
Instructions
In a large bowl, whisk together flour, sugar, baking powder, baking soda, and salt. Set aside.

In a medium bowl, whisk together buttermilk, eggs, ¼ cup melted butter and vanilla bean paste/extract until smooth.

Stir buttermilk mixture into flour mixture until just combined. Be careful not to overmix, as a few flour streaks are OK!

In a large skillet or griddle, melt 1 tablespoon of butter over medium heat. Pour batter by ½ cupful into skillet and cook until edges are set and bubbles form in the center of pancakes, about 3-4 minutes. Flip and cook until browned, about 1 minutes. Repeat process with rest of butter and pancakes.

Serve immediately with butter and maple syrup.
Notes
Buttermilk pancakes are best eaten right away, though you can refrigerate for up to 2 days.
Serving: 1g, Calories: 229kcal, Carbohydrates: 25g, Protein: 5g, Fat: 12g, Saturated Fat: 7g, Cholesterol: 62mg, Sodium: 291mg, Potassium: 184mg, Fiber: 1g, Sugar: 6g, Vitamin A: 408IU, Calcium: 101mg, Iron: 1mg