One Pan Pizza Pasta
This One Pan Pizza Pasta contains all of the classic pizza flavors packed into a one pan meal that is sure to satisfy your cravings. Filled with tender pasta, spicy sausage, lean pepperoni, and topped with cheese, this meal is sure to be a hit with everyone!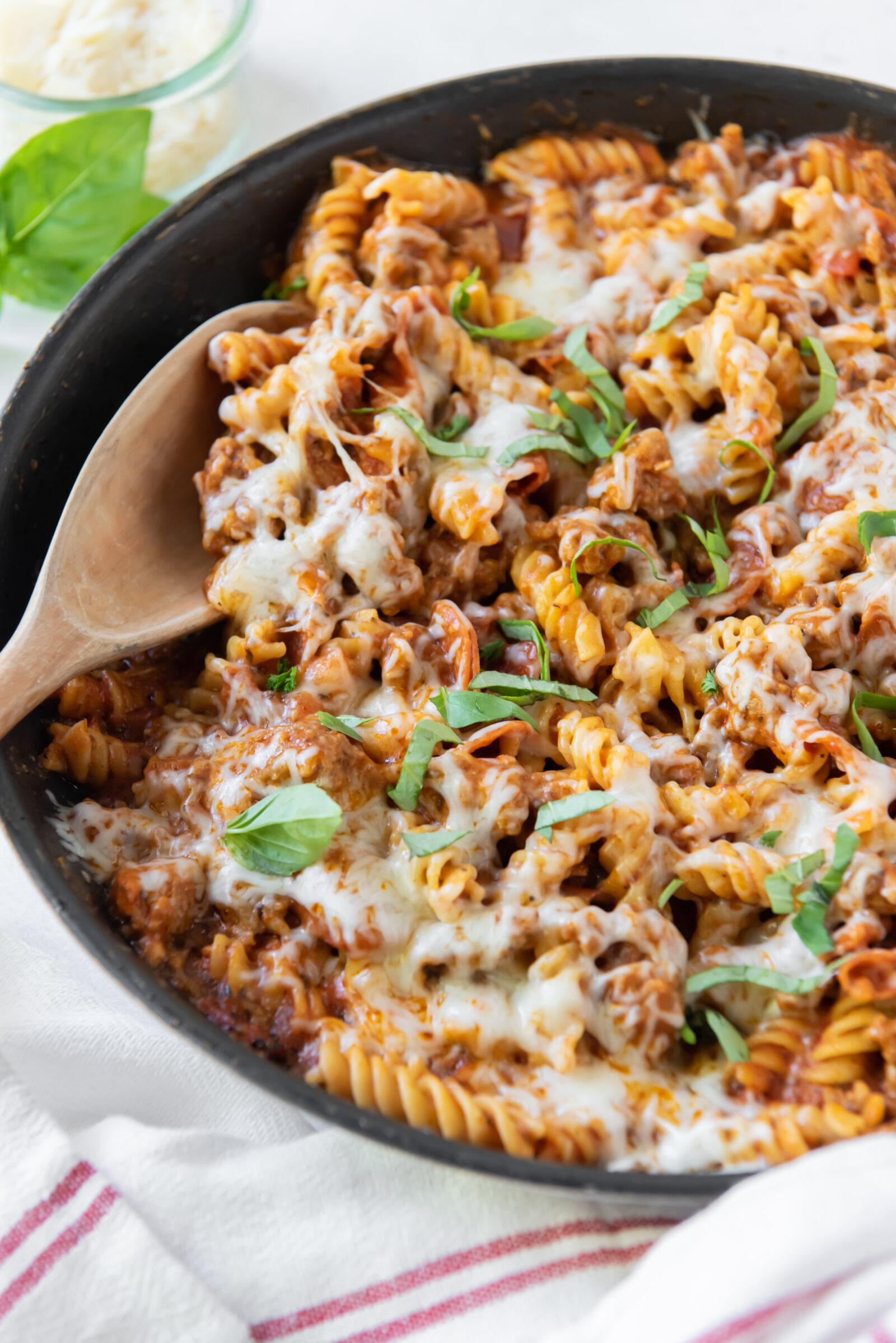 I'm talking about my one true love today, friends. And that would be pizza. Lots and lots of pizza!
If I were stranded on a desert island and could only eat one thing for the rest of my life, it would be pizza. Hands down. No question about it.
I could eat pizza pretty much every day of the week.
For breakfast, lunch, and dinner…it makes the best meals! I also like eating pizza cold, straight from the fridge. There's just something about having a slice of my favorite deep dish pizza, with that thick crust and and massive amounts of cheese. For some reason, I look forward to eating it cold just as much the next day. Weird, right?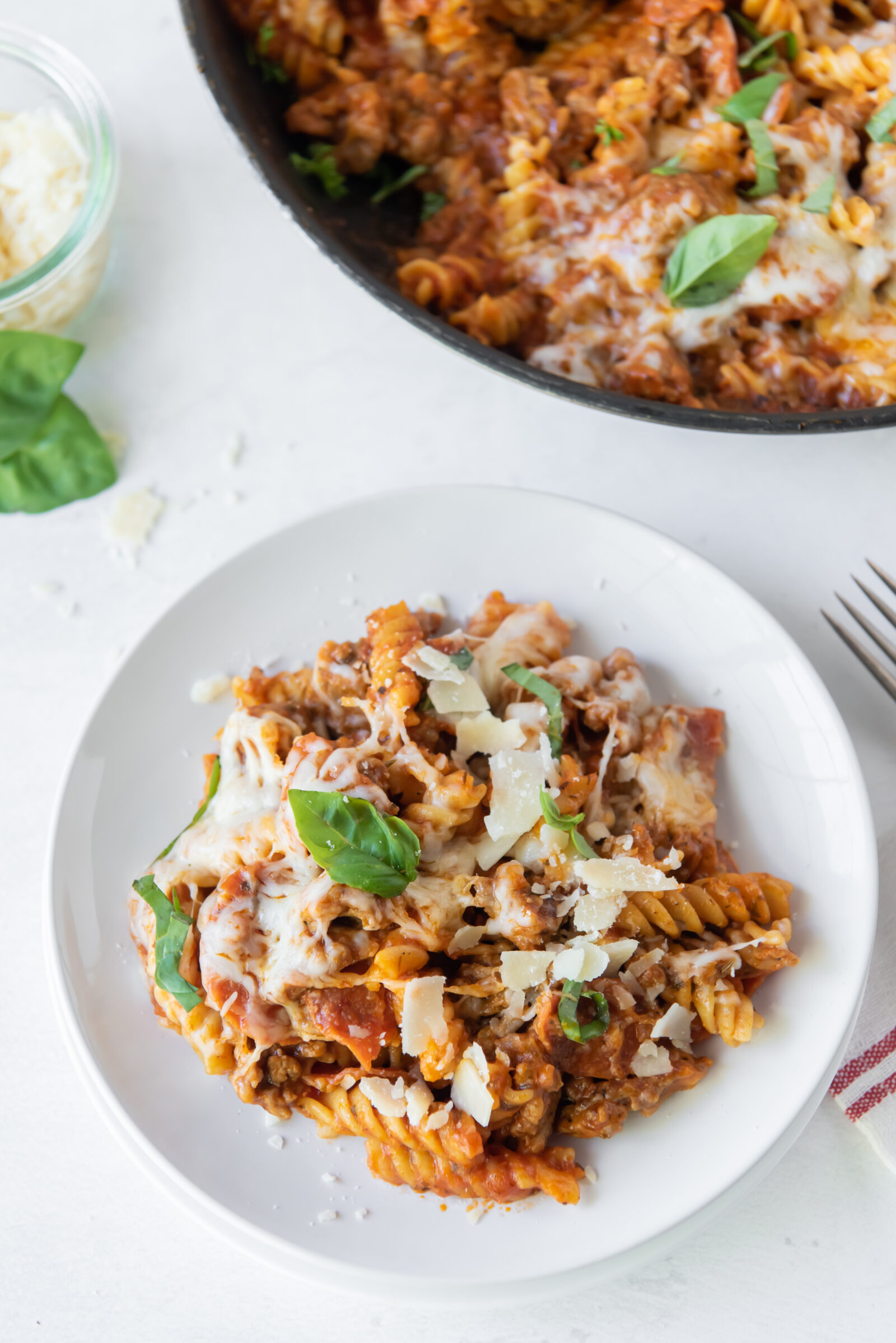 If you've been hanging around here long enough, you probably remember that the hubster considers frozen pizza on the same level as pizza that you order out.
Umm what now? And he can't eat it every week. Yep, if we have a frozen pizza for lunch one day, he insists that he can't have pizza from a restaurant or take-out place because he just had the frozen kind.
In my mind, there is no doubt. Frozen pizza is not "real" pizza, and even if it is, I could (and would) order pizza the very next day. But don't worry, I'm determined to bring out his true pizza-holic self.
And I'm happy to report that the hubster loved this pizza pasta casserole.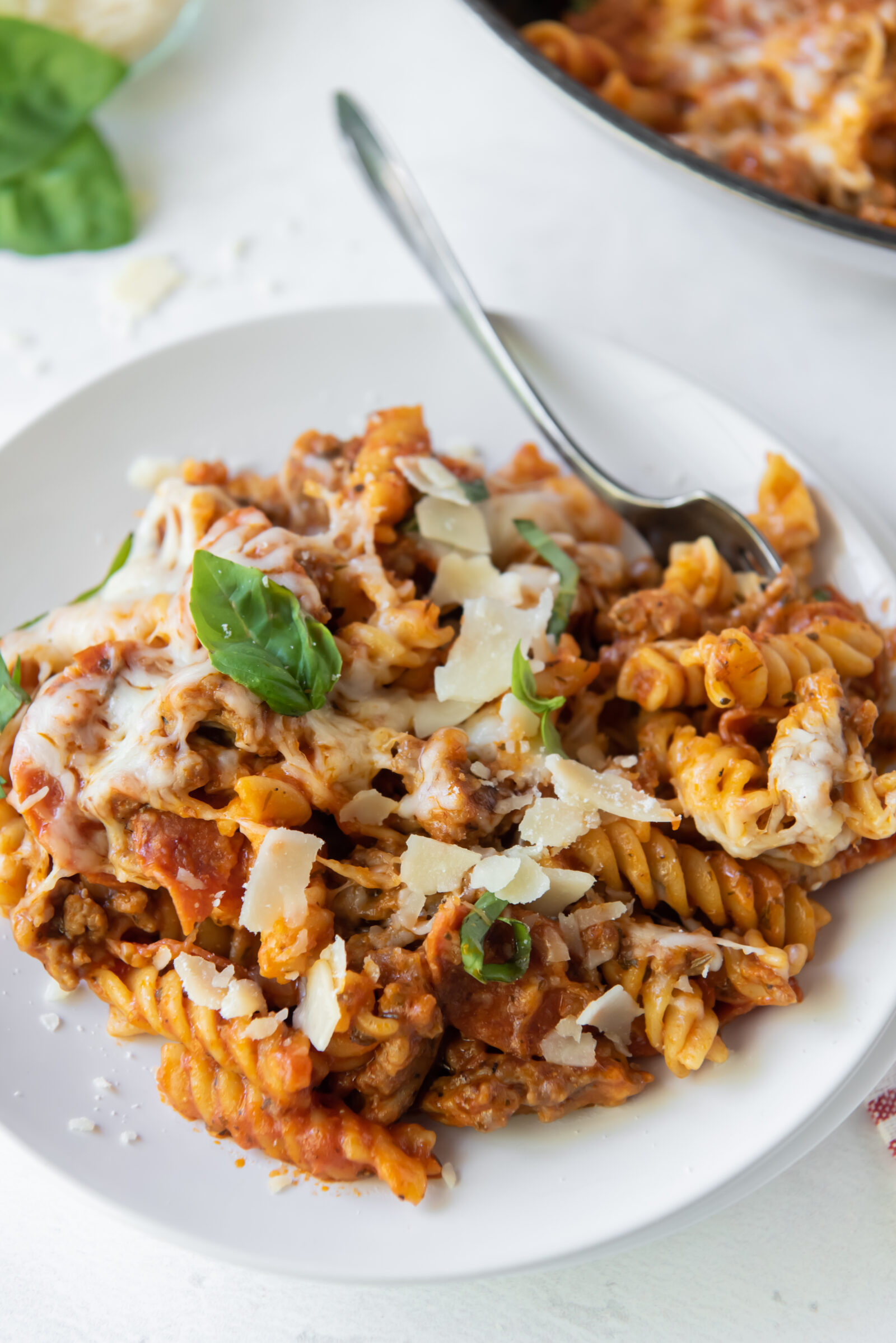 Ingredients Needed for Pizza Pasta
To make this stovetop pizza pasta casserole, you'll need the following basic ingredients:
Ground Italian sausage
Pepperoni
Italian seasoning
Garlic powder
Oregano
Marinara sauce
Water
Rotini pasta
Shredded mozzarella
Fresh basil
Can I Omit the Sausage?
Of course! You can omit the meat entirely or substitute it with your choice of ground beef, ground chicken, or another protein of choice.
Can I Use Another Type of Pasta?
Yep! Any short, sturdy pasta shape will work. I just like using rotini because the crevices help hold onto the sauce.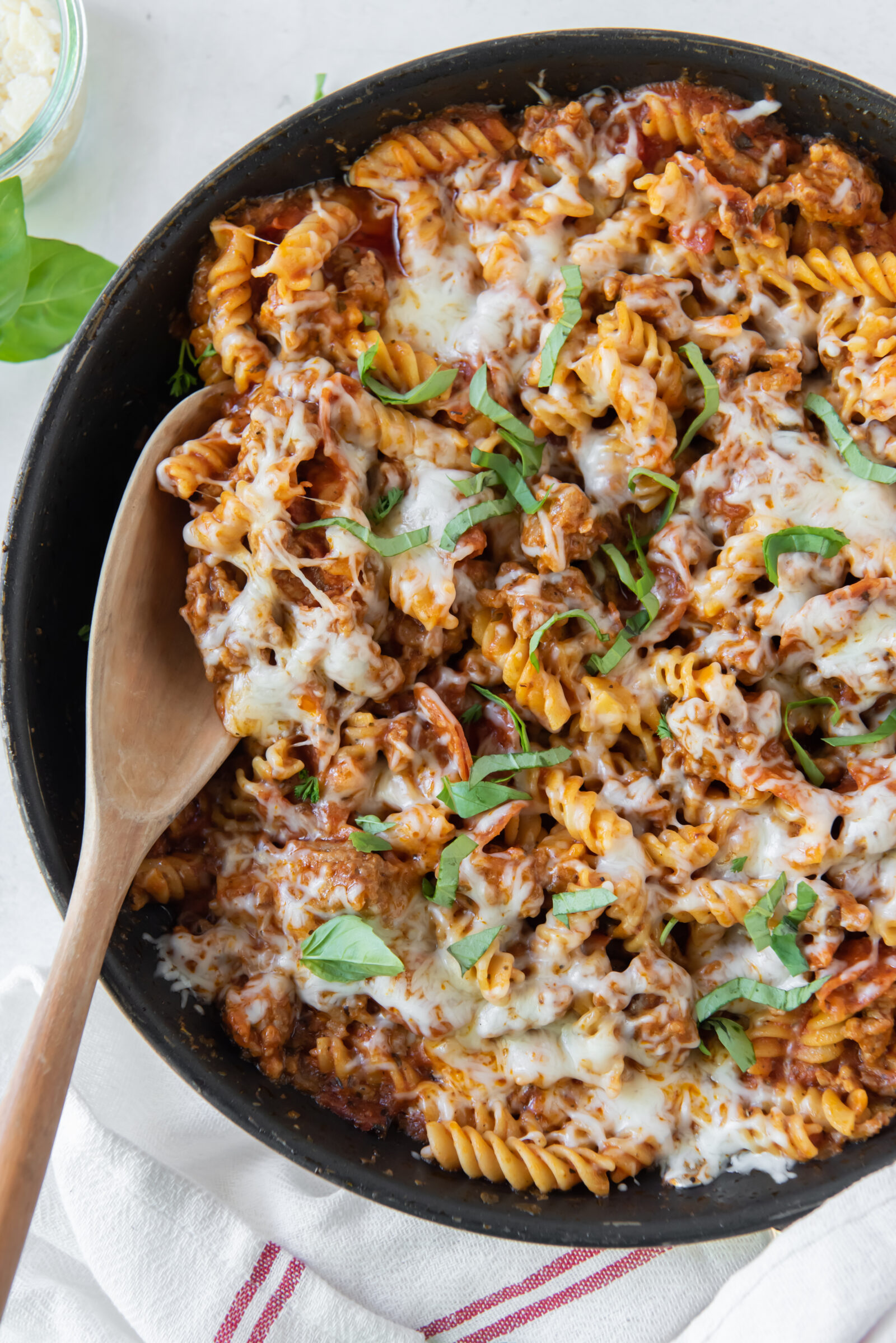 How to Make Pizza Pasta
The best part about this pizza casserole (besides the delicious taste) is that it's made in one pan, and one pan only! So that means less dishes to wash and more time spent out of the kitchen. And that's always a plus, especially on busy weeknights.
To make this dish, I first browned some sausage in a large skillet.
After that was done cooking, I added in some marinara sauce, spices, and pasta.
I let the stove work its magic and then topped this casserole with some mozzarella cheese
This dish serves as delicious leftovers for the rest of the week, which means that you don't have to worry about dinner (if it lasts that long)!
So if you've got a craving for pizza but don't want to make the actual pie, then try these easy One Pan Pizza Pasta! I guarantee it will be a meal-time winner!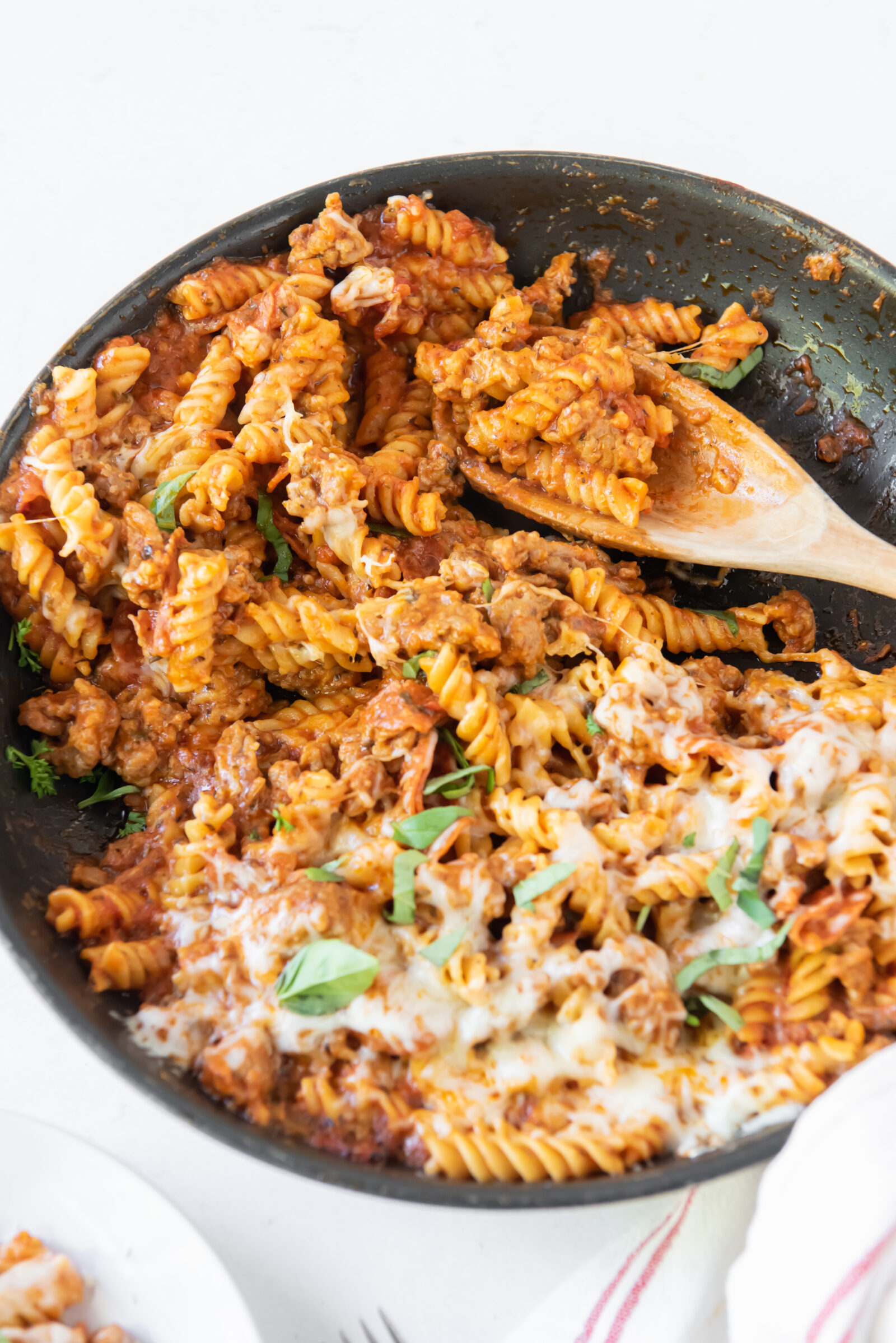 Tips for Making Pizza Pasta
This is the perfect meal to customize depending on your tastes. Don't like sausage? Leave it out! Want to add in some veggies? Toss 'em in!
If adding veggies to this dish, I recommend sautéing them before browning the sausage. That way they have time to cook and develop some flavor.
This pasta tastes great as leftovers! You may need to add some water to the pan when reheating to prevent the pasta from drying out.
Looking for more easy pizza recipes? I've got you covered!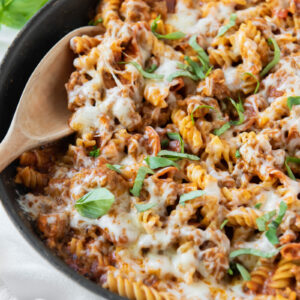 One Pan Pizza Casserole
This Pizza Pasta contains all of the classic pizza flavors packed into a one-pan meal that is sure to satisfy your cravings!
Ingredients
1 pound ground Italian sausage
¾ cup pepperoni, , halved
2 teaspoons Italian seasoning
1½ teaspoon garlic powder
½ teaspoon oregano
1 jar (24 ounces) marinara sauce
2 cups water
8 ounces uncooked rotini noodles
1¼ cup shredded mozzarella cheese
Fresh basil for garnish, , if desired
Instructions
In a large skillet, cook and crumble sausage until browned. Drain and and return to pan.

Add pepperoni, Italian seasoning, garlic powder, and oregano. Stir to combine.

Add marinara sauce, water, and noodles to skillet. Bring to a boil, then cover and reduce heat. Simmer 12-15 minutes, or until pasta is tender.

Remove lid and and stir in ¾ cup of mozzarella cheese. Then sprinkle remaining ½ cup of cheese over top. Replace cover and let sit for 5-7 minutes, or until cheese is melted. Serve immediately.
Serving: 1g, Calories: 493kcal, Carbohydrates: 23g, Protein: 23g, Fat: 34g, Saturated Fat: 13g, Cholesterol: 87mg, Sodium: 973mg, Potassium: 287mg, Fiber: 1g, Sugar: 1g, Vitamin A: 189IU, Vitamin C: 1mg, Calcium: 178mg, Iron: 2mg