Restaurant Style Salsa
This post contains affiliate links.
With fresh tomatoes and just the right amount of seasonings, this easy Restaurant Style Salsa will wow your taste buds!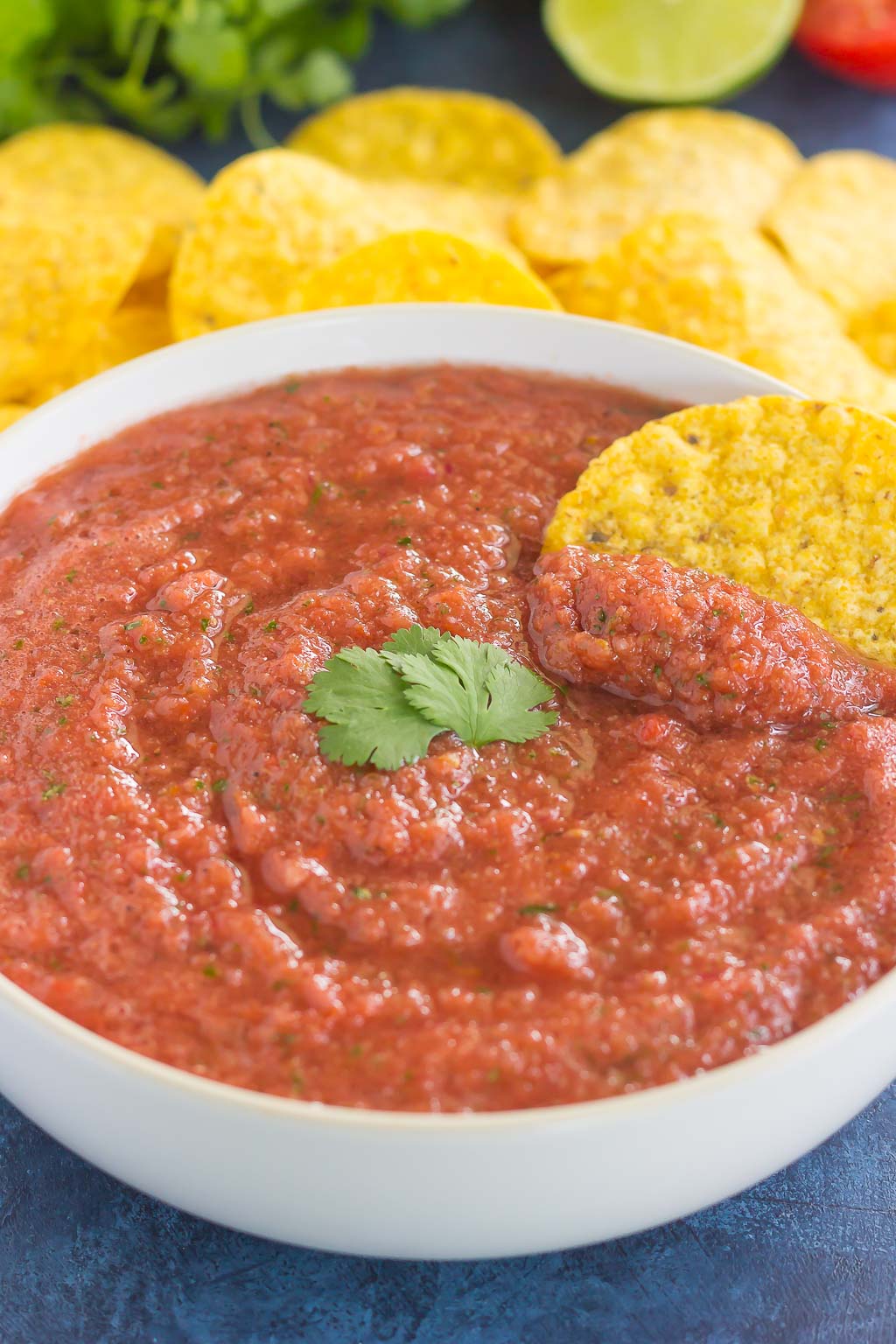 It's no secret that the hubster and I love going out for Mexican food. The atmosphere, tasty chips and salsa, and delicious frozen strawberry margaritas seem to lure us to our favorite spot once a month.
The one thing that I always look forward to when going out for Mexican food is the tortilla chips and salsa.
The hubster and I are pretty picky about this. Not every place can make these just right. The tortilla chips have to be crispy and fresh, while the salsa has to have mild spice, but nothing too overpowering.
We've searched high and low to find just the perfect combination. Luckily, our favorite place meets our standards. The chips are always crunchy and the salsa has just the right combination of flavors and spice.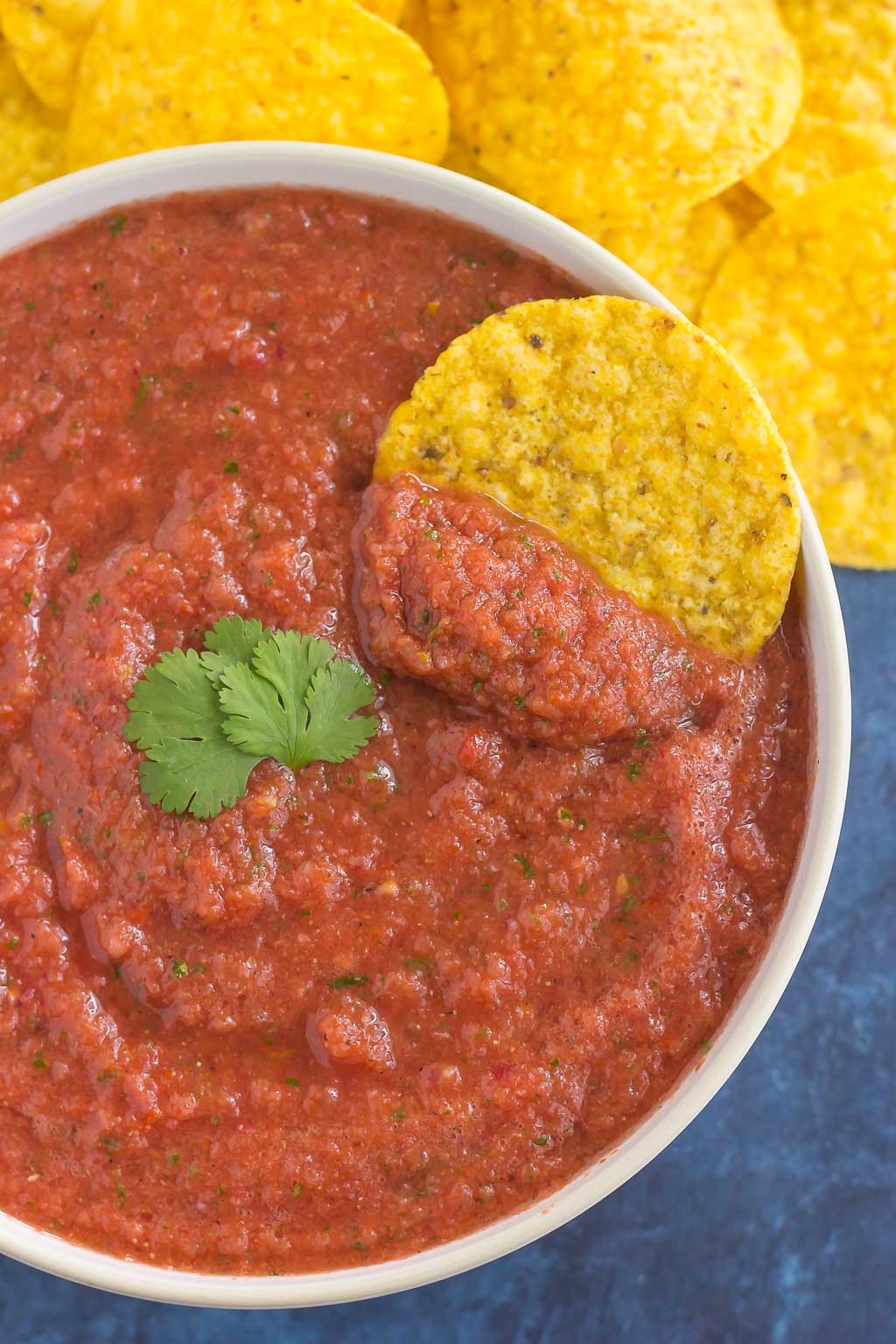 So when the hubster and I had a craving for some chips and salsa last weekend, I decided to try my hand at making homemade restaurant style salsa.
After gathering the perfect ingredients, I whipped up this delicious Mexican restaurant salsa recipe. With fresh tomatoes and just the right amount of seasonings, the salsa tasted like it came right from our favorite Mexican place. It was so fresh and tasty, that the hubster and I quickly decided that this tasted even better than salsa ordered at a restaurant! Yes, it tasted just that good!
The best part of this recipe? You guessed it! It's so simple to whip up because it's made in the blender, and very versatile depending on yours tastes.
And because you throw the ingredients into the blender, it takes just minutes to prepare!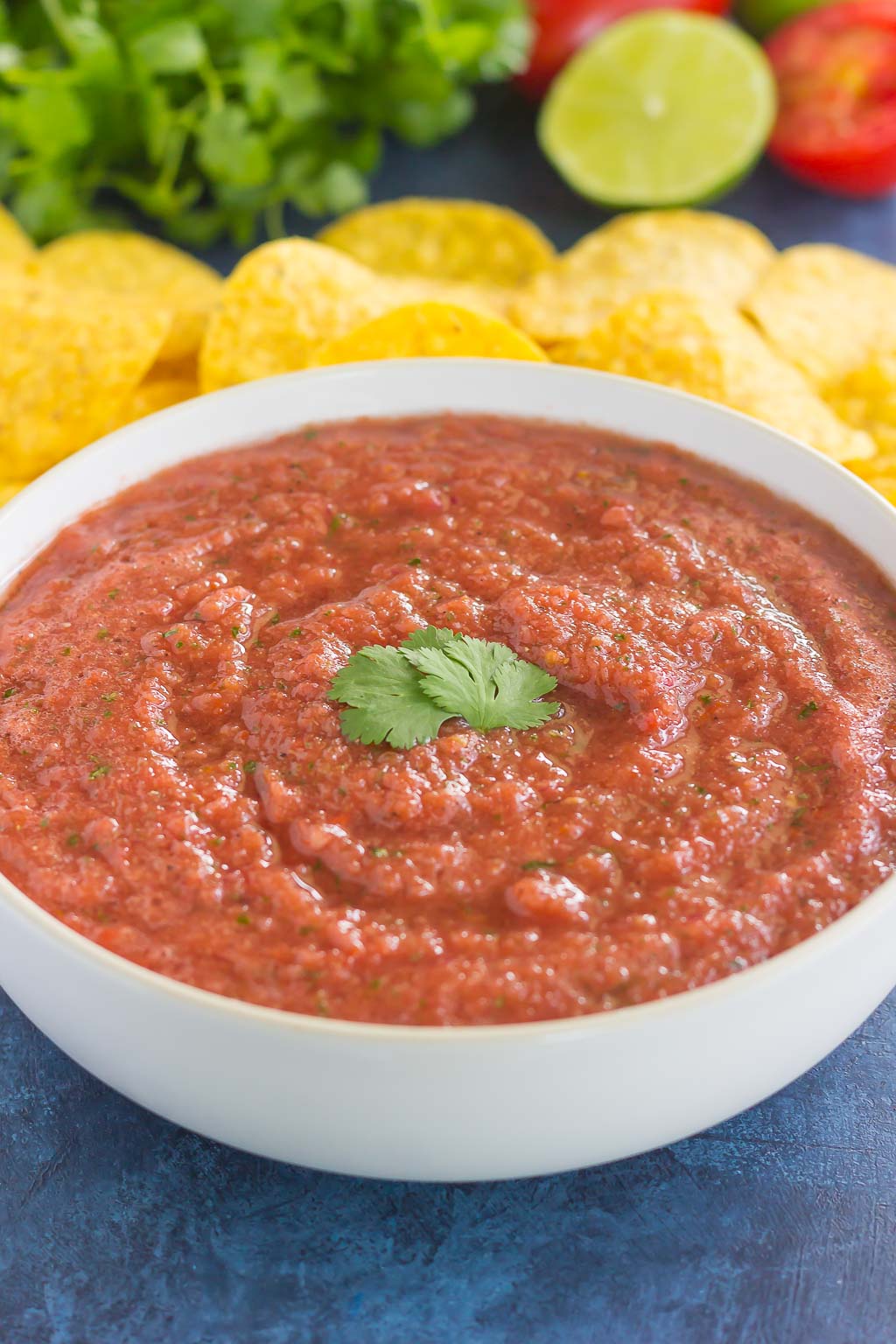 Restaurant Style Salsa Ingredients
The ingredients needed to make the best homemade salsa are mostly pantry staples:
Canned diced tomatoes
Red onion
Fresh cilantro
Lime juice
Garlic
Cumin
Jalapeño
Granulated sugar
Salt and pepper
How to Make Restaurant Style Salsa
Simply chop your veggies and herbs, toss everything in the blender, mix, and voila! Homemade restaurant style salsa that will wow your taste buds. Trust me guys, this salsa is amazing! I guarantee it will rival any Mexican restaurant that you love.
Serve this Restaurant Style Salsa with tortilla chips and you have yourself a deliciously fresh and tasty appetizer or snack!
What are the Best Tomatoes for Salsa?
I've found that a combination of canned diced tomatoes works best. Roma tomatoes are a great alternative if you want to use fresh tomatoes.
Can You Freeze Salsa?
Since this restaurant salsa recipe is pureed until smooth, it's okay to freeze (chunky salsas change texture once frozen). To thaw, place in your fridge overnight.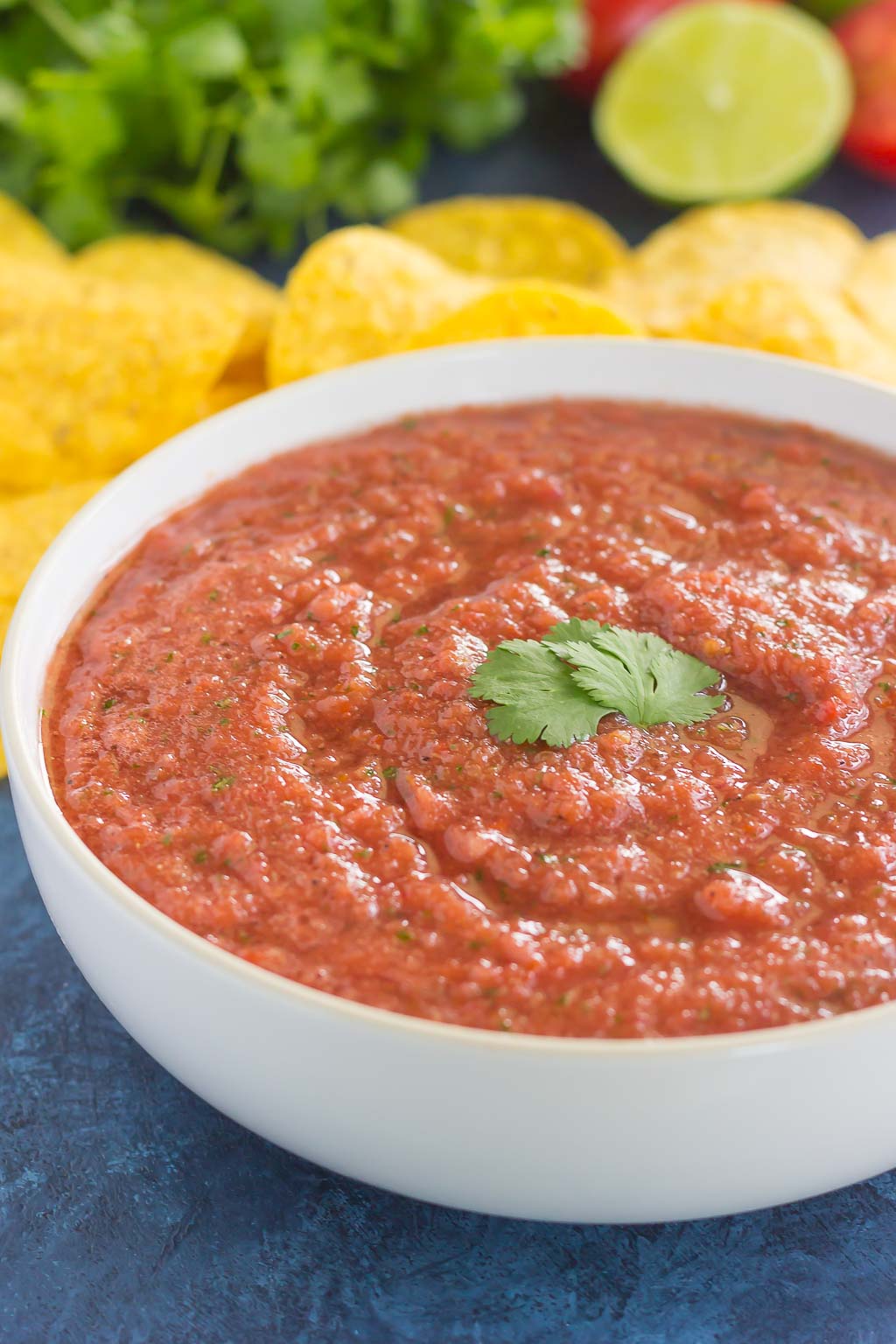 Tips for Making the Best Homemade Salsa
I omitted the jalapeños entirely in this salsa since the hubster and I don't like foods that are too spicy. But if you like a little heat, feel free to add that in.
For the best flavor, use fresh garlic and freshly squeezed lime juice. This is such a simple restaurant salsa recipe, so little things like that make a big difference.
Likewise, don't skip the granulated sugar in this recipe. It's only a pinch, but it helps to balance out the acidity in the tomatoes.
Looking for more easy Mexican recipes? I've got you covered!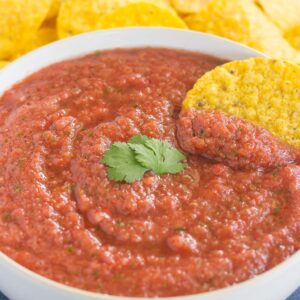 Restaurant Style Salsa
With fresh tomatoes and just the right amount of seasonings, this easy restaurant style Salsa will wow your taste buds!
Ingredients
2 (14 ounce) can diced tomatoes, drained (I used basil, oregano, and garlic seasoned tomatoes)
1 (10 ounce) can diced tomatoes & green chiles
½ red onion, roughly chopped
¼ cup fresh cilantro
Juice of one lime
1 garlic clove, or 2 teaspoons minced garlic
1 jalapeño, seeds scraped out (optional)
¼ teaspoon cumin
½ teaspoon granulated sugar
½ teaspoon salt
½ teaspoon pepper
Instructions
In a blender, combine the diced tomatoes, tomatoes & green chiles, onion, cilantro, lime juice, garlic, jalapeño (if using), cumin, sugar, salt, and pepper.

Blend until it reaches desired consistency. Adjust seasonings, if needed.

Serve immediately with tortilla chips or refridgerate until ready to serve.
Notes
Salsa will keep in the refrigerator for up to 5 days.
If you do not like spicy salsa, feel free to omit jalapeños.
Serving: 1g
**August 2017 update! This recipe was originally posted in July 2014. I decided that the photos desperately needed updating, so I reshot the recipe (but still kept the ingredient list and directions the same). I also kept the original post/story above that I wrote three summers ago!**