Vanilla Cupcakes with Peppermint Frosting
This post contains affiliate links.
These homemade Vanilla Cupcakes with Peppermint Frosting are light, fluffy, and topped with a sweet peppermint swirl. Easy to make and bursting with flavor, these cupcakes are the perfect sweet treat to add to your holiday baking list!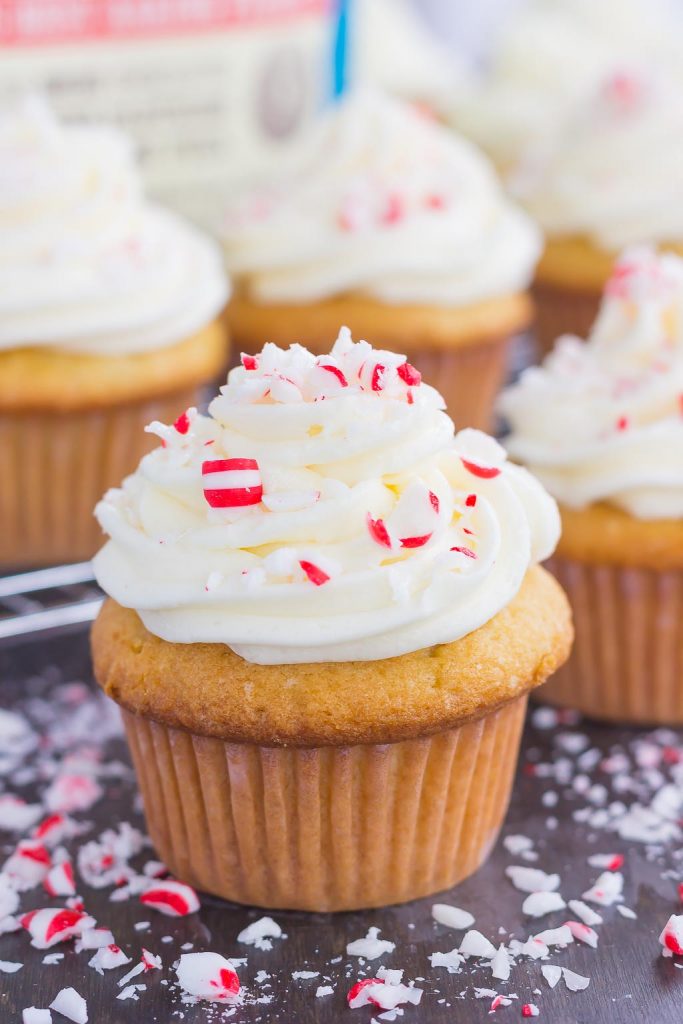 I know we're still two weeks away from Thanksgiving, and full-on Christmas mode hasn't started quite yet, but I just couldn't wait to share these homemade Vanilla Cupcakes with Peppermint Frosting!
Consider it a holiday preview for all the delicious goodies to come over the next few weeks. Not only am I excited to share this recipe because of how decadently tasty it is, but also because this is my very first cupcake recipe on Pumpkin 'N Spice!
I know, I KNOW! So sad, right? But, I have a reason.
I'm not the best when it comes to frosting cupcakes. Let me rephrase…it looks like a 5-year-old frosted cupcakes when I do it myself. Fine for a little kid, but for me? Not so much.
Luckily, I've had my fair share of frosting practice (and cupcake batter recipe testing, too). Over the past year or so, I've created a few cupcake recipes to share, but they still needed a few tweaks here and there. But, I've finally got it right, so it's time to share.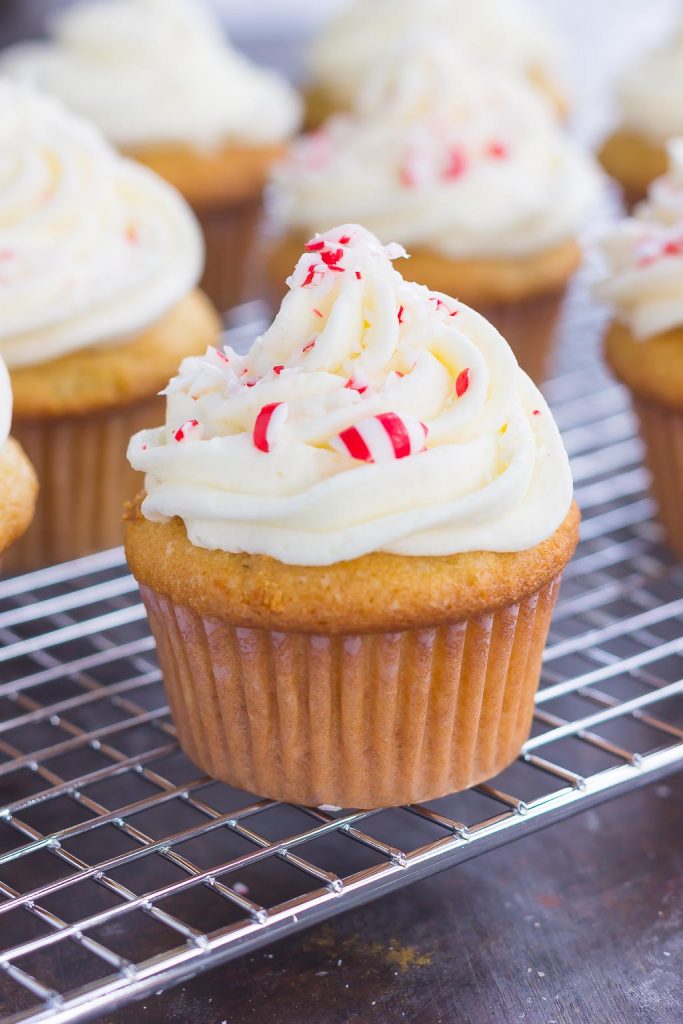 And you can't go wrong with a classic vanilla cupcake. The recipe itself is fairly simple…it's just your standard cupcake ingredients, followed by a good dose of vanilla extract. And vanilla Greek yogurt to keep the cupcakes extra moist.
Now, you know I'm all about the easy recipes on Pumpkin 'N Spice, so trust me when I say that these Christmas cupcakes are simple to make.
Everyone is busy around the holidays, so the last think you need is a super-duper time consuming dessert. Unless that's your sort of thing. But since you're hanging around here, I'm pretty sure you love the easy dishes just as much as I do.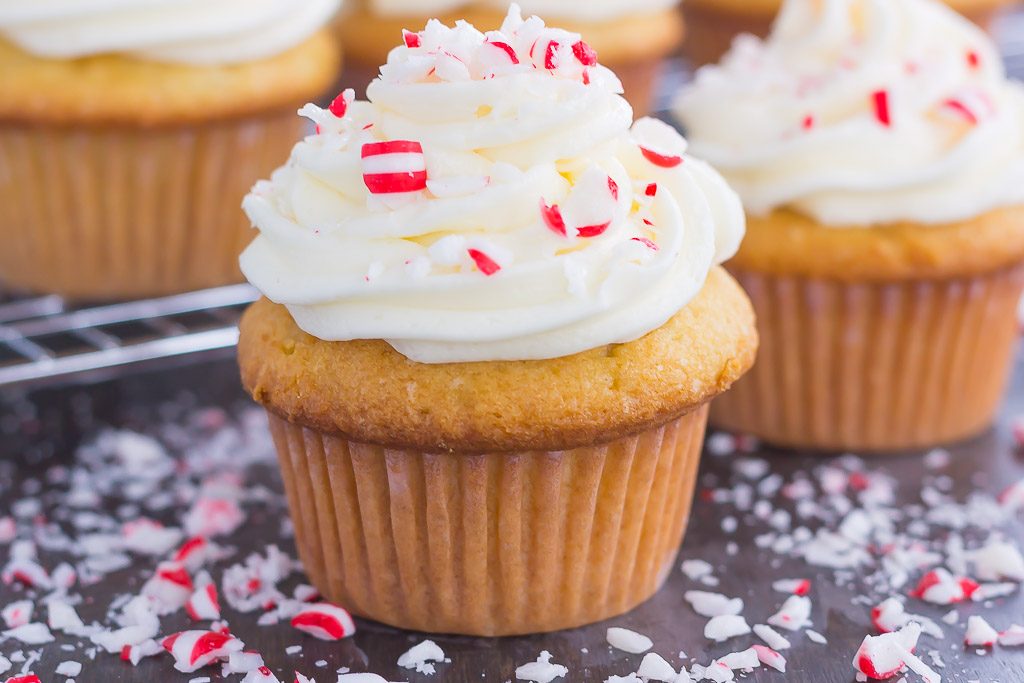 Ingredients for Homemade Vanilla Cupcakes
The ingredients list for these easy Christmas cupcakes is short and sweet. To make the homemade vanilla cupcakes, you'll need:
All-purpose flour
Baking powder and baking soda
Salt
Eggs
Granulated sugar
Unsalted butter
Vanilla bean paste (or extract)
Vanilla Greek yogurt
And for the peppermint frosting, you'll need:
Unsalted butter
Powdered sugar
Milk
Peppermint extract
Peppermint candies or candy canes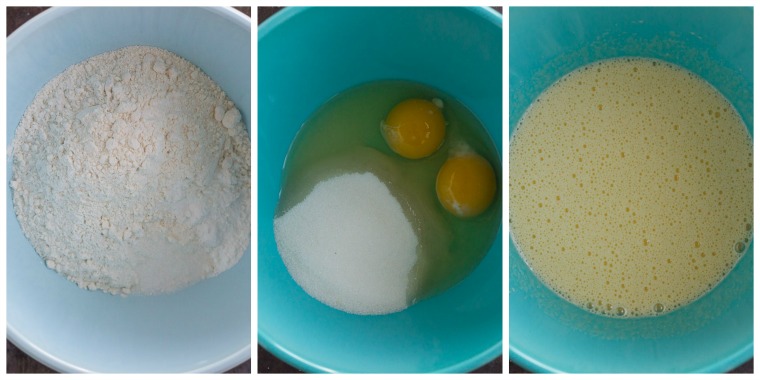 How to Make Vanilla Cupcakes with Peppermint Frosting
In no time, you can have these Vanilla Cupcakes with Peppermint Frosting ready to impress your holiday guests. The vanilla cupcakes are soft, moist, and flavorful, while the peppermint frosting gives it just the right amount of sweetness. One bite and I guarantee you will have found your new favorite holiday cupcake!
To start, you'll prepare the batter for the vanilla cupcakes. Simply mix together the dry ingredients, followed by the wet, and then stir to combine.
Pour batter into a 12-count muffin tin and let the oven work its magic. Easy peasy, right?
Now comes the hard part…waiting for the cupcakes to cool in order to frost them!
While you wait, make the mint buttercream frosting. It's just a matter of whipping the ingredients together in a bowl until light and fluffy.
The peppermint frosting is oh-so GOOD! It's sweet and packed with a hint of peppermint that's not too overpowering, which is just the way I like it. And to make it pretty, I sprinkled some crushed candy canes on top.
Can I Freeze Cupcakes?
Yes, the vanilla cupcakes from scratch can be frozen without the frosting. The frosting can be frozen separately in an airtight container for up to 3 months. To thaw both the frosting and the cupcakes, place in the fridge overnight.
Can I Prep These in Advance?
Have a holiday party coming up? You can make the vanilla cupcakes the day before and quickly whip up a batch of frosting before plating and serving. Be sure to store the cupcakes in an airtight container at room temperature in the interim.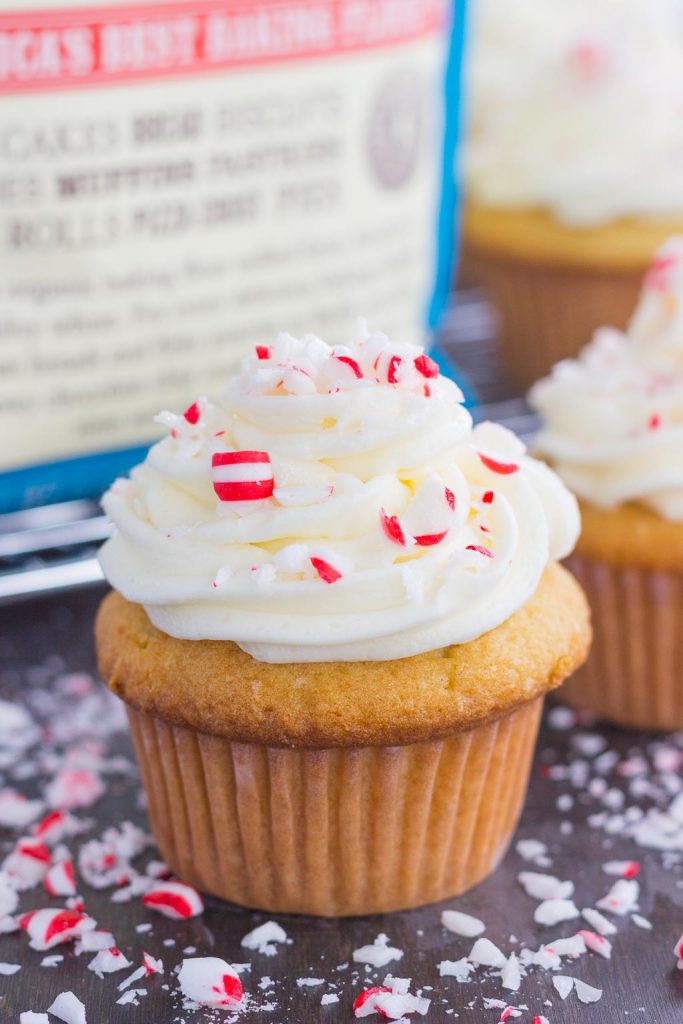 Tips for Making Christmas Cupcakes
Do NOT add more peppermint extract to the frosting than the recipe calls for. Peppermint extract is very strong, and adding too much can quickly overwhelm this dessert.
Love the combination of chocolate and peppermint? Make these chocolate cupcakes but use the peppermint frosting called for in this recipe.
Instead of crushed candy canes, you could also top these cupcakes with holiday sprinkles.
Grab those ingredients and whip up a batch of these easy and oh-so delicious Vanilla Cupcakes with Peppermint Frosting today. You'll be glad you did, and your hungry guests will thank you!
Looking for more peppermint desserts? I've got you covered!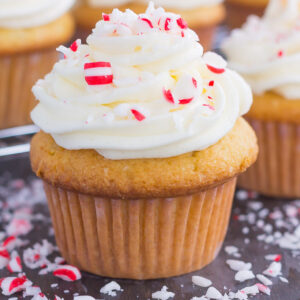 Vanilla Cupcakes with Peppermint Frosting
These homemade Vanilla Cupcakes with Peppermint Frosting are light, fluffy, and topped with a sweet peppermint swirl.
Ingredients
Vanilla Cupcakes
1¼ cups all-purpose flour
½ teaspoon baking powder
½ teaspoon baking soda
¼ teaspoon salt
2 large eggs
¾ cup granulated sugar
½ cup unsalted butter, , softened
1½ teaspoons vanilla bean paste, (or vanilla extract)
½ cup vanilla Greek yogurt
Peppermint Frosting
1 cup unsalted butter, softened
4 cups powdered sugar
2 tablespoons milk, (or heavy cream)
2 teaspoons peppermint extract
10 peppermint candies , crushed (or 4 regular size candy canes)
Instructions
Cupcakes:
Preheat oven to 350°F. Line a 12-count muffin tin with paper liners. Set aside.

In a medium bowl, whisk flour, baking powder, baking soda, and salt. Set aside.

In a large bowl, beat eggs and sugar with a hand mixer or stand mixer with fitted paddle attachment until pale yellow and fluffy, about 2-3 minutes.

Add softened butter and vanilla extract and beat until incorporated. Mix in yogurt.

Pour flour mixture into wet ingredients and stir until just combined. Spoon batter into prepared muffin tin, filling about 3/4 full.

Bake for 18-20 minutes, or until toothpick inserted in middle comes out clean. Let cool for 10 minutes in pan, and then move to a wire rack to cool completely.
Peppermint Frosting:
Cream softened butter in a large bowl until light and fluffy, for about 3 minutes.

Add powdered sugar, ½ cup at a time, mixing to incorporate. Add milk and peppermint extract, beating to combine.

Pipe or spread over cooled cupcakes. Then top with crushed peppermint candies/candy canes. Althernatively, you could stir candy into frosting and then pipe, if desired.
Serving: 1cupcake, Calories: 389kcal, Carbohydrates: 41g, Protein: 3g, Fat: 24g, Saturated Fat: 15g, Cholesterol: 89mg, Sodium: 112mg, Potassium: 54mg, Fiber: 1g, Sugar: 30g, Vitamin A: 749IU, Calcium: 22mg, Iron: 1mg