Baked Zucchini Chips
If you're looking for a creative twist on a classic vegetable, try these Baked Zucchini Chips with ranch mayo dip. Loaded with spices, these chips make a healthy snack, appetizer, or side dish!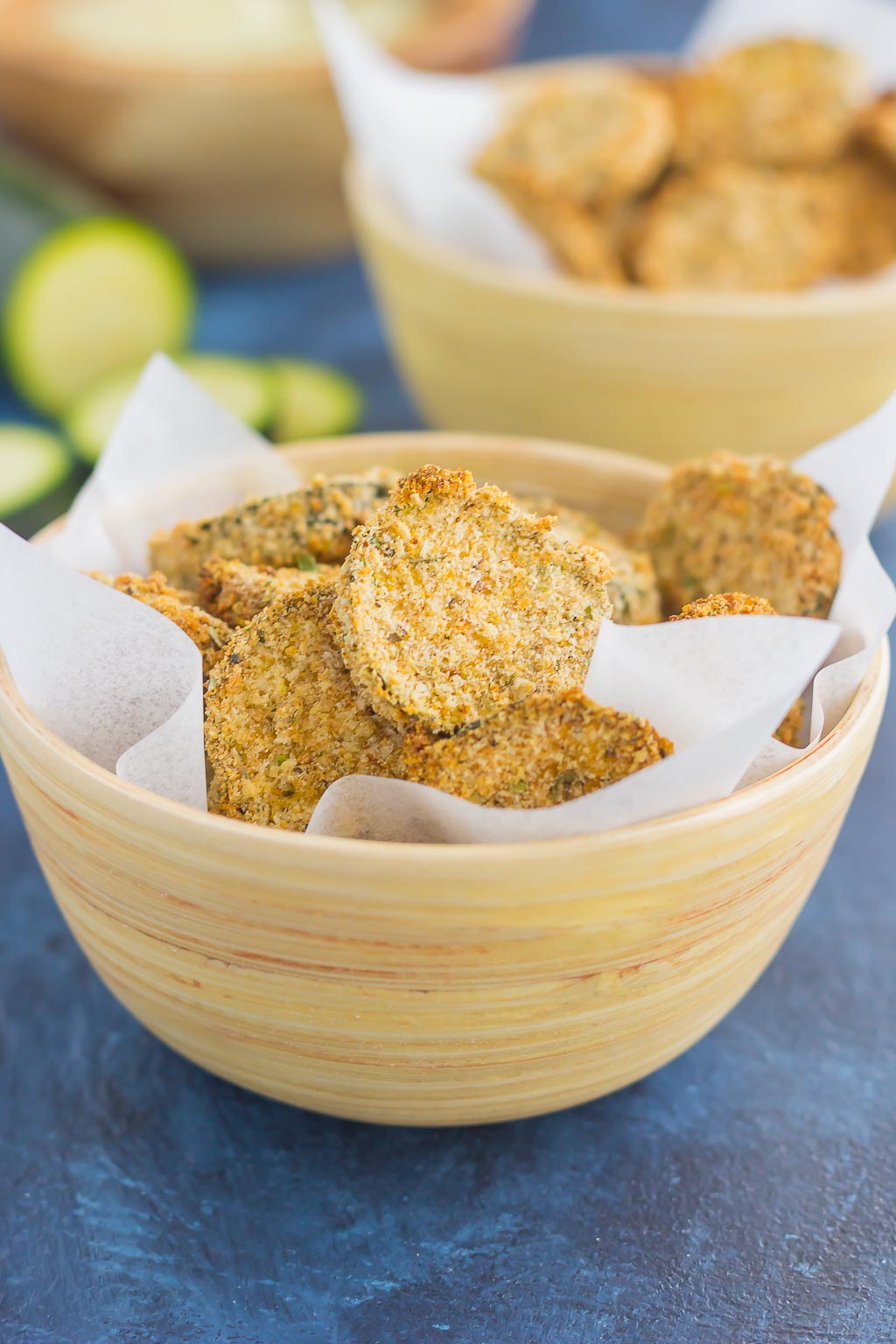 Last weekend, the hubster and I broke out our bicycles to enjoy the beautiful summer weather. After washing them down and checking to make sure there was enough air in the tires, we hopped on our bikes and began the ride through our neighborhood. It felt so good to be in the fresh air, with the sun streaming down on us.
And I had forgotten how much I liked riding a bike! Don't judge me, but it's probably been at least three years since I last rode my bike. Crazy, right?! Well this summer, I made a pact with myself to get out and ride more. Great exercise, sunshine, and just plain ol' fun!
After about an hour ride, we parked our bikes in the garage and came in to cool down. Man, that was hard work! We found a trail by our house that we explored, hills and all. Definitely a good workout, especially because of my lack of bike riding! With our exercise out of the way, we were hungry. Very hungry! But we wanted something healthy, a snack that wouldn't undo our workout.
While the hubster contemplated a sandwich or leftovers from the night before, I immediately spotted some zucchini on the counter. But before I go into my recipe, I will admit that I'm not the biggest zucchini fan on the block. I like it mixed in with a casserole or as a roasted vegetable, but eating it plain just doesn't do it for me. Are you like that, too?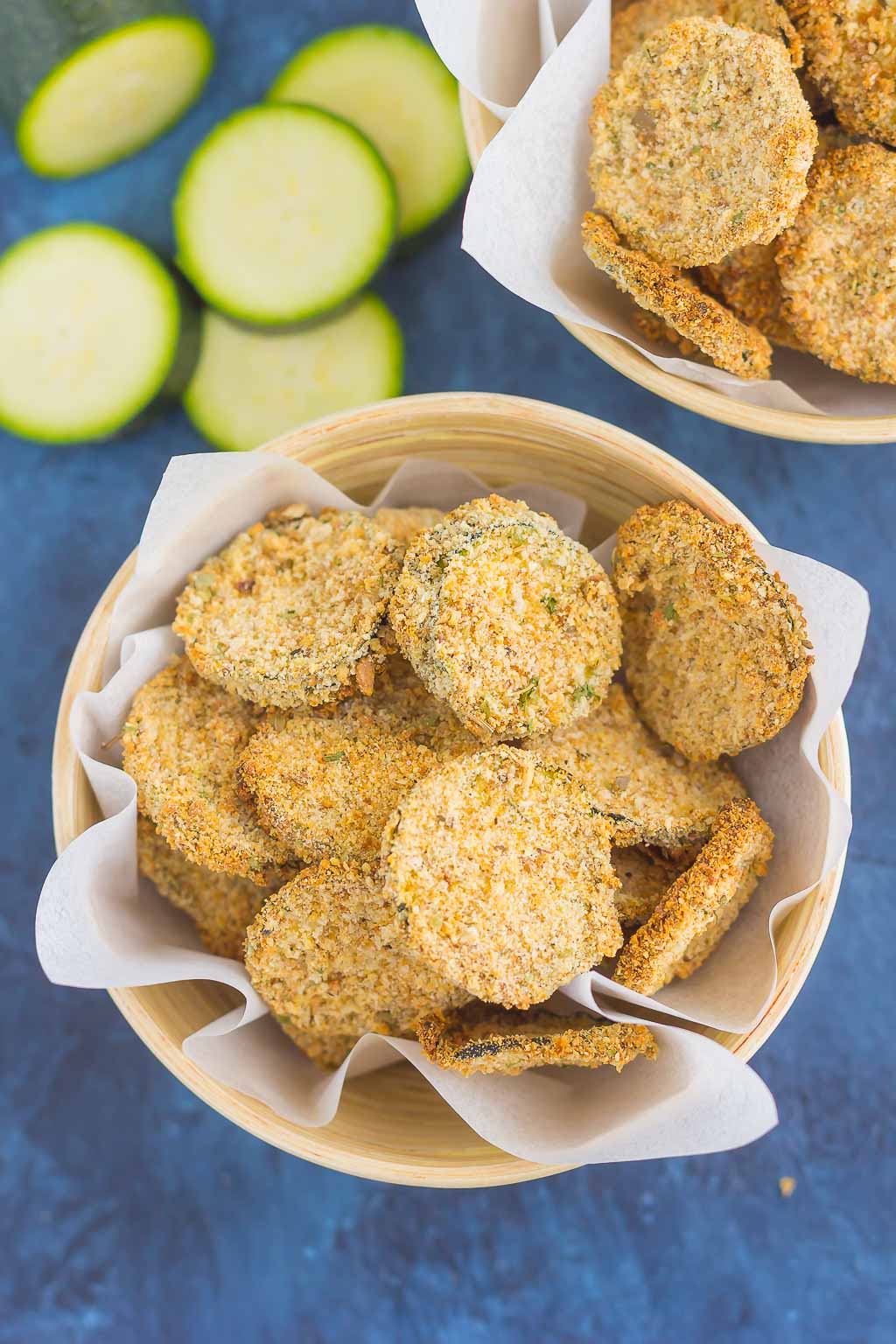 So now you're probably thinking, "Why on earth did you buy zucchini, Gayle?" Because I desperately want to jump onto the zucchini bandwagon! Everyone talks about how good it is, and how versatile it can be….have you seen pasta made from zucchini ribbons? What a brilliant idea!
So I wanted to give it the good ol' college try and test out the vegetable again. But I couldn't bring myself to just slice it up and eat it. Nope, that would be too boring! Plus, it probably wouldn't convert me to a zucchini-lover. So after hemming and hawing about what to do with my two zucchinis, the perfect idea popped into my head.
Ready for it?
Baked zucchini chips with ranch mayo dip! It sounds easy enough…slice some zucchinis, throw in some spices, and bake in the oven! I think it would fuel my love of zucchinis and keep my post-workout food healthy-ish.
Let me just say that this was zucchini perfection! The zucchinis baked up golden and crisp, with a nice seasoned coating. And the dip complemented the zucchini, accenting their seasonings. I was addicted to these chips. And since they're on the healthy side, I didn't feel guilty about eating a handful or two as a snack.
So if you're like me and are weary of eating zucchinis, or are looking for a new twist on a classic vegetable, why not try these baked zucchini chips? I guarantee you'll love the crispy chip, paired with a zesty dip.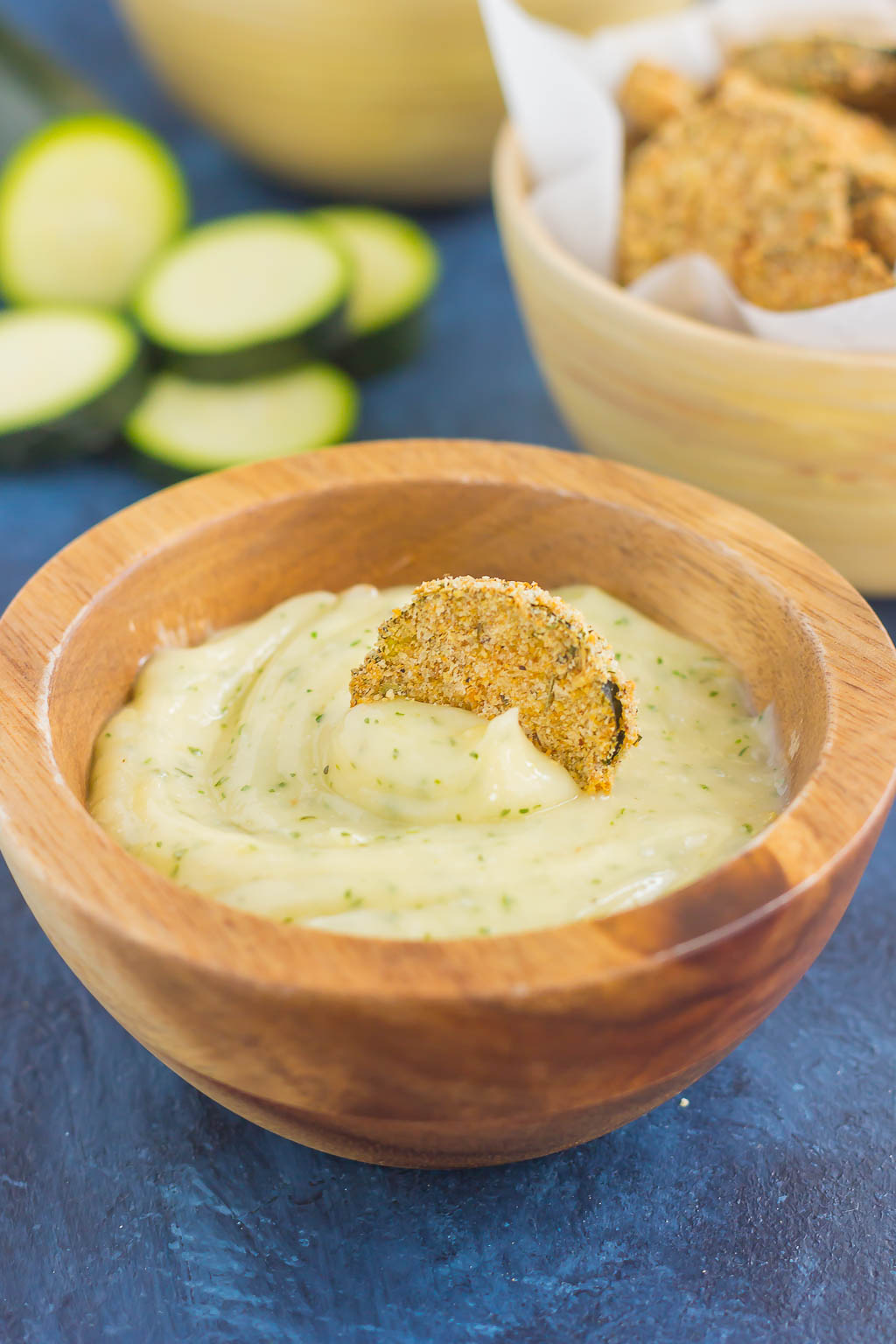 Zucchini Chips Ingredients
These baked zucchini crisps are a cinch to make and require minimal ingredients:
Zucchini
Egg whites
Italian breadcrumbs
Dried herbs and spices
Mayonnaise
Dry ranch dressing mix
How to Make Zucchini Chips
Since I don't have a mandolin slicer, I sliced two zucchinis into thin discs by using a sharp knife. It worked out perfectly, too…the zucchinis were easy to cut into and ready to be seasoned in about five minutes total.
After they were sliced, I tossed the zucchinis in a bowl with some olive oil, garlic powder, onion powder, salt, and pepper. My combination of the perfect seasoning!
Just in case you haven't noticed, I'm a huge garlic fan. After all, everything is better with garlic, right? After the zucchinis were seasoned, I spread them out in a single layer on a baking tray lined with a silpat mat and popped them into the oven.
While the zucchini chips were baking (and making my kitchen smell delicious), I prepared my quick and easy Ranch Mayo Dip. I combined ¼ cup of regular mayonnaise with two tablespoons of Ranch dressing mix. That's all there is to this tasty dip! When the zucchini chips were crisp and golden, I removed from the oven and let cool for about ten minutes on the baking tray.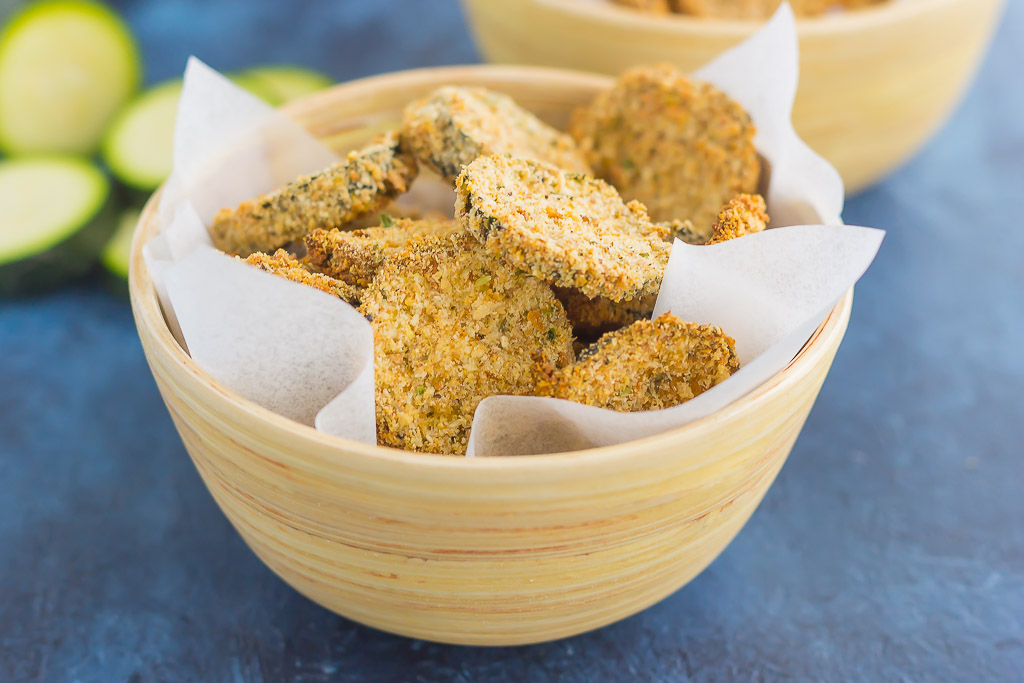 Can I Make Zucchini Chips in an Air Fryer?
You likely can, but I've only ever baked mine so I can't give you tips on making them in an air fryer. If you try this out yourself, please leave me a comment below!
How Long Do Zucchini Chips Last?
These babies are best fresh out of the oven. The zucchini slices soften over time and don't stay crispy for long.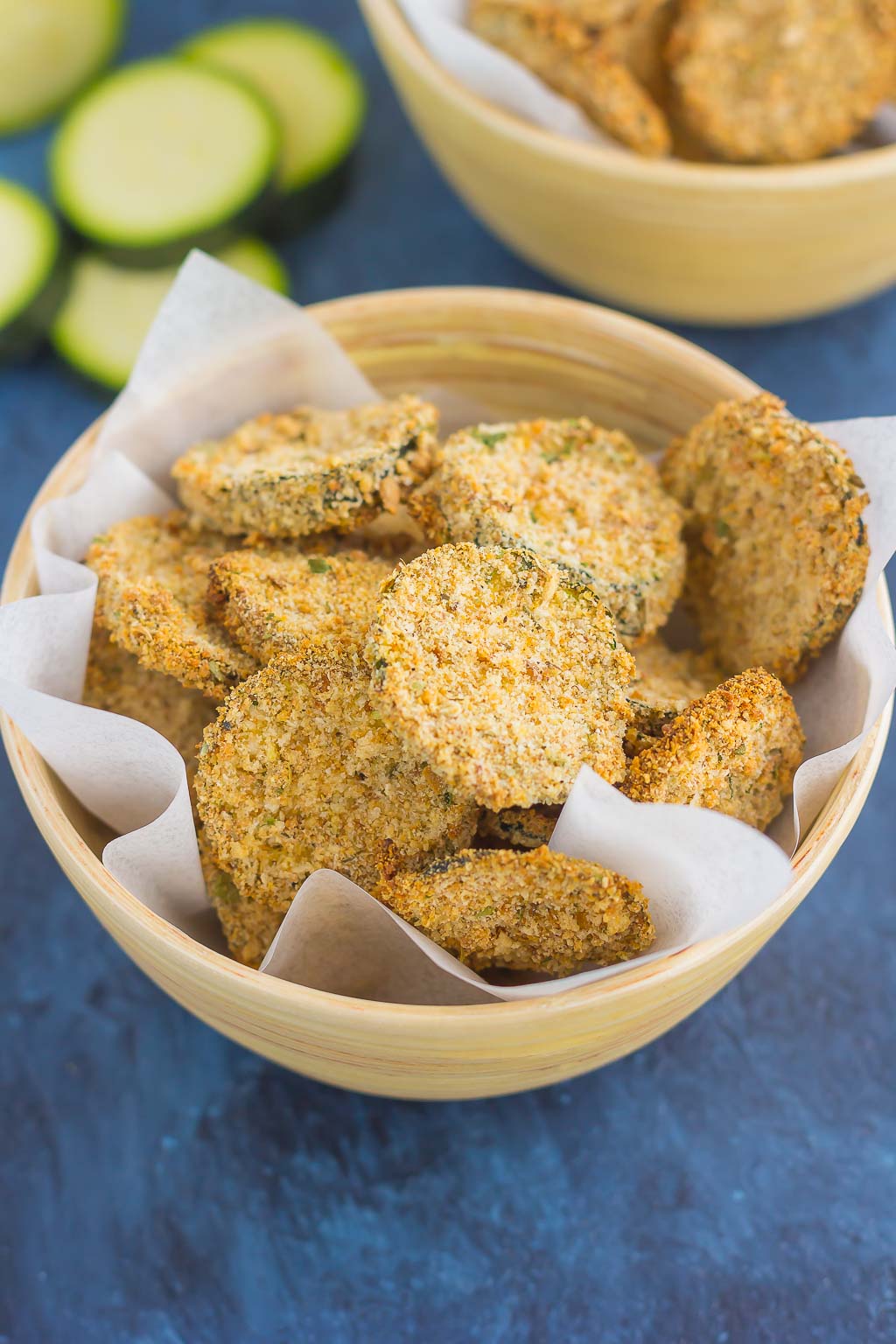 Tips for the Best Zucchini Chips
I used one zucchini per serving, so if you're serving two people, use two zucchinis, and so on.
Feel free to swap out different seasonings to fit your tastes. Zucchini are fairly bland on their own, so you can flavor them however you want!
Likewise, feel free to use any kind of mayo you'd like (vegan, low-fat, etc.).
Looking for more easy appetizer recipes? I've got you covered!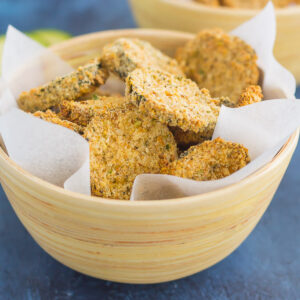 Zucchini Chips with Ranch Mayo Dip
If you're looking for a creative twist on a classic vegetable, try out these Zucchini Chips with Ranch Mayo Dip! Loaded with spices, these chips make a healthy snack, appetizer, or side dish!
Ingredients
Zucchini Chips:
2 medium zucchinis
2 egg whites
½ cup Italian breadcrumbs
½ teaspoon garlic powder
¼ teaspoon dried oregano
¼ teaspoon onion powder
¼ teaspoon salt
¼ teaspoon black pepper
Ranch Mayo Dip:
¼ cup mayonnaise, (I used regular, but any kind will do)
½ tablespoon dry Ranch dressing mix
Instructions
Make the zucchini chips:
Preheat oven to 425F. Line a large baking tray with a silpat baking mat, parchment paper, or non-stick cooking spray.

Cut each zucchini into thin discs. Set aside.

In small bowl, whisk together egg whites until frothy. Set aside.

In another bowl, combine the breadcrumbs, garlic powder, oregano, onion powder, salt, and pepper. Stir until mixed well.

Working one a a time, take a zucchini thin, dip into egg whites, making sure to cover entirely. Then dip into bread crumb mixture. Place zucchini on prepared baking pan. Repeat with each zucchini disc until all are coated.

Bake for about 28-30 minutes, or until zucchini chips turn golden brown and have a nice crust. Remove from oven and let cool for 5 minutes on baking tray. Then move to a wire rack to cool completely.
Make the dip:
While zucchini chips are baking, prepare Ranch Mayo Dip. In a small bowl, combine mayonnaise and Ranch dressing mix and stir well. Refrigerate until ready to eat.
Notes
I used one zucchini per serving, so if you are serving two people, use two zucchinis, etc.
Feel free to swap out different seasonings to fit your tastes.
Zucchini chips are best eaten right away, as they will start to turn soft after sitting out for a while.
Serving: 1g, Calories: 168kcal, Carbohydrates: 12g, Protein: 4g, Fat: 11g, Saturated Fat: 2g, Cholesterol: 6mg, Sodium: 601mg, Potassium: 59mg, Fiber: 1g, Sugar: 1g, Vitamin A: 29IU, Vitamin C: 1mg, Calcium: 27mg, Iron: 1mg