Fresh blueberries and creamy blueberry yogurt give this Blueberry Yogurt Cake a deliciously moist texture, full of blueberry flavor!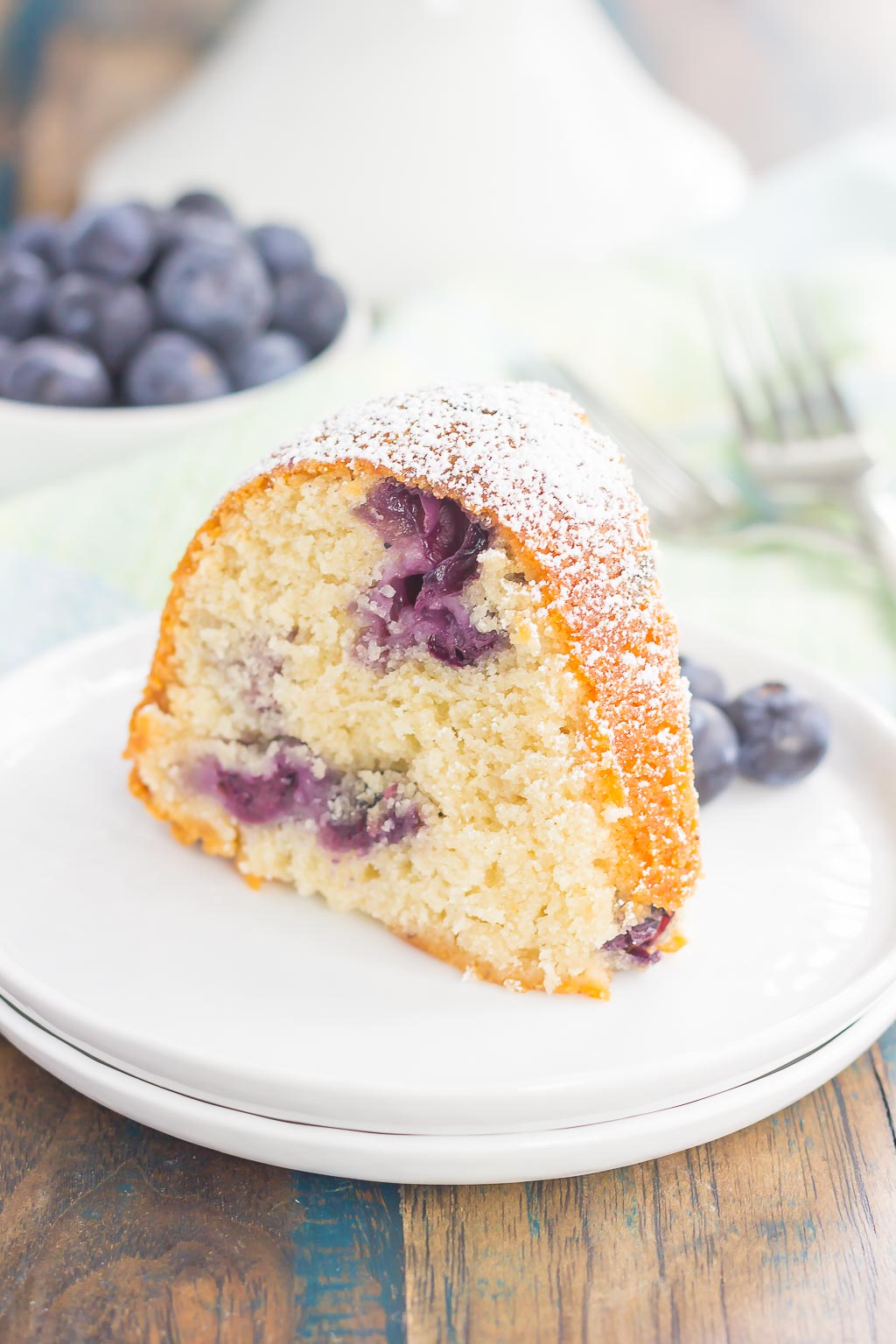 **July 2017 Update!** This recipe was originally posted in August 2014. I decided that the photos desperately needed updating, so I reshot the recipe (but still kept the ingredient list and directions the same). I also kept the original post/story below that I wrote three summers ago!**
It's no secret that I like fruit. Peaches, strawberries, raspberries…they've all made their way onto Pumpkin 'N Spice for some delicious summer recipes. I love baking with fresh fruit anytime of the year, but during the summer, it's a must for me.
Since I visit my local farmer's market just about every weekend, I have no excuse as to why I can't bake with some ripe and delicious produce. 
But one fruit that I haven't baked with this season is blueberries. Well, that's about to change, friends!
After debating on whether I wanted to make muffins, bread, or cupcakes, I finally decided on cake. Blueberry Yogurt Cake! The name just about says it all. Fresh blueberries and creamy blueberry yogurt give this cake a deliciously moist texture, full of blueberry flavor. It's pure blueberry bliss!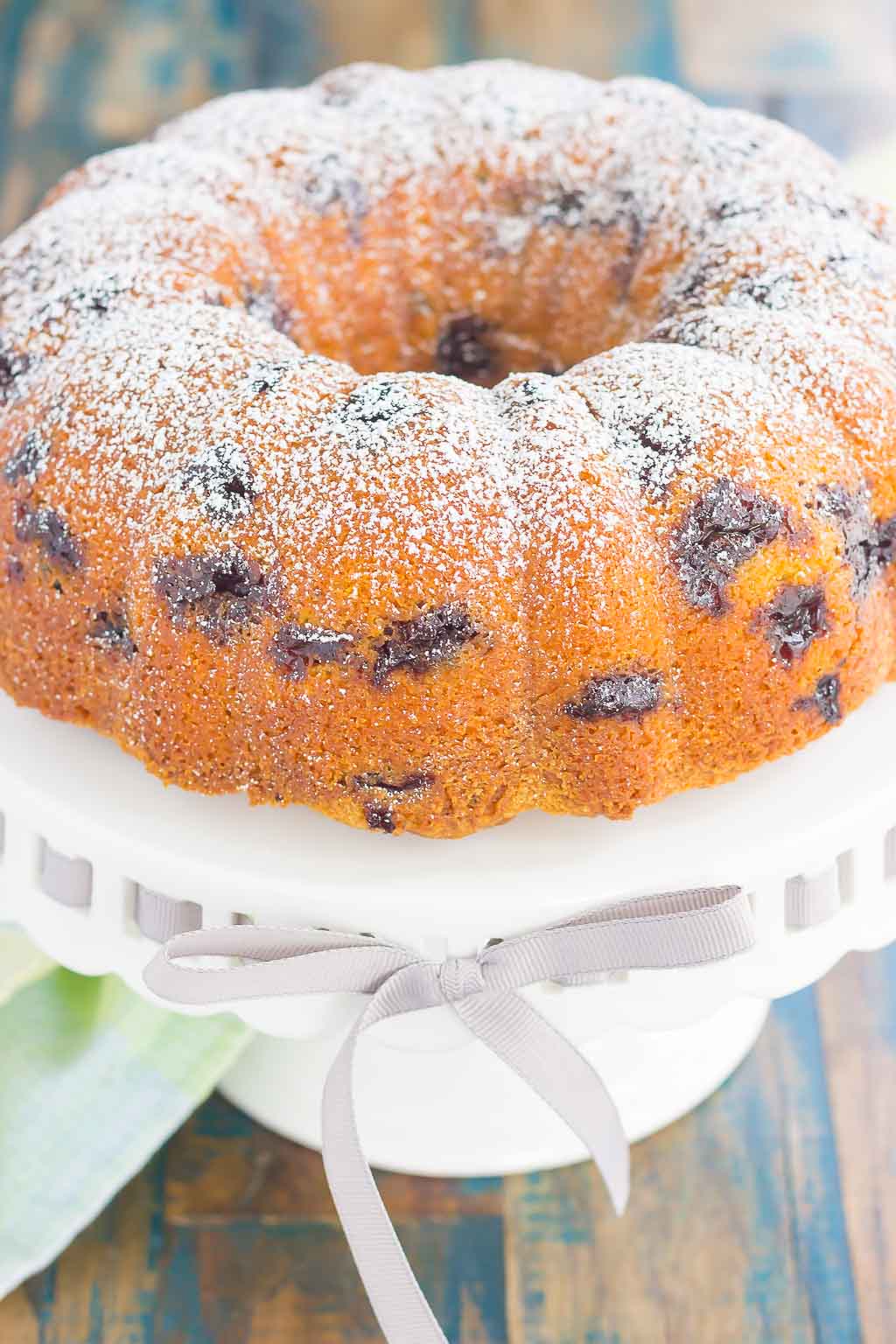 This Blueberry Yogurt Cake bakes up thick, soft, and super moist. It's seriously the best cake I have ever made, or tasted, with fresh fruit in it.
The juicy blueberries give this cake a bright pop of color and burst into your mouth with tons of flavor. Adding in blueberry Greek yogurt, instead of plain yogurt, gives the cake even more blueberry goodness. This cake stays moist for days and slices well, too.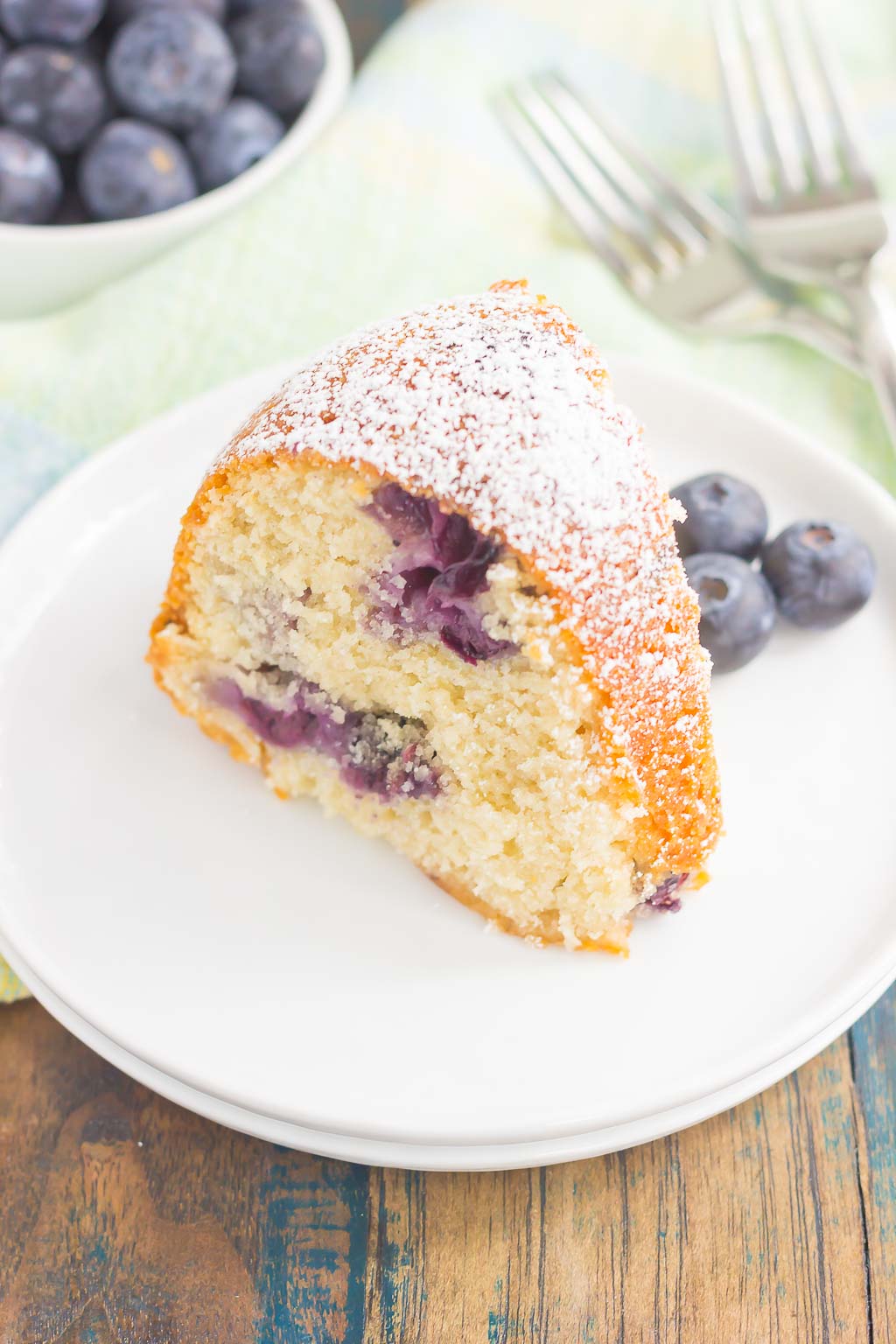 The verdict? Blueberry-amazingness! Seriously, this cake is so good. The hubster and I nearly inhaled it within two days, it was just that delicious!
I've had several requests to make this Blueberry Yogurt Cake again, so of course, I eagerly accepted. After all, what's not to like about it?
So if you love blueberries and are looking for a new recipe to try, check out this moist and delicious Blueberry Yogurt Cake? I promise you'll be baking this cake over and over again!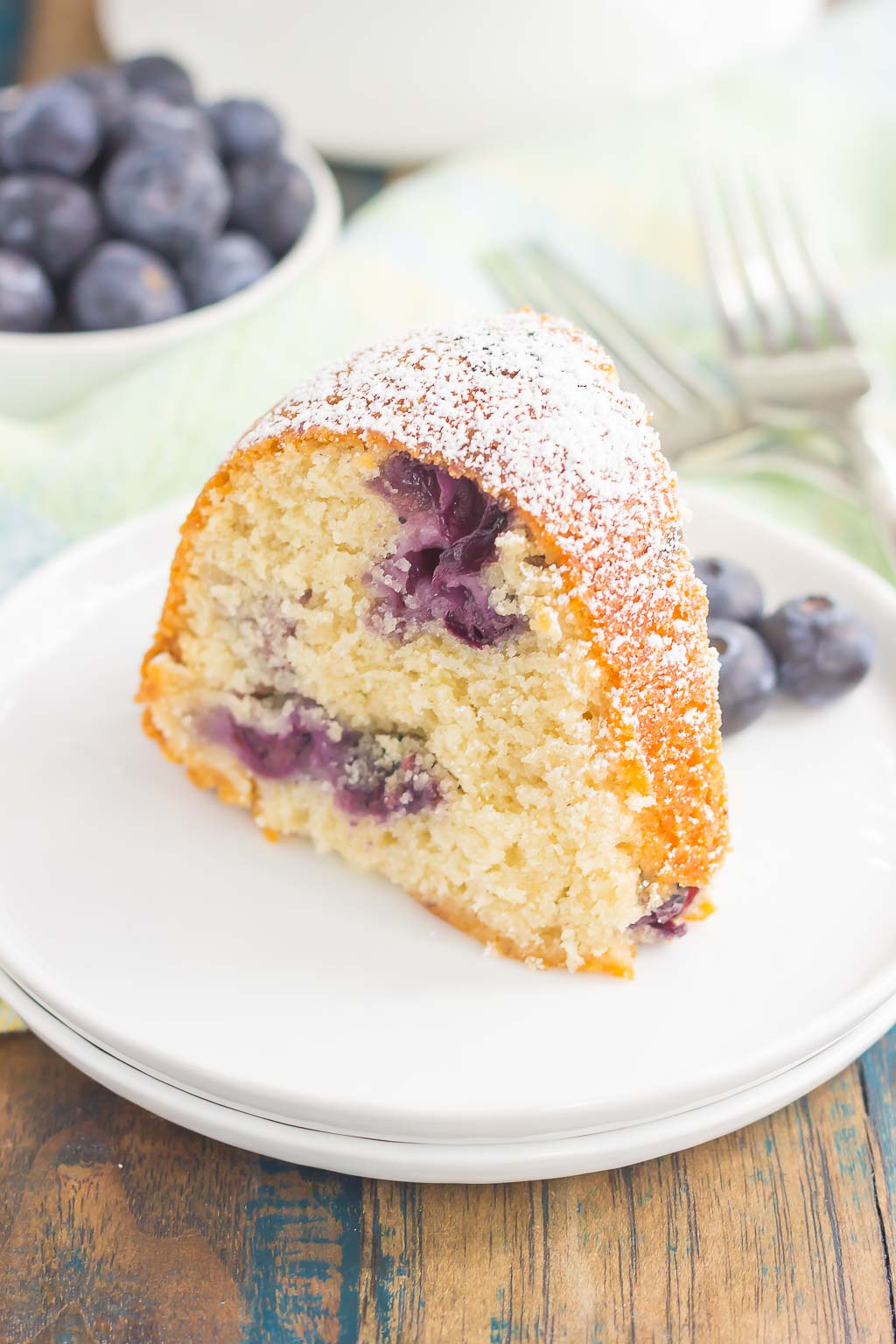 subscribe to my youtube channel to see how easy this recipe is to make!
Looking for more easy cake recipes? I've got you covered!
Blueberry Yogurt Cake
Fresh blueberries and creamy blueberry yogurt give this Blueberry Yogurt Cake a deliciously moist texture, full of blueberry flavor!
Prep Time 10 minutes
Cook Time 1 hour
Total Time 1 hour 10 minutes
Servings 12 slices
Calories 384kcal
Ingredients
2½ cups all-purpose flour
½ teaspoon baking soda
½ teaspoon salt
1 cup unsalted butter softened
2 cups white sugar
2 egg yolks
1 egg white
2 tablespoons lemon juice
1 teaspoon vanilla bean paste or vanilla extract
1½ (5.3 ounce) containers blueberry Greek yogurt
½ pint fresh blueberries
Instructions
Preheat oven to 350F. Lightly grease and flour a 10 inch bundt pan.Set aside.

Sift together the flour, baking soda, and salt. Set aside.

Using an electric hand mixer or stand mixer with a fitted attachment, cream together the butter and sugar until light and fluffy, about 3-4 minutes.

Beat in the eggs and egg white, one at a time. Mix in lemon juice and vanilla extract.

Alternate beating in the flour mixture and yogurt until thoroughly combined. Gently fold in blueberries. Pour batter into prepared bundt pan.

Bake for 60 minutes, or until toothpick inserted into cake comes out clean.

Allow to cool for 20 minutes in pan, then move to a wire rack to cool completely.
Notes
Cake will keep in an airtight container for up to five days, due to the moisture from the yogurt. For less blueberry flavor, feel free to use plain or vanilla Greek yogurt instead of blueberry yogurt.
Nutrition
Serving: 1g | Calories: 384kcal | Carbohydrates: 57g | Protein: 4g | Fat: 16g | Saturated Fat: 10g | Cholesterol: 73mg | Sodium: 151mg | Potassium: 55mg | Fiber: 1g | Sugar: 36g | Vitamin A: 527IU | Vitamin C: 3mg | Calcium: 14mg | Iron: 1mg