Brioche French Toast
This post contains affiliate links.
Made with seven basic ingredients, this Brioche French Toast tastes decadent but comes together quickly. Plus, you can make extra to freeze for later!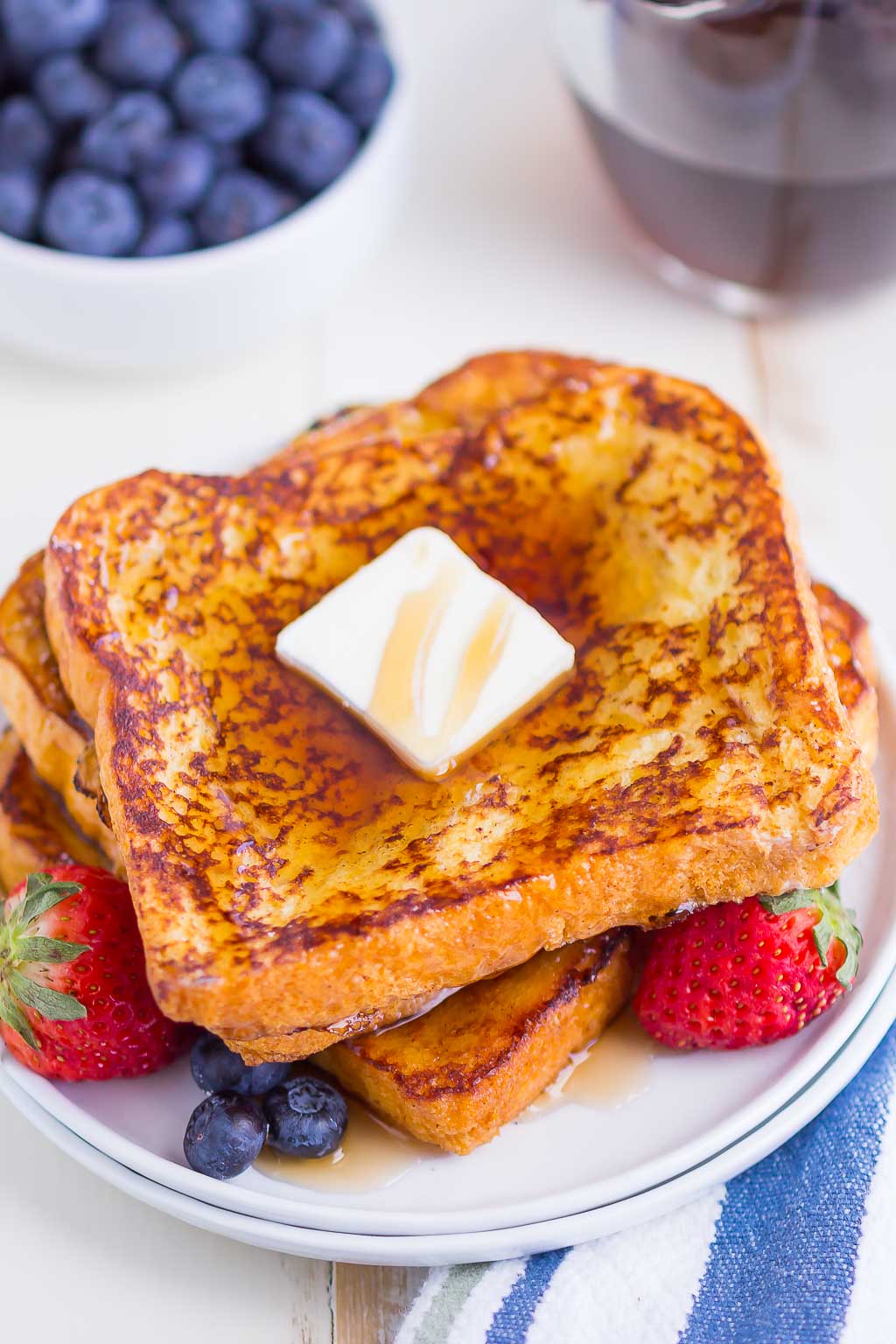 I don't make french toast all that often, so when I do I like to go all out. Whether I'm making French Toast Roll-Ups, Baked French Toast, or another fun spin on the classic dish, I never shortchange myself.
Give me real butter, eggs, and pure maple syrup, please!
Now, I don't want to brag or anything, but I think I've created the BEST brioche french toast recipe. Yes, it's a super simple french toast recipe that requires just seven ingredients. Easy breakfast ideas are what's happening, my friends!
But this french toast is spot on! Not at all dry, slightly sweetened, and the brioche bread makes for an incredibly decadent breakfast.
You can load up your portion with toppings or enjoy with a drizzle of syrup and some butter. Whatever you like!
Ingredients Needed for Brioche French Toast
I kept the ingredients list for this brioche bread french toast quite short because I didn't want the buttery flavor of the bread to get lost. To make this recipe, all you'll need is:
Milk
Eggs
Light brown sugar
Ground cinnamon
Vanilla bean paste (or extract)
Brioche bread
Butter, for the skillet
Is Brioche Good for French Toast?
Absolutely! I actually think it's the best bread for french toast.
Brioche is cut more thickly than regular sandwich bread, and it's both pillowly soft but heartier in texture. It soaks up the egg mixture without getting soggy!
Where Can I Find Brioche Bread?
Most supermarkets sell brioche bread these days, but a bakery would be ideal. If you have a Trader Joe's near you, their brioche bread is delicious!
How to Make Brioche French Toast
Making french toast with brioche bread is easier than you'd think! It's all about the ingredient ratios and using good-quality ingredients.
Here's a basic overview of how this brioche bread french is made:
Whisk together the milk, eggs, brown sugar, cinnamon, and vanilla in a large bowl.

Dip the brioche bread into the egg mixture. Lightly press down to coat both sides.

Melt the butter in a large skillet over medium heat.

Transfer the soaked bread to skillet and cook on each side until golden brown. Repeat with rest of bread slices.

Serve with your choice of french toast toppings and enjoy!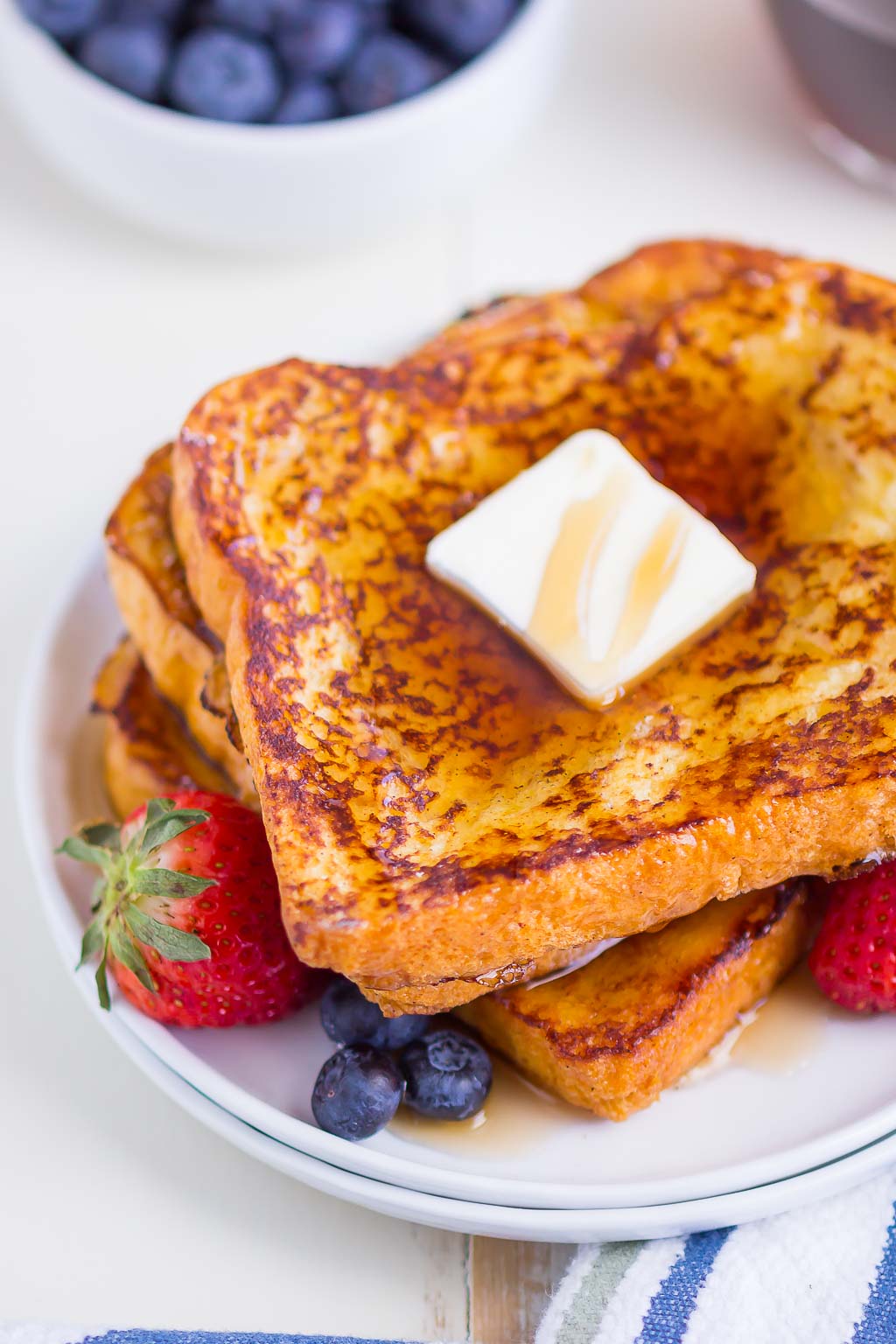 How to Store and Reheat French Toast
This brioche french toast recipe is great as leftovers. You can store leftover french toast in the fridge for up to three days, or in the freezer for up to three months.
I recommend reheating french toast in a skillet or in the oven (microwaving it makes the bread rubbery).
Can You Make French Toast Without Milk?
Not to my knowledge. However, you're welcome to use any milk you'd like in this recipe. Dairy or non-dairy milk works perfectly!
Brioche French Toast Toppings to Try
This simple recipe for brioche french toast pairs perfectly with a pat of butter, a dusting of powdered sugar, and a generous drizzle of maple syrup.
However, if you'd like to experiment with other toppings, here are some of my favorites: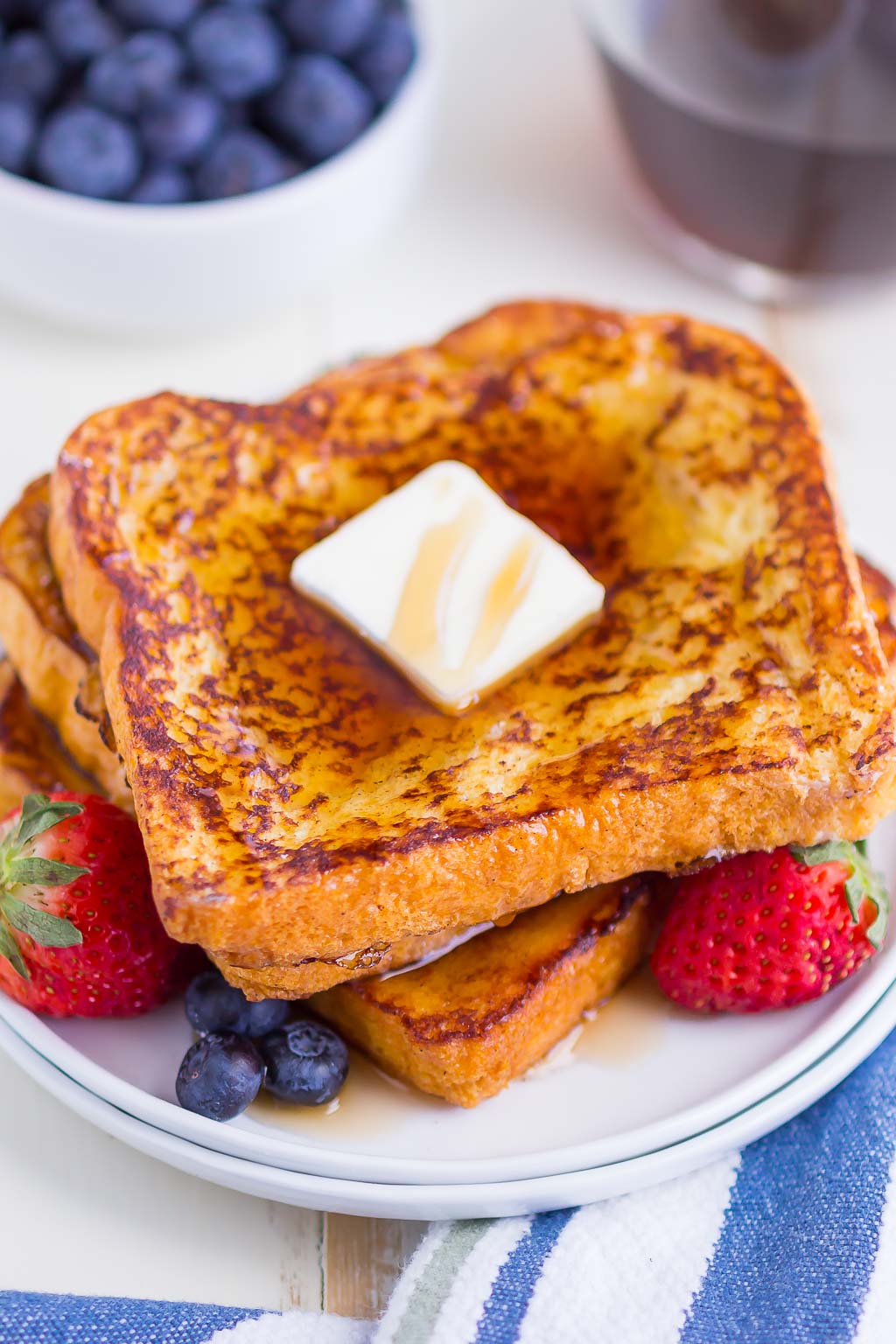 Tips for Making Brioche Bread French Toast
You can buy pre-sliced brioche in the bread aisle of your local grocery store. If possible, get a loaf of brioche from the bakery counter and slice it yourself for heartier pieces of french toast.
This recipe can easily be doubled to feed a crowd. To keep the french toast slices warm while you prepare the rest of the recipe, place them on an oven-safe platter and cover them with a damp tea towel. Keep the platter in a 200ºF oven while you're cooking.
You're welcome to add more cinnamon to the batter, to taste. I thought 1/2 teaspoon was perfect, but I know some of you are cinnamon fiends!
What to Serve with Brioche French Toast
Because this french toast with brioche is so quick and easy to make, I like to keep the sides simple as well. Here are some serving suggestions for this french toast recipe:
Or, stick to classic bacon and scrambled eggs on the side!
Looking for More Easy French Toast Recipes? I've Got You Covered!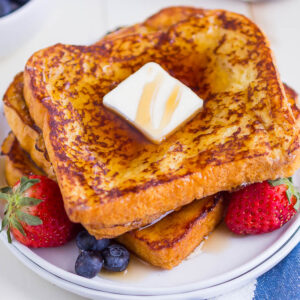 Brioche French Toast
Made with 7 basic ingredients, this brioche french toast tastes decadent but comes together quickly. Plus, you can make extra to freeze for later!
Ingredients
¾ cup milk, any kind
3 eggs
2 tablespoons packed light brown sugar
½ teaspoon ground cinnamon
1 teaspoon vanilla bean paste, or vanilla extract
8 slices brioche bread
Butter for skillet
Instructions
In a medium bowl, whisk milk, eggs, brown sugar, cinnamon, and vanilla.

Dip bread into egg mixture and lightly press down to coat both sides. Let excess drip off before placing onto skillet.

Melt butter in a large skillet over medium heat. Transfer bread to skillet and cook on each side for 3-4 minutes, or until golden brown. Repeat with rest of bread slices.

Serve immediately with powdered sugar, butter, and maple syrup, if desired.