Chocolate Peanut Butter Blossoms
This fun spin on Chocolate Peanut Butter Blossoms adds even more chocolate and peanut butter flavor in every bite. This easy cookie recipe is soft, chewy, and all around delicious!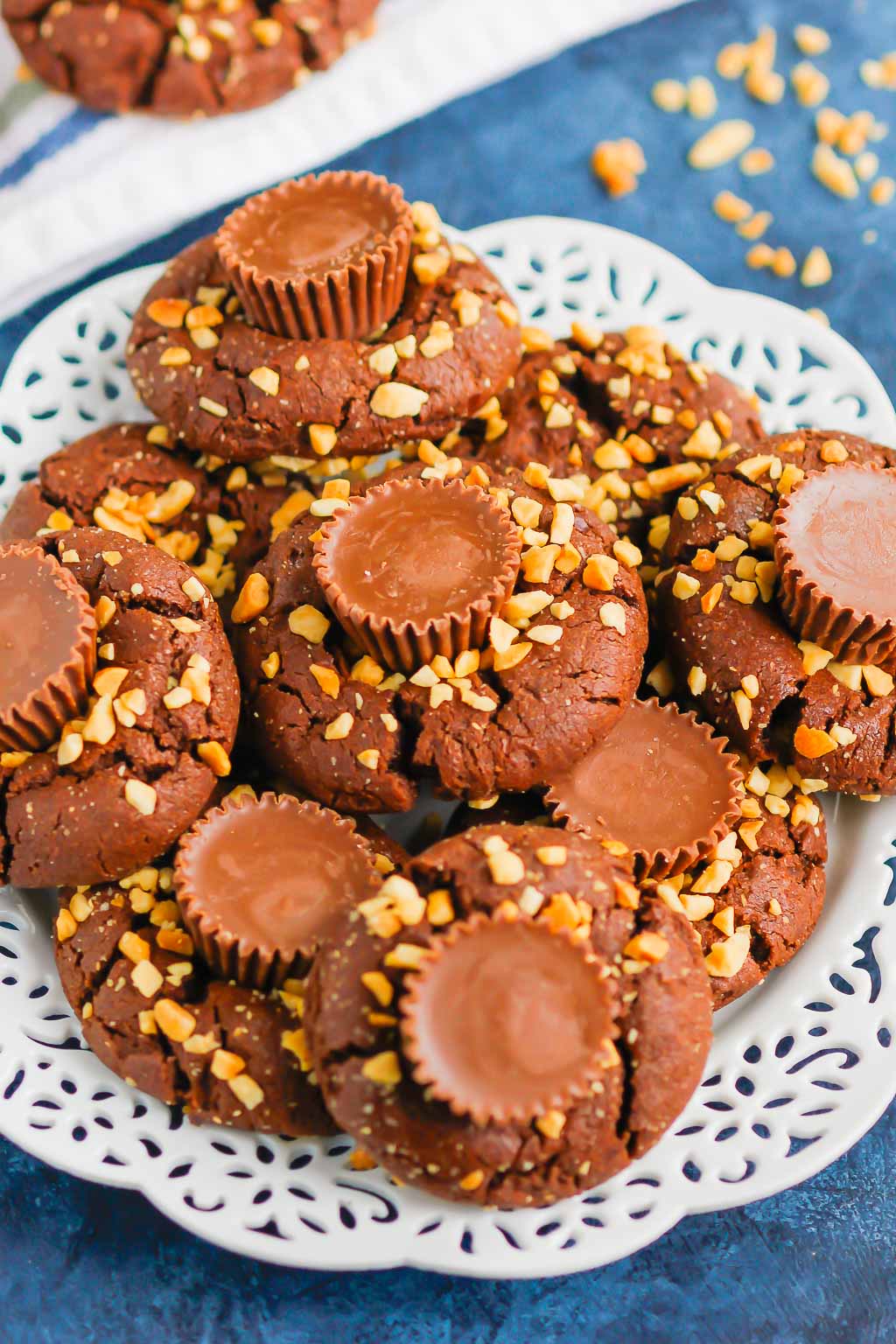 Chocolate Peanut Butter Blossoms
I've always loved peanut butter blossom cookies. 
They are a classic holiday recipe that everyone grabs when they are on the dessert platter.  This year, I wanted to make something just a bit different. The result was this fun version with a mini peanut butter cup inside each cookie. 
The best thing, for me, about baking, is that you can have so much fun making baked goods that fit everyone in your family.  This is ideal for me, but the chocolate kiss might be better for someone else. Have fun in the kitchen making these this Christmas!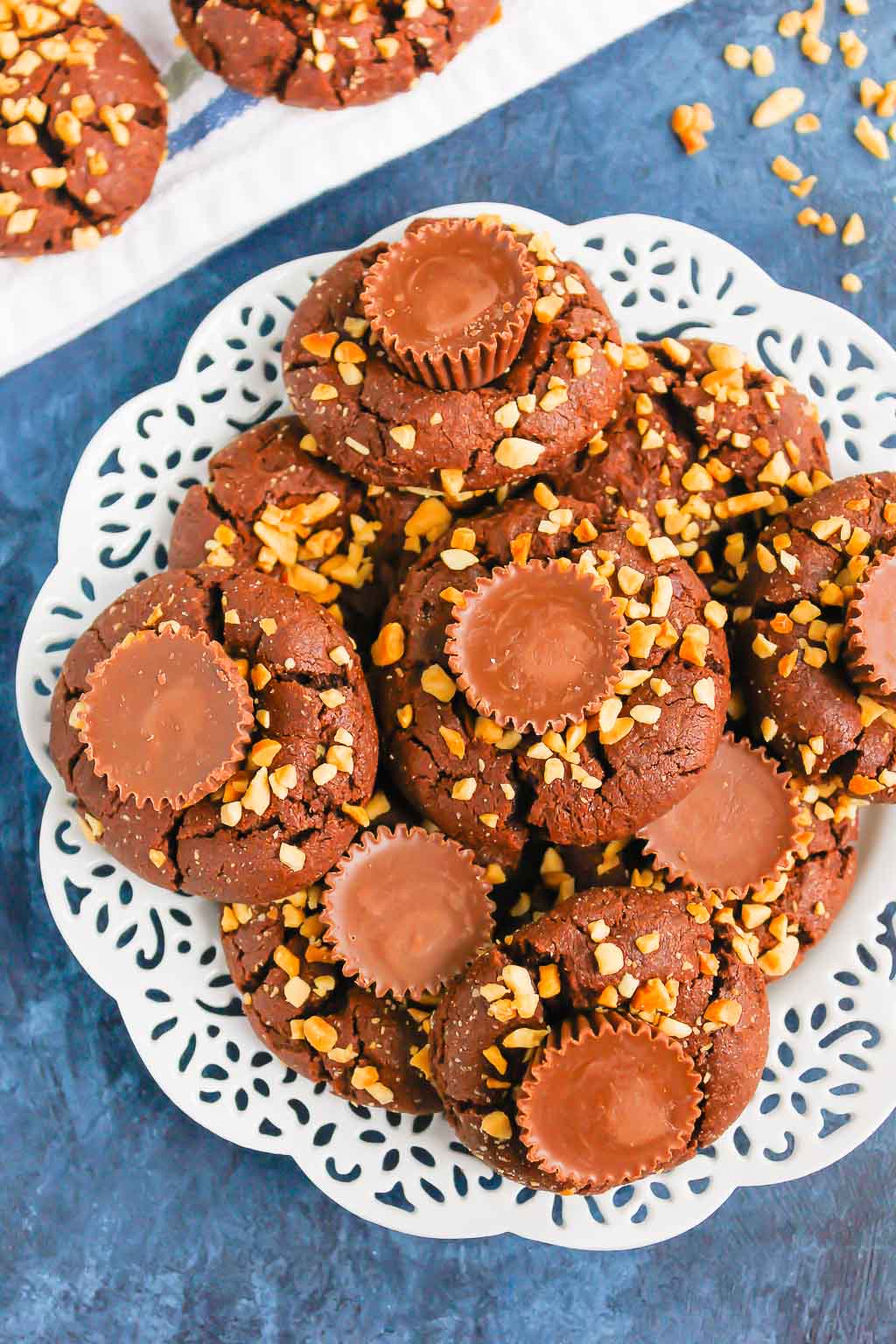 How to Freeze Christmas Cookies
I prefer to freeze cookie dough raw and bake them later.  I find this ends up with the moistest and chewy cookies. For this recipe, I like to roll the dough into balls, then place them on a baking sheet.  Flash freeze that cookie sheet for one hour, then remove the cookie dough balls and drop them into a freezer storage bag. 
When you are ready to make your cookies, just pull them from the oven and roll them into crushed peanuts.  Next, you will place them on the baking sheet. You will cook as directed and then top with the frozen peanut butter cup before completely cooled. 
Make sure to put your cookie dough balls in a dated and labeled freezer storage bag or container.  This keeps everything labeled and easy to recognize when needed. 
Can I Use Another Candy in This Christmas Cookies Recipe? 
While I haven't tried it with different candy, you can definitely experiment.  White chocolate peanut butter cups, M&M's, mini Snickers, mini Milky Way, or even mini Kit Kat could all be a great choice for adding to the top of your cookie. 
Use your imagination and mix and match flavors to make the best cookie you've ever had!  Just know that some candy, like this recipe, will need to be frozen before adding to the cookie to retain shape.  Melty chocolate is great, but you want it to stay together for the cookie shape.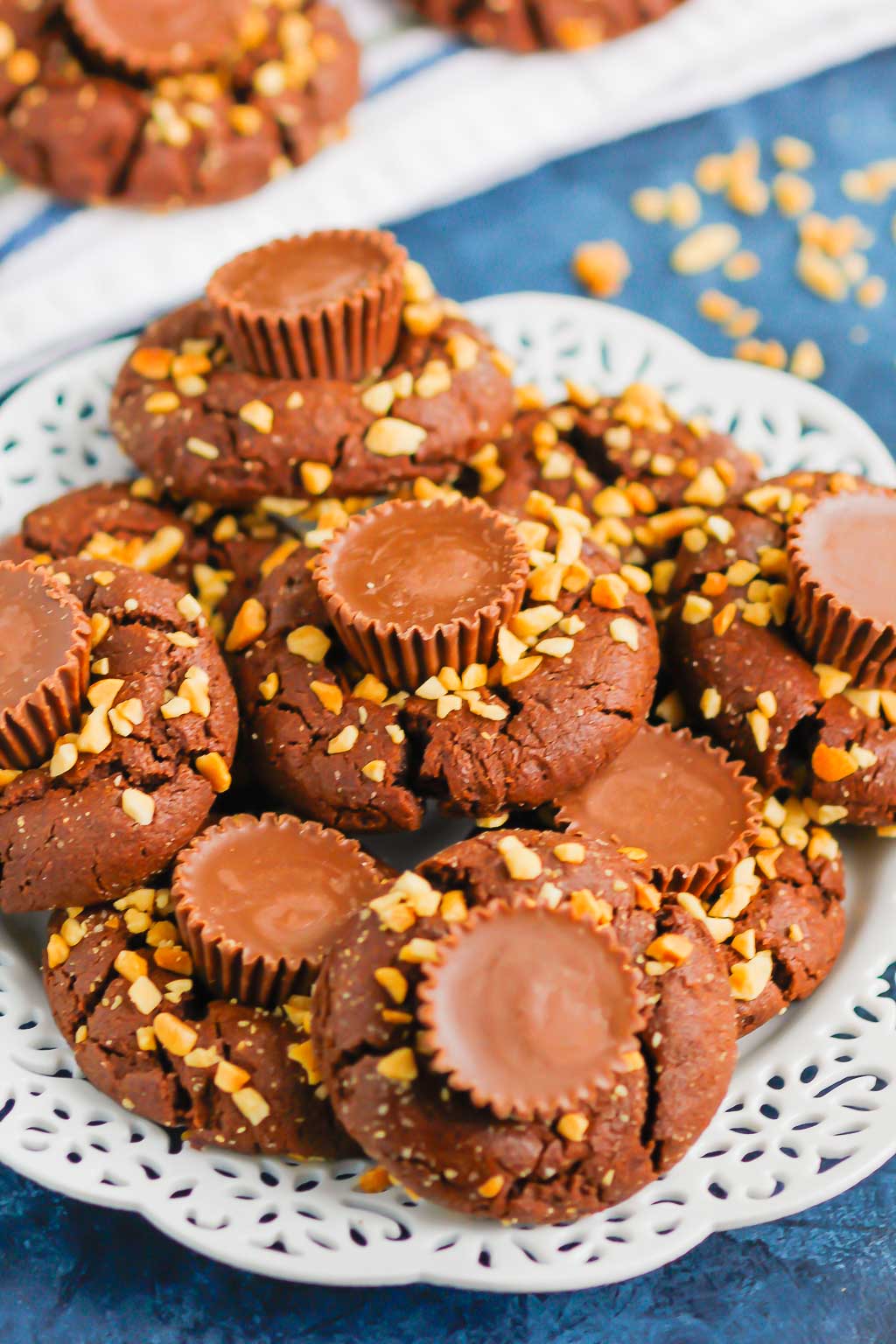 Can I Substitute Almond Butter in This Recipe? 
If you have nut allergies, feel free to substitute a different nut butter.  Almond butter, cashew butter, or even sunflower butter are all great choices.  They do cook a bit differently but will have the same overall result.  
Some nut butters and substitutes are a bit wetter than basic peanut butter.  So, make sure to adjust the flour in the recipe to make the dough the consistency you need. Adjust as needed, and enjoy the same amazing cookie with a slightly different flavor combination. 
Note: cashew butter and sunflower butter pair exceptionally well with white chocolate
More Peanut Butter Chocolate Recipes 
If you want a similar flavor with a bit easier preparation, you can use this peanut butter chocolate chip cookies skillet as a great substitute.  Slice into "pie" pieces before serving. 
You may also like this recipe for a simple chocolate peanut butter cheesecake mousse.  My favorite though, are these chocolate peanut butter cupcakes.  There are so many great recipes you can make using this combination.  Many of these are also ideal for sharing around the holidays!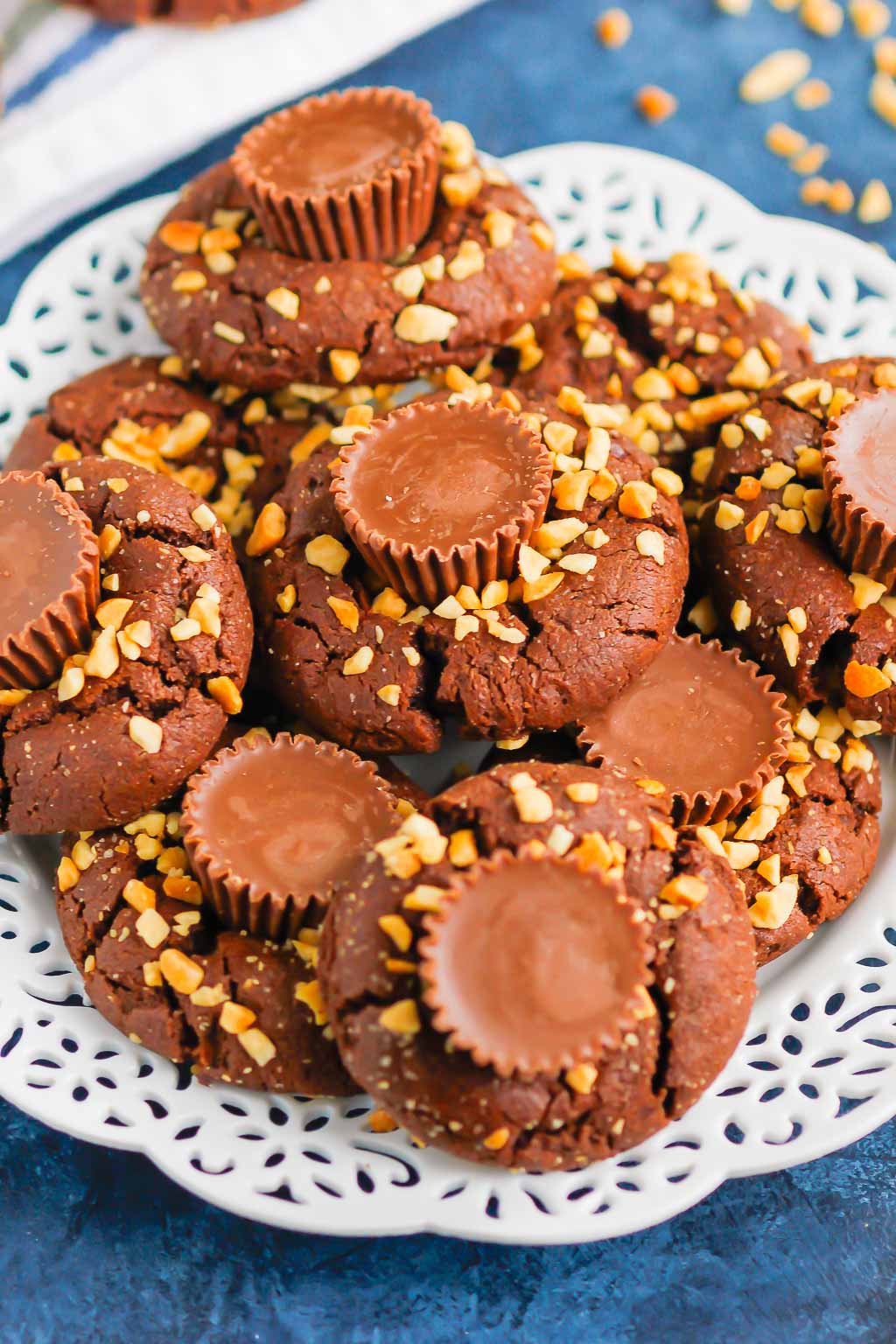 Looking for more peanut butter recipes? I've got you covered!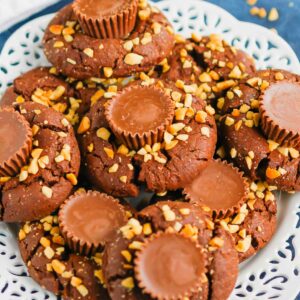 Chocolate Peanut Butter Blossoms
This fun spin on Chocolate Peanut Butter Blossoms adds even more chocolate and peanut butter flavor in every bite. This easy cookie recipe is soft, chewy, and all around delicious!
Ingredients
1⅓ cups all-purpose flour
⅔ cup unsweetened cocoa powder
1 teaspoon baking soda
½ teaspoon salt
½ cup (1 stick) unsalted butter, softened
¾ cup creamy peanut butter
½ cup granulated sugar
½ cup packed light brown sugar
2 eggs
1 teaspoon vanilla bean paste, or vanilla extract
30 mini peanut butter cups, frozen
½ cup crushed peanuts
Instructions
In a medium bowl, whisk flour, unsweetened cocoa powder, baking soda, and salt. Set aside.

In a large bowl, beat butter and peanut butter with an electric hand mixer on medium speed until blended, about 1 minute. Add granulated sugar and brown sugar and beat until light and fluffy, about 4-5 minutes. Add eggs and vanilla and beat until combined.

Add flour mixture and beat until just combined, being careful not to overmix. Chill dough for at least 30 minutes.

Preheat oven to 350°F. Line two large baking pans with parchment paper.

Scoop about 1½ tablespoons of dough and roll into a ball, then roll into crushed peanuts. Repeat with remaining dough. Place dough balls about 1 inch apart of prepared pans.

Bake for 12-15 minutes, or until edges are set. Remove from oven and press one frozen peanut butter cup into the center of each cookie.
Notes
See my tips and tricks for making these Chocolate Peanut Butter Blossoms above the recipe box Recipe from Holiday Bake Magazine - 2019
Serving: 1g, Calories: 157.38kcal, Carbohydrates: 17.54g, Protein: 3.69g, Fat: 9.05g, Saturated Fat: 3.63g, Cholesterol: 19.47mg, Sodium: 135.99mg, Potassium: 109.86mg, Fiber: 1.42g, Sugar: 10.94g, Vitamin A: 114.31IU, Calcium: 17.11mg, Iron: 0.81mg