Instant Pot No Bean Chili
Instant Pot No Bean Chili is a simple, hearty meal that's ready in no time. Made with two types of ground beef and loaded with flavor, you'll never miss the beans in this cozy dish!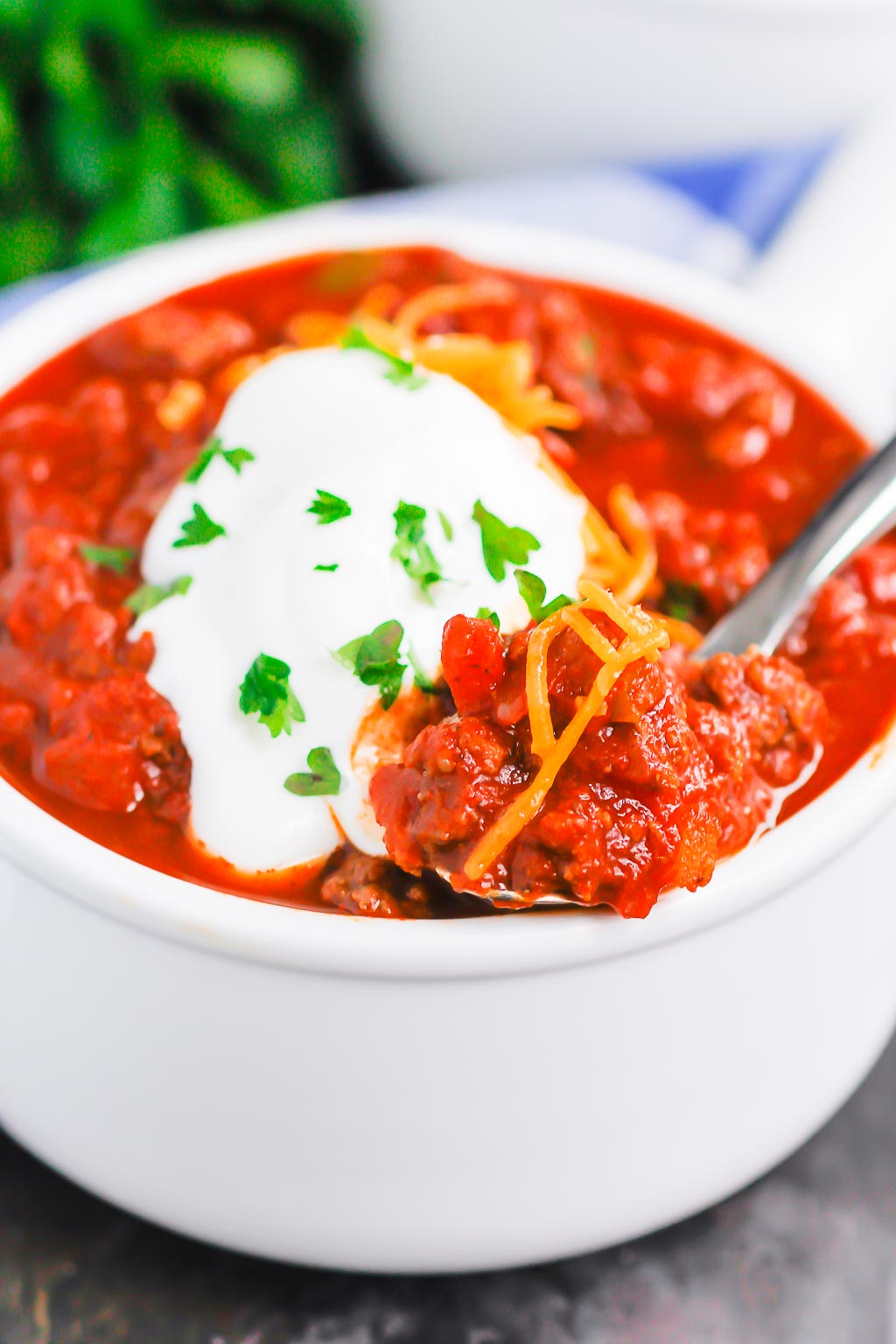 One of my most popular recipes is this slow cooker no bean chili. No matter the season, this easy weeknight dinner is one of the most loved (by you and me!) and commented on.
If you don't believe me, check out the reviews from readers all across the world…it's really that good.
And now that it's January and I'm in full-on comfort food mode for this freezing cold weather, you can bet that chili is on repeat around here. So, I thought I would take my favorite, no bean chili recipe and turn it into this Instant Pot No Bean Chili.
If you're short on time or don't want to break out the slow cooker, this no bean chili Instant Pot recipe was made for you.
Unlike this slow cooker pizza chili and this chili with pasta, this no bean chili recipe doesn't require a slow cooker or skillet. Just your trusty pressure cooker. You brown the meat, throw everything together, and let it work its magic. Similar to the slow cooker chili with no beans, but quicker. And just as delicious!
Since my other chili recipe is a so good, I kept the ingredient list the same. But, the best part about this easy Instant Pot chili with no beans is that it's incredibly simple to customize. You can add more veggies, increase the spices, add quinoa, pasta…you get the point.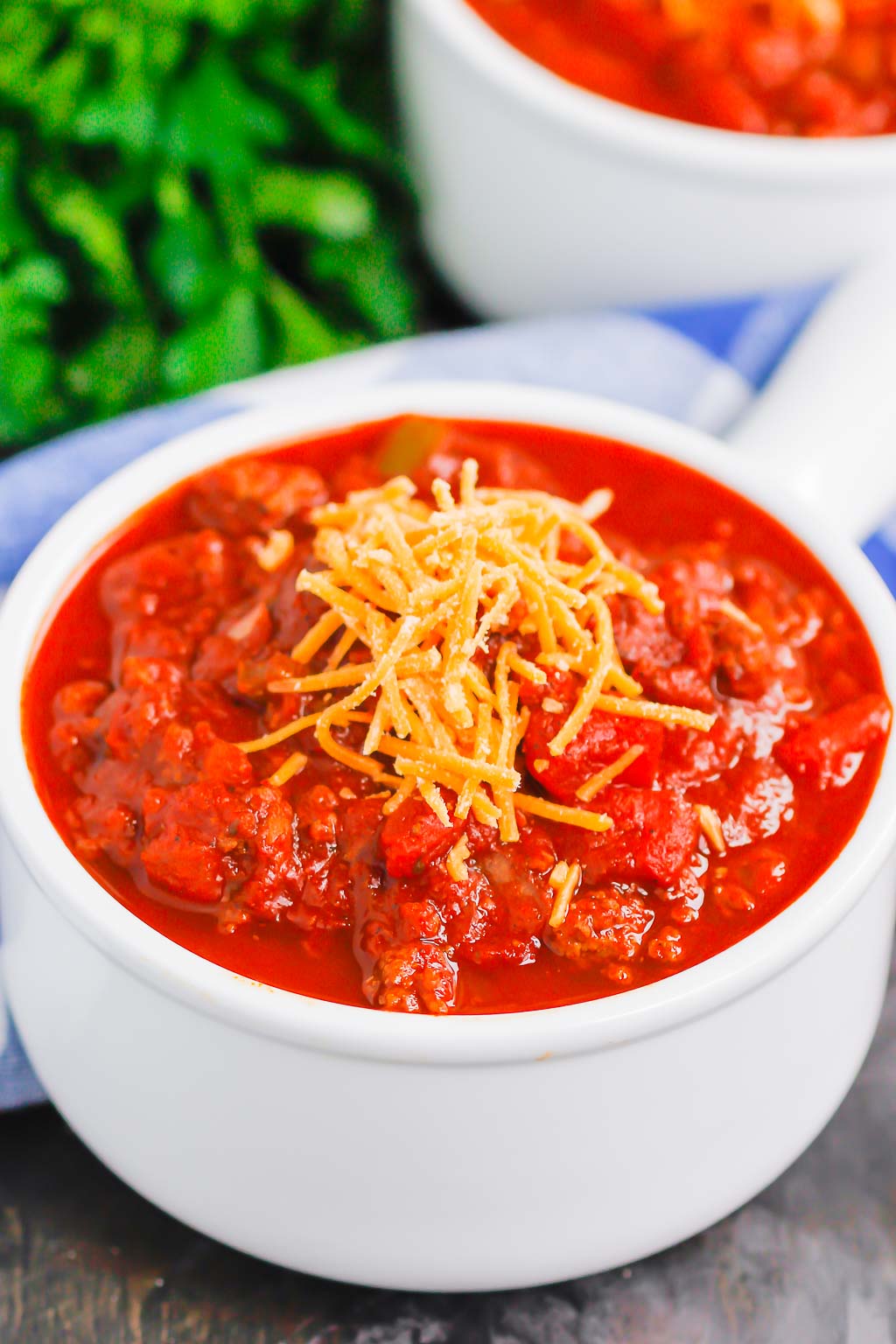 How to Make Instant Pot No Bean Chili:
Easy recipes are my main focus around here, and this is about the easiest (and most delicious!) chili recipe. It's a simple, dump-and-cook recipe that will have your tastebuds coming back for more.
To start, you'll want to make sure your veggies are chopped and ready to go. Dice a white onion and green bell pepper and then set aside.
Next, it's time to brown the ground beef. Since this is a bean-less chili recipe, I used one pound of ground beef and one pound of ground chuck to make this recipe extra hearty. You'll never miss the beans in this chili!
Once the ground beef is cooked and crumbled, drain and then return to the Instant Pot. Make sure to scrape the bottom of the pot to get off any bits of browned meat. You don't want to receive that dreaded burn warning on your pressure cooker!
Now comes the fun part! Simply dump all of the ingredients together: the onion and pepper, tomato sauce, diced tomatoes, tomato pasta, and seasonings. Stir, then cover and let the Instant Pot come to pressure and cook.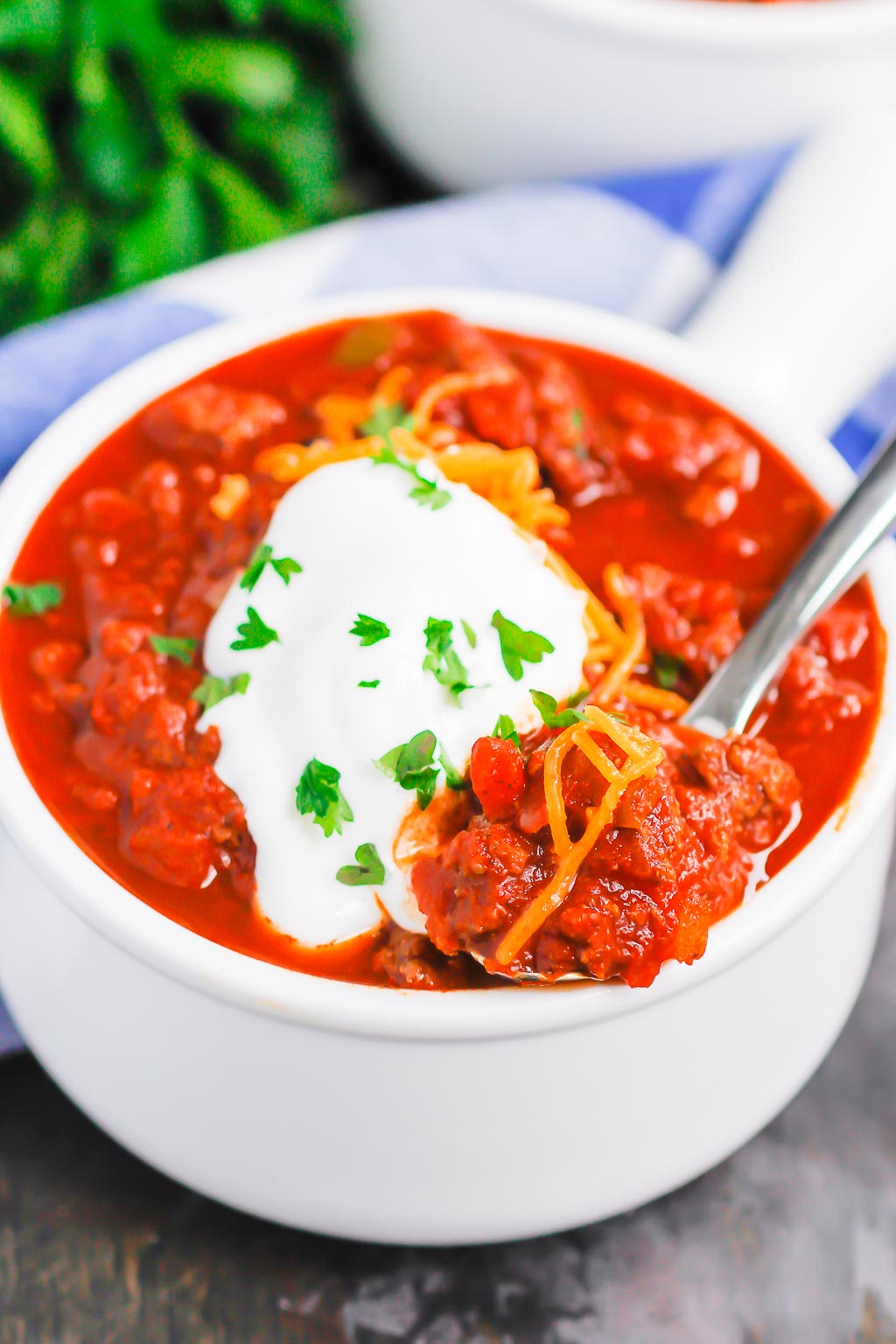 Some tips for making Instant Pot No Bean Chili:
I used a combination of ground beef and ground chuck for making this chili with no beans. If using only ground beef (or ground chuck), make sure you have at least two pounds of meat, otherwise chili will be on the thinner side.
When you drain the ground beef to remove the grease, quickly wipe out the Instant Pot with a paper towel. This will get rid of that extra lingering grease.
Be sure to scrape the bottom of your Instant Pot with a spoon to remove any stuck on beef. Otherwise, you may receive a burn warning on your pot.
To give this dish a hint of extra flavor, I used the canned diced tomatoes seasoned with basil and oregano. However, regular diced tomatoes work just as well.
When the timer goes off, you can either do a quick release or natural release of the steam. It depends on how quickly you want to eat!
This chili recipe may seem a little liquidy at first, but it will thicken up as it sets.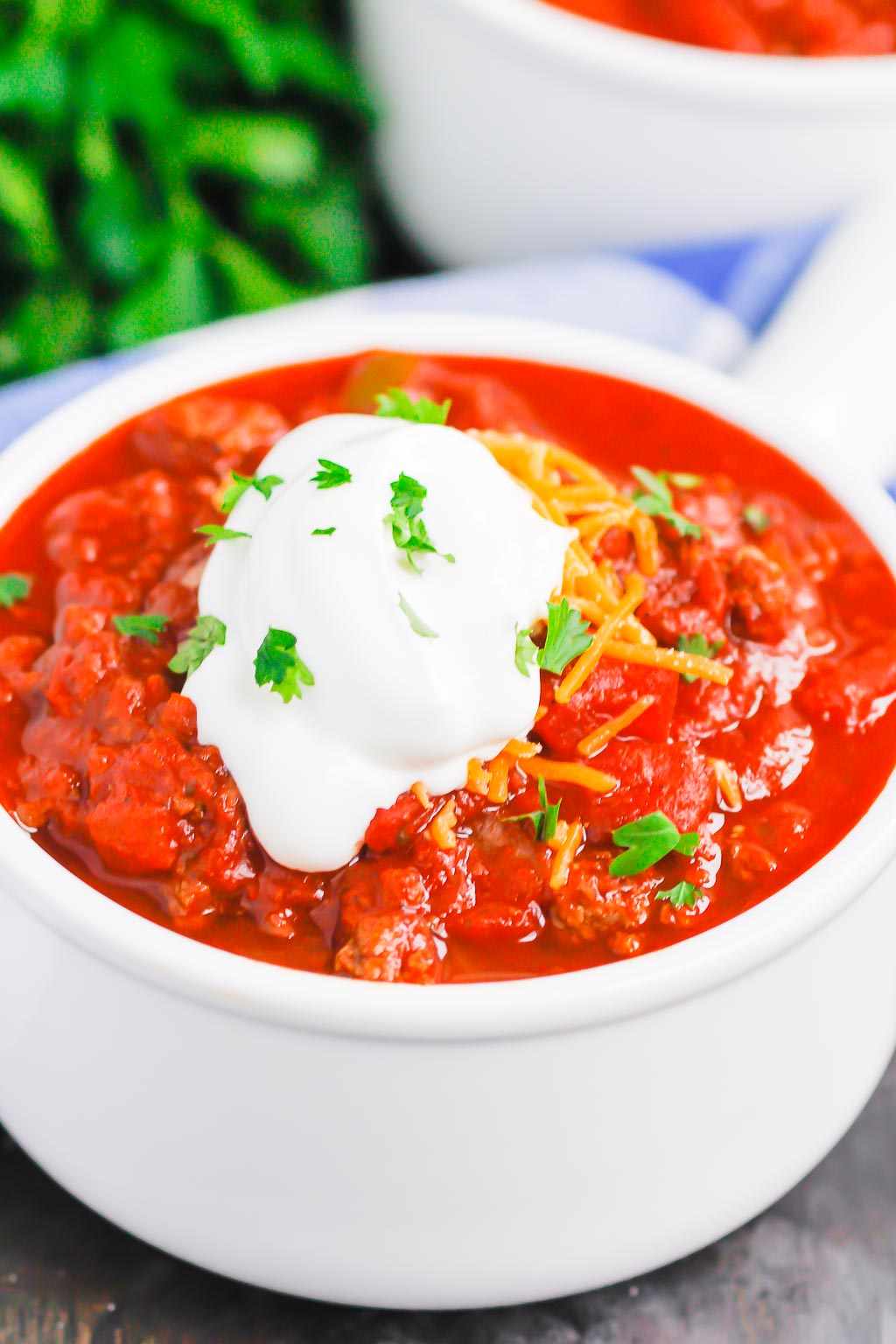 Variations of Instant Pot Chili with No Beans:
Switch up the meat! Since there are no beans in this recipe, using a good quantity of meat makes this chili extra hardy. Feel free to swap out the beef with ground turkey or ground chicken. You could even add some cubed beef tips for extra heartiness.
Add more veggies! Corn, red bell peppers, or sweet potatoes would make a delicious addition.
Ramp up those spices! Increase the garlic powder, add more cumin, experiment with those seasonings for a more zesty flavor.
How to serve No Bean Instant Pot Chili:
This chili with no beans recipe is delicious all on its own. However, if you're looking for something extra, it would be extra tasty served over noodles or quinoa.
Serve this chili recipe alongside this skillet buttermilk cornbread, that skillet honey cornbread, or this southwest skillet cornbread. After all, chili and cornbread are a match made in food heaven!
I like to serve this Instant Pot chili with some shredded sharp cheddar cheese and sour cream. Cilantro or some crushed tortilla chips would be a delicious topping, too.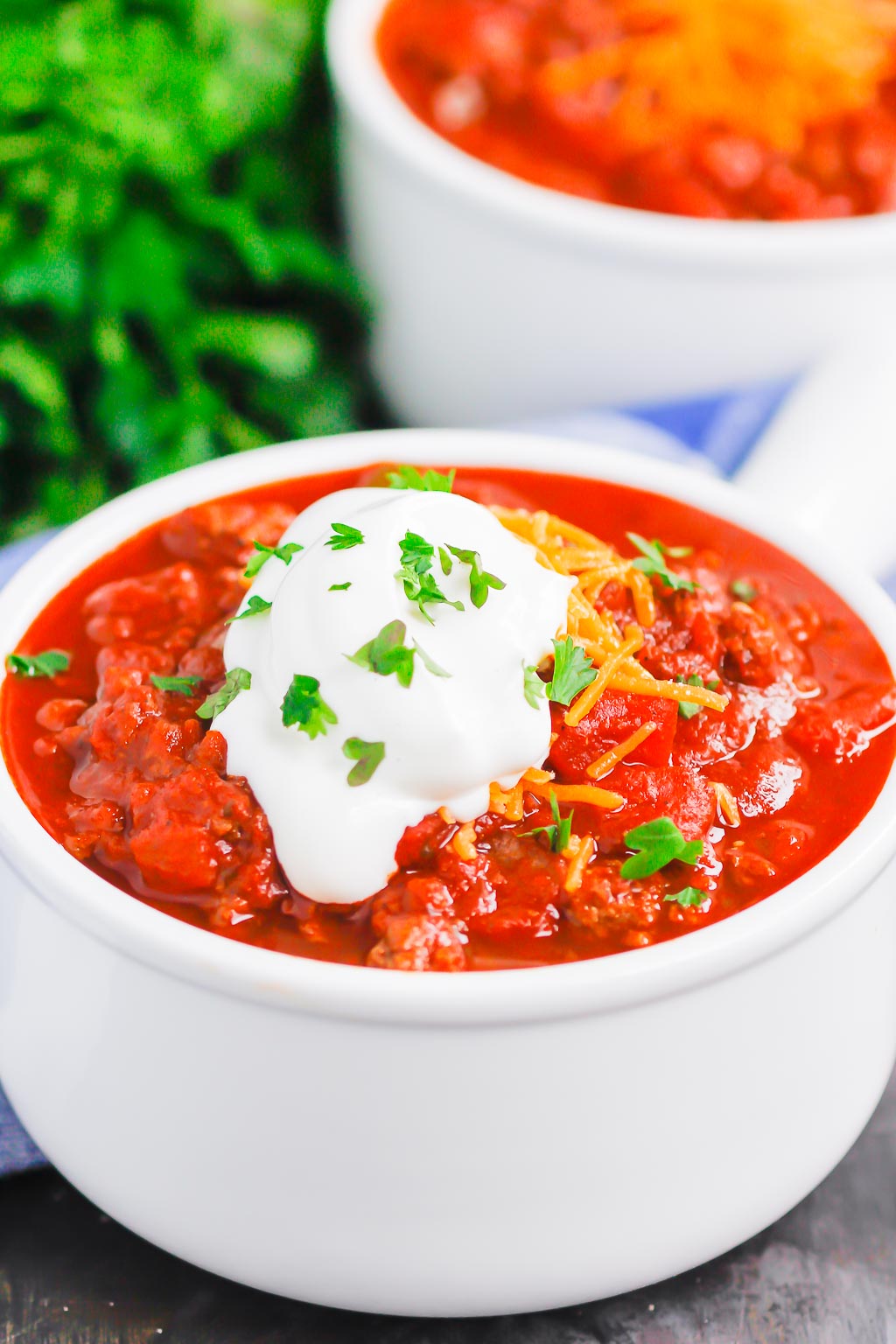 Looking for more easy Instant Pot recipes? I've got you covered!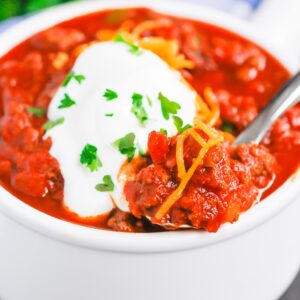 Instant Pot No Bean Chili
Instant Pot No Bean Chili is a simple, hearty meal that's ready in no time. Made with two types of ground beef and loaded with flavor, you'll never miss the beans in this cozy dish!
Ingredients
1 pound  lean ground beef
1 pound ground chuck
1 small white onion, diced
1 green bell pepper, diced
2 cans (15 ounce) tomato sauce
2 cans (14.5 ounce) diced tomatoes
1 can (6 ounce) tomato paste
5-6 tablespoon chili powder
2 teaspoons garlic powder
1½ teaspoons ground cumin
¾ teaspoons dried oregano
½ teaspoon granulated sugar
⅛ teaspoon cayenne pepper
Salt and pepper, to taste
Instructions
Set Instant Pot to 'saute' setting. Once the pot is hot, add the ground beef and ground chuck. Brown and crumble beef until no longer pink.

Press 'cancel' on the Instant Pot and drain beef. Return ground beef to pot and scrape the bottom of the pot with a spoon to ensure that no browned bit are stuck. This will help ensure that you do not get a 'burn warning.'

Add onion, pepper, tomato sauce, diced tomatoes, tomato paste, chili powder, garlic powder, cumin, dried oregano, granulated sugar, cayenne pepper, salt and pepper to Instant Pot. Stir to combine.

Cover, place into lock position, and make sure the valve is in the sealing position. Press 'bean/chili button' and cook on high pressure for 15 minutes. If you don't have the 'bean/chili' button, cook on 'manual' for 15 minutes. **Remember that it will take about 15 minutes to come to pressure and then the time will start counting down**

When timer goes off, do a natural OR quick release. To do a quick release, turn the valve to the venting position and letting steam release until the pin drops. I like to place a folded kitchen towel over the valve so that it catches the steam.

Remove the lid and stir. Chili may be a but liquidy at first, but will thicken up once set. Serve with your favorite toppings, such as shredded cheese and/or sour cream.
Notes
This chili recipe was tested and made in a 6 quart Instant Pot.
See my tips and tricks for making this Instant Pot No Bean Chili above the recipe box.
Serving: 1serving, Calories: 433kcal, Carbohydrates: 30g, Protein: 36g, Fat: 21g, Saturated Fat: 8g, Cholesterol: 101mg, Sodium: 1820mg, Potassium: 1973mg, Fiber: 9g, Sugar: 18g, Vitamin A: 3641IU, Vitamin C: 52mg, Calcium: 135mg, Iron: 9mg