Garlic Ranch Pretzels
Perfect for game time or anytime, these Garlic Ranch Pretzels are sure to be a snack-time winner. Baked with ranch dressing and hints of garlic, you'll be making this salty snack over and over again!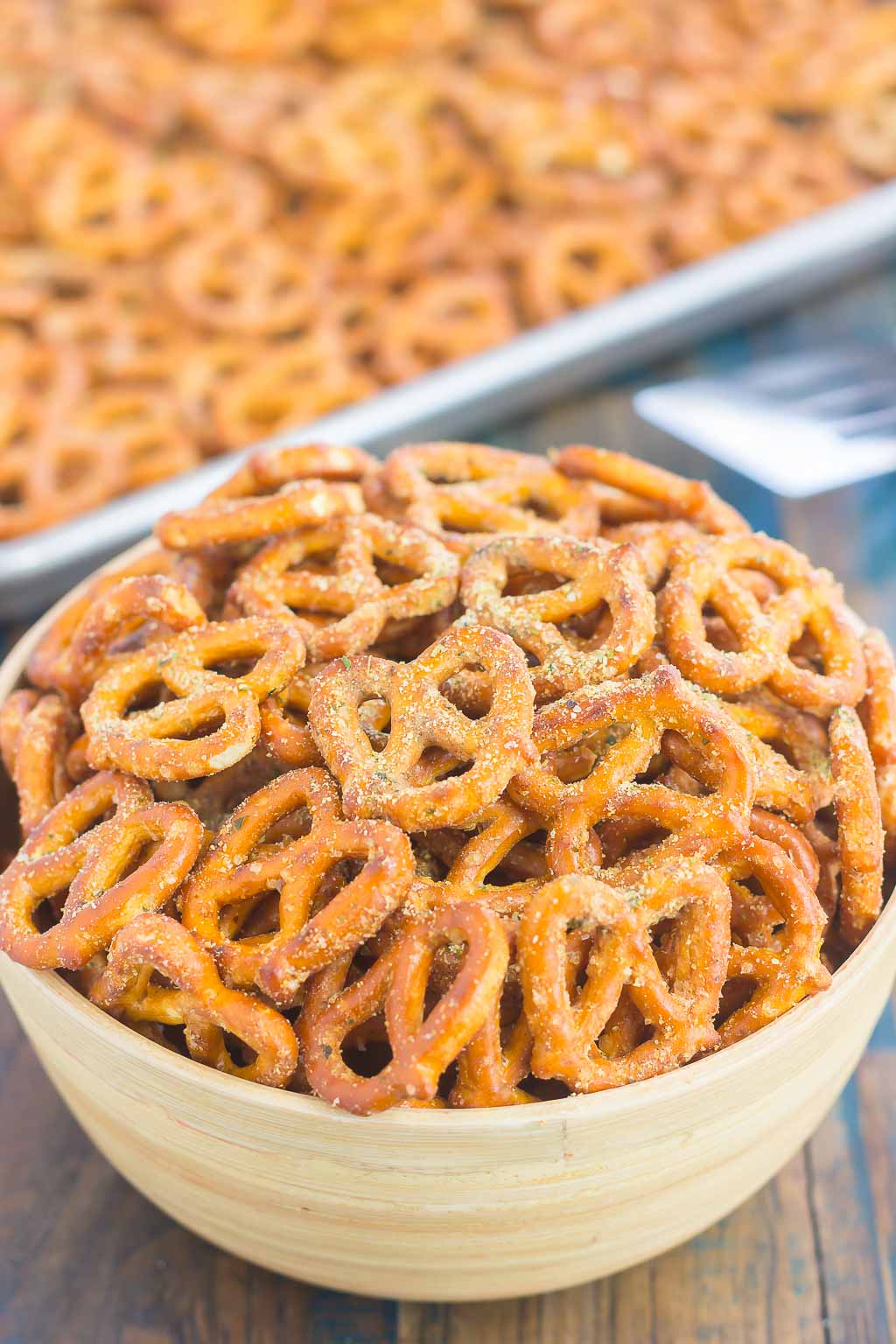 Hockey season is officially over in my neck of the woods. That's right, the Chicago Blackhawks were finally defeated, just one game shy of continuing on for the championship series. And while I'm a proud Chicago fan, I am just the teensiest bit happy that there's no more Chicago hockey until next season.
Dare I even say that out loud? Ok it's out there, no going back now. You see, I'm not really a big sports fan. I love going to sporting events, especially basketball games (Go Bulls) and the Chicago Cubs, but put me in front of a TV, and it's a snooze fest for me.
In fact, if we are staying in on a Friday night, it has become a tradition for me to fall asleep on the couch while the hubster is eagerly watching some sporting event on TV. The boring chatter and sports lingo that make absolutely no sense to me just lulls me to sleep. Sorry to all you sports fans out there, but I just don't get it!
Now the hubster loves sports. And love is probably an understatement. Football, basketball, hockey, baseball, tennis, you name it…he's on top of it and knows exactly what's going on. He religiously checks for updates on the ESPN website, reads Sports Illustrated magazine, and watches (and records) a bazillion sports shows on TV.
I always tease him that he missed his calling in life and should've been a sports caster on TV or the radio, because he knows practically everything there is to know about sports.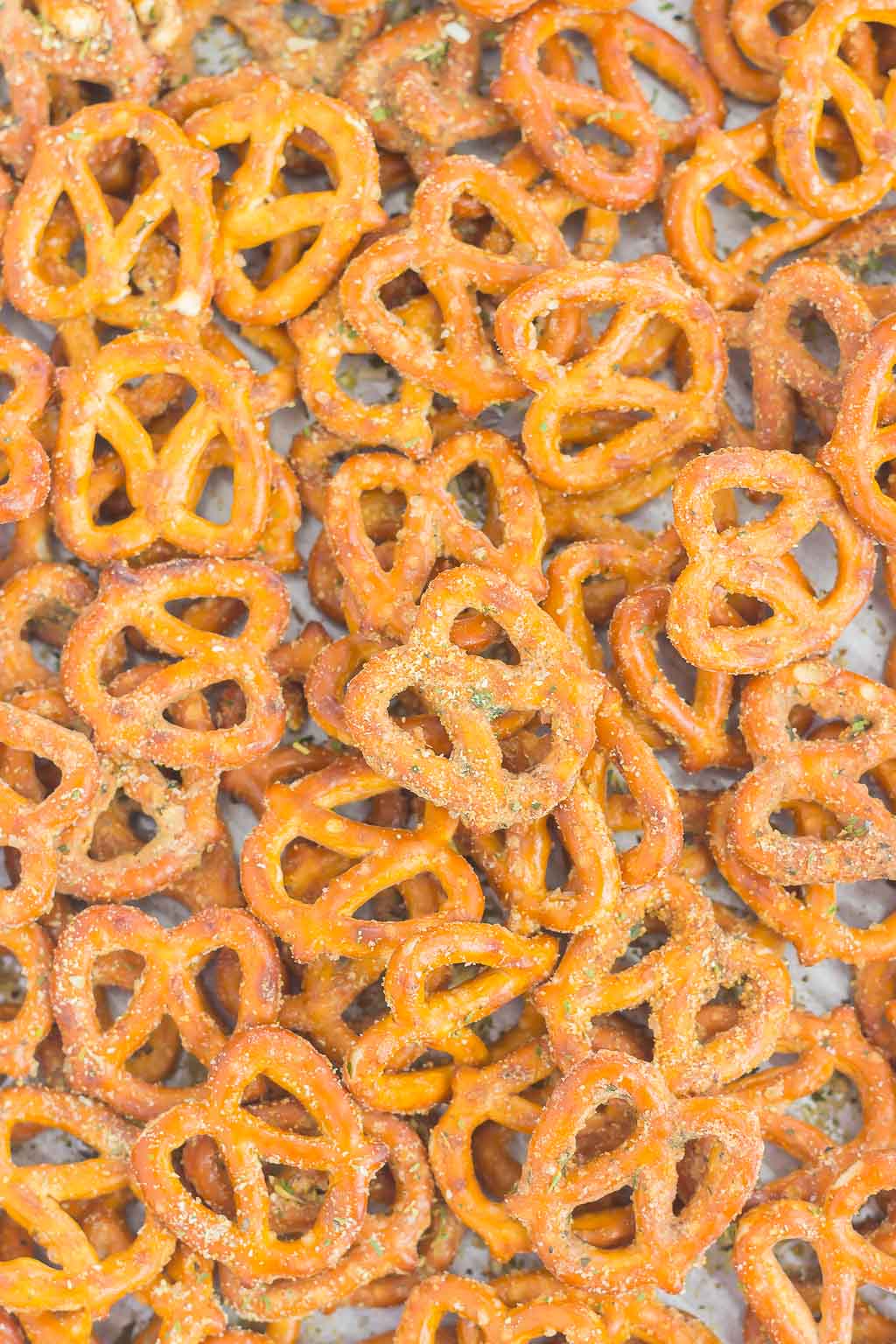 So you could say that the hubster and I are pretty opposite when it comes to sports. And you know what? I'm totally fine with that. As much as I try, watching sports (especially football and hockey) will never be enjoyable to me (unless it's the NCAA for college basketball).
But the one thing the hubster and I both share a love of are these Garlic Ranch Pretzels. Because I'm a dutiful wife that supports the hubster's sport-watching habits, I decided to make him the perfect game-time snack. Baked with a combination of spices, these pretzels are sure to be a winner in your house!
And the best part? They are SO easy to make!
And not only that, but they are addicting, too. I had to purposely give the hubster a bowl of these and ask him not to share with me, because I have no will-power when it comes to salty snacks. And this is the ultimate seasoned pretzel recipe for all you salty snackers out there! I love cookies and brownies, but I will take salty over sweet any day!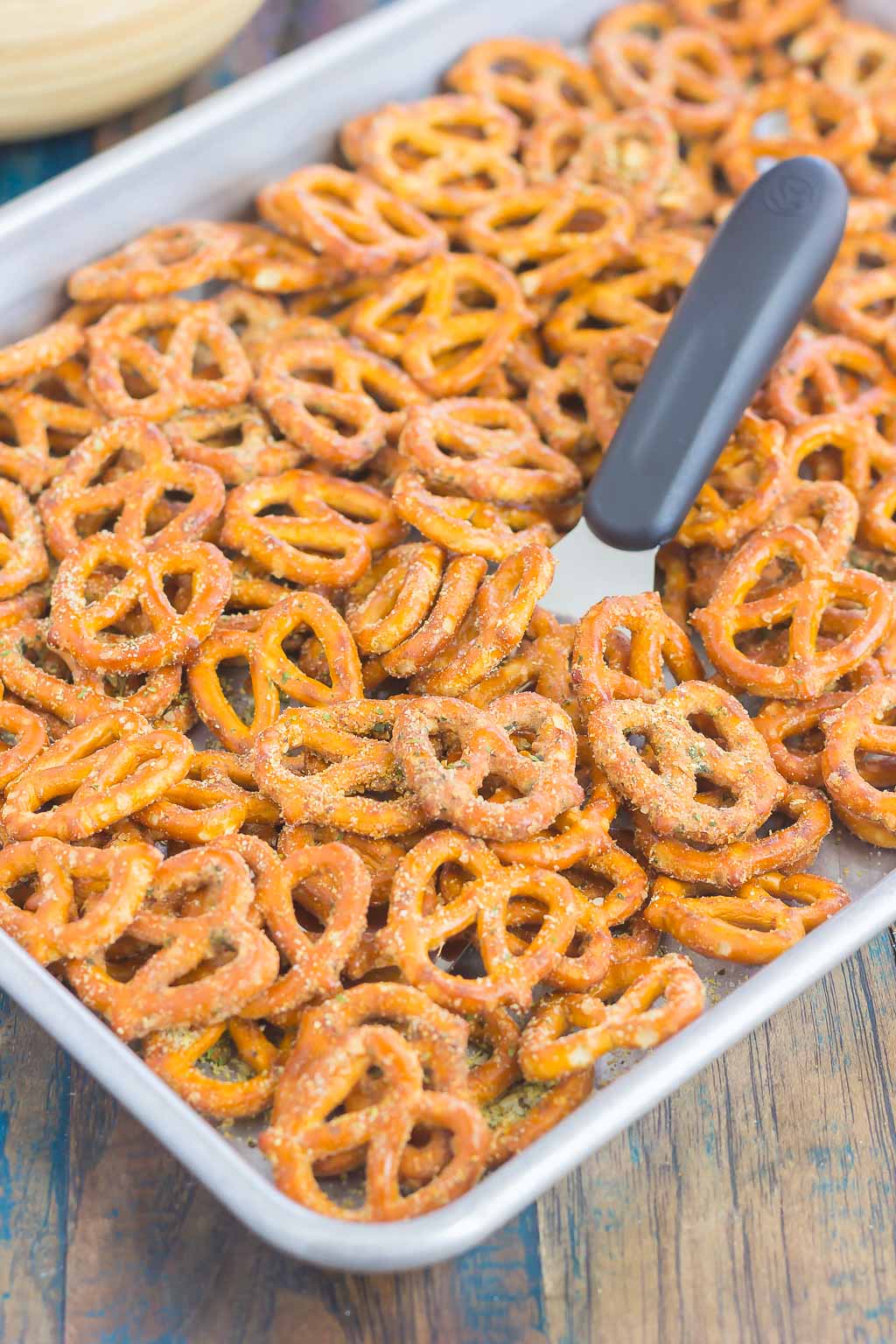 Ingredients in Ranch Pretzels
The flavor combination of this seasoned pretzel recipe is perfect! The ranch dressing provided a subtle ranch flavor, not too strong, and combined well with the garlic powder.
Here's what you'll need to make this recipe:
Pretzels
Olive oil
Ranch dressing mix
Garlic powder
How to Make Garlic Ranch Pretzels
Let me tell you, these Garlic Ranch Pretzels smelled amazing when they were baking! I am a Ranch dressing girl at heart and couldn't wait to taste these babies!
I used a large, freezer Ziploc bag and first combined all of the ingredients, sealed the bag again, and shook so that the oil mixture coated each pretzel.
Once that was done, I spread the pretzels out onto two baking trays and baked in the oven for about 15 minutes.
So the next time you want to impress the sports fan in your life or need to bring a snack to a party, try these Garlic Ranch Pretzels! I guarantee you will be making these for a salty snack more than once!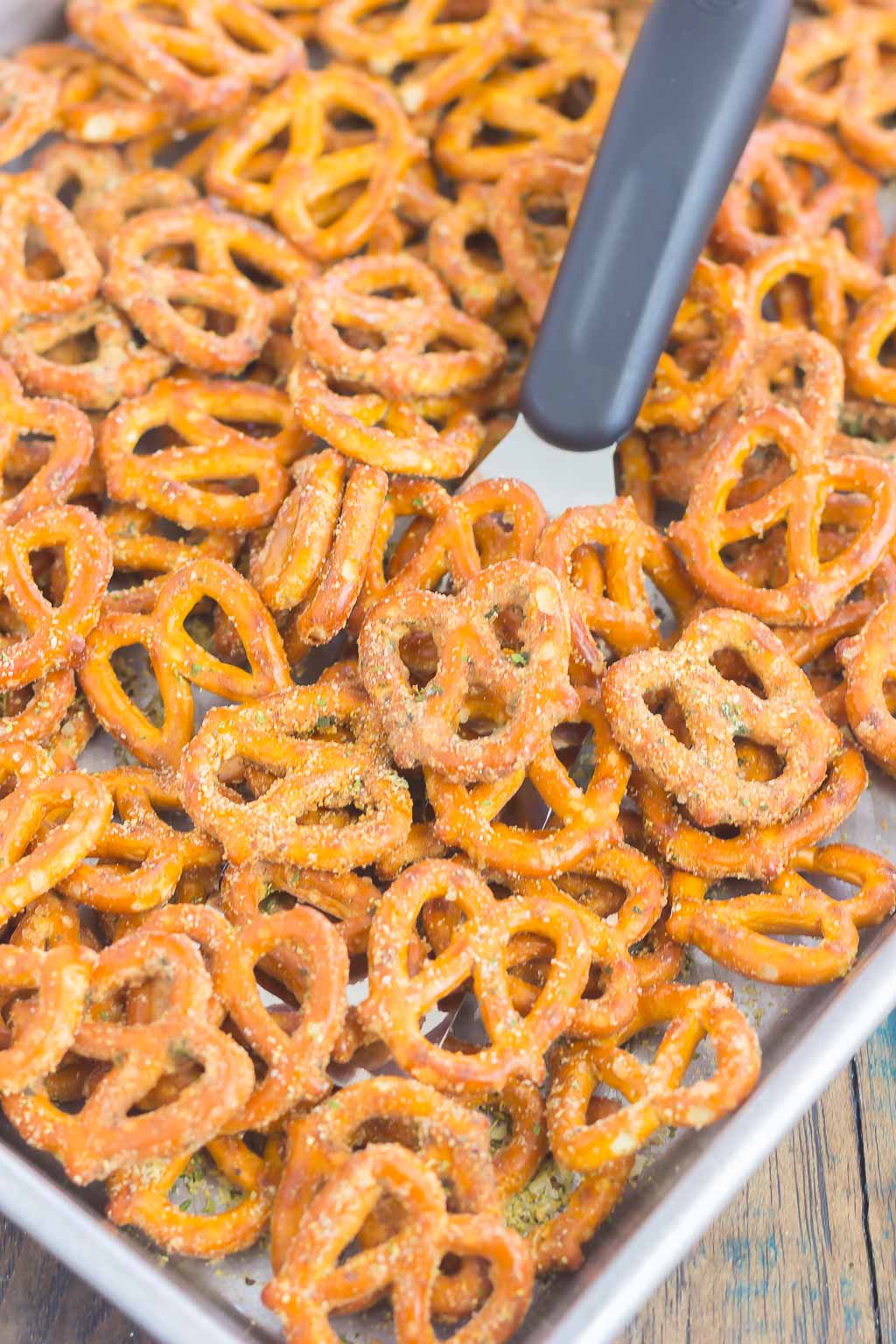 What Type of Pretzel Should I Use?
Use your favorite kind of pretzel. For me, it's Rold Gold's tiny twists. I just love the buttery-ness of them! But if you prefer a different brand, pretzel rods, etc., feel free to swap those in.
How to Store Garlic Ranch Pretzels
These seasoned pretzels can be stored in an airtight container at room temperature for up to 3 weeks.
Tips for Making Seasoned Pretzels
You need to buy a packet of ranch seasoning mix for this recipe, not the bottled liquid ranch dressing.
I used olive oil to make this ranch pretzel recipe, but another neutral oil will work too (like canola or vegetable oil).
You're welcome to add more or less garlic powder to suit your tastes.
Looking for more easy snacks? I've got you covered!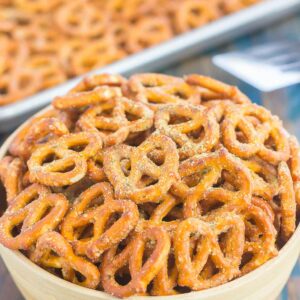 Ranch Pretzels
Perfect for game time or anytime, these Garlic Ranch Pretzels are sure to be a snack-time winner. Baked with ranch dressing and hints of garlic, you'll be making this salty snack over and over again!
Ingredients
1 (16 ounce) bag pretzels, , any kind (I used Rold Gold's tiny twists)
½ cup olive oil
1 (1.0 ounce) packet Ranch dressing mix
1 tablespoon garlic powder
Instructions
Preheat oven to 300°F. Line two baking pans with silpat mat or parchment paper for easy clean-up.

In a large ziplock bag, add pretzels, olive oil, Ranch dressing mix, and garlic powder. Shake gently until oil mixture evenly coats pretzels.

Spread pretzels in an even layer on baking trays. Bake for about 15-17 minutes.

Remove from oven and let cool for 5 minutes.
Notes
To store: Pretzels will keep in an airtight container for up to 3 weeks.