Honey Balsamic Chicken is an easy dish that's loaded with flavor. A simple marinade makes a delicious glaze for chicken thighs that's tangy, sweet, and oh-so delicious!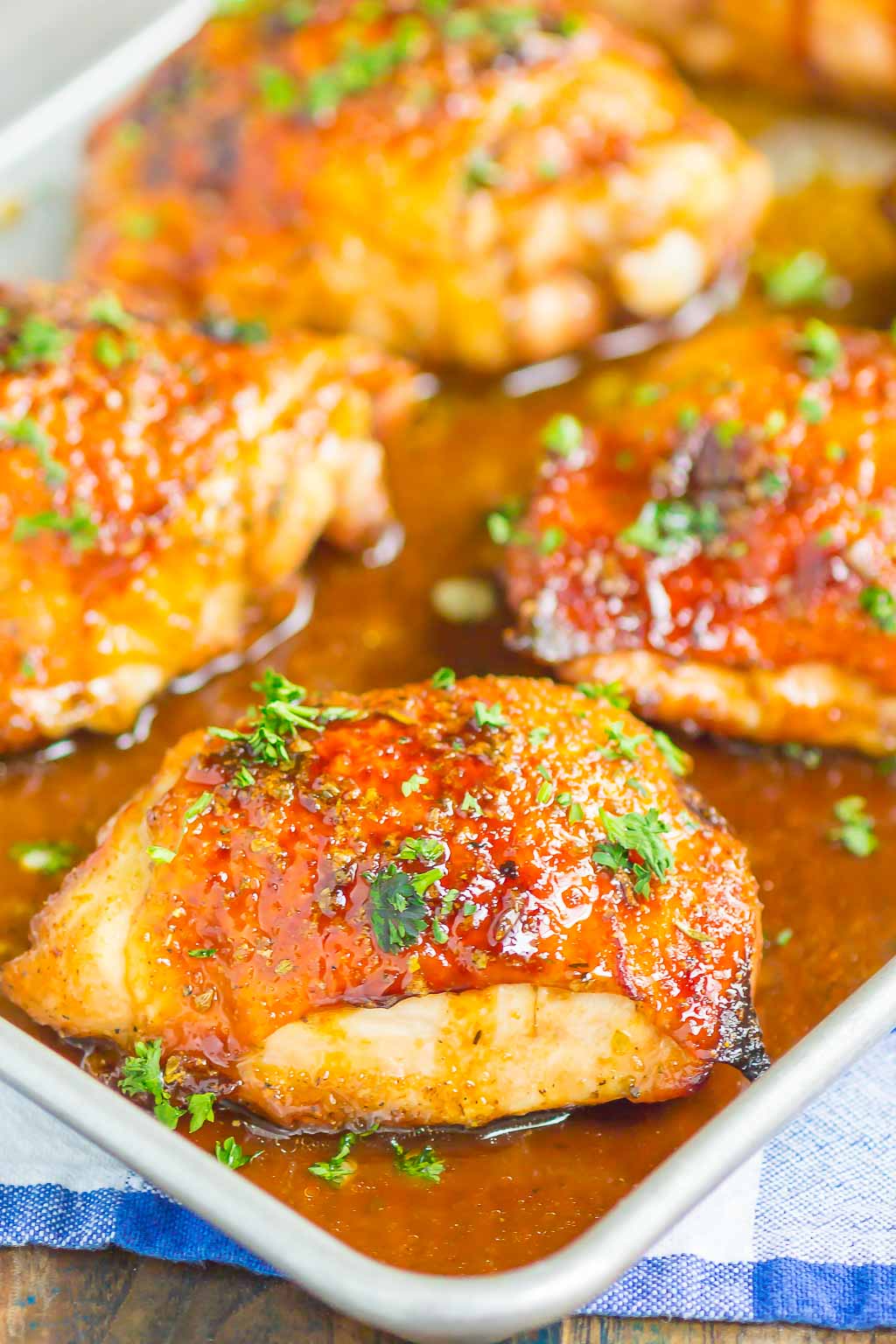 I've got another winner for dinner today, friends!
I've mentioned before that chicken has to be loaded with flavor for me to really enjoy it. No plain chicken around here, that's for sure!
Remember this Creamy Parmesan Mushroom Chicken that I shared a few months ago? It's a favorite in my household and with you, too, as it's been wildly popular around here!
And since the hubster loves chicken, these honey balsamic chicken thighs were made for easy weeknight meals. Not only is it fast, flavorful, and oh-so delicious, but it will wow just about every chicken lover out there.
Baked chicken thighs are my favorite cut of chicken, as I love how tender, juicy, and flavorful it turns out. Unlike chicken breasts, chicken thighs hold their juices better, which results in moist, fall-off-the-bone goodness. And with this honey balsamic marinade, you can bet this chicken is out-of-this-world delicious.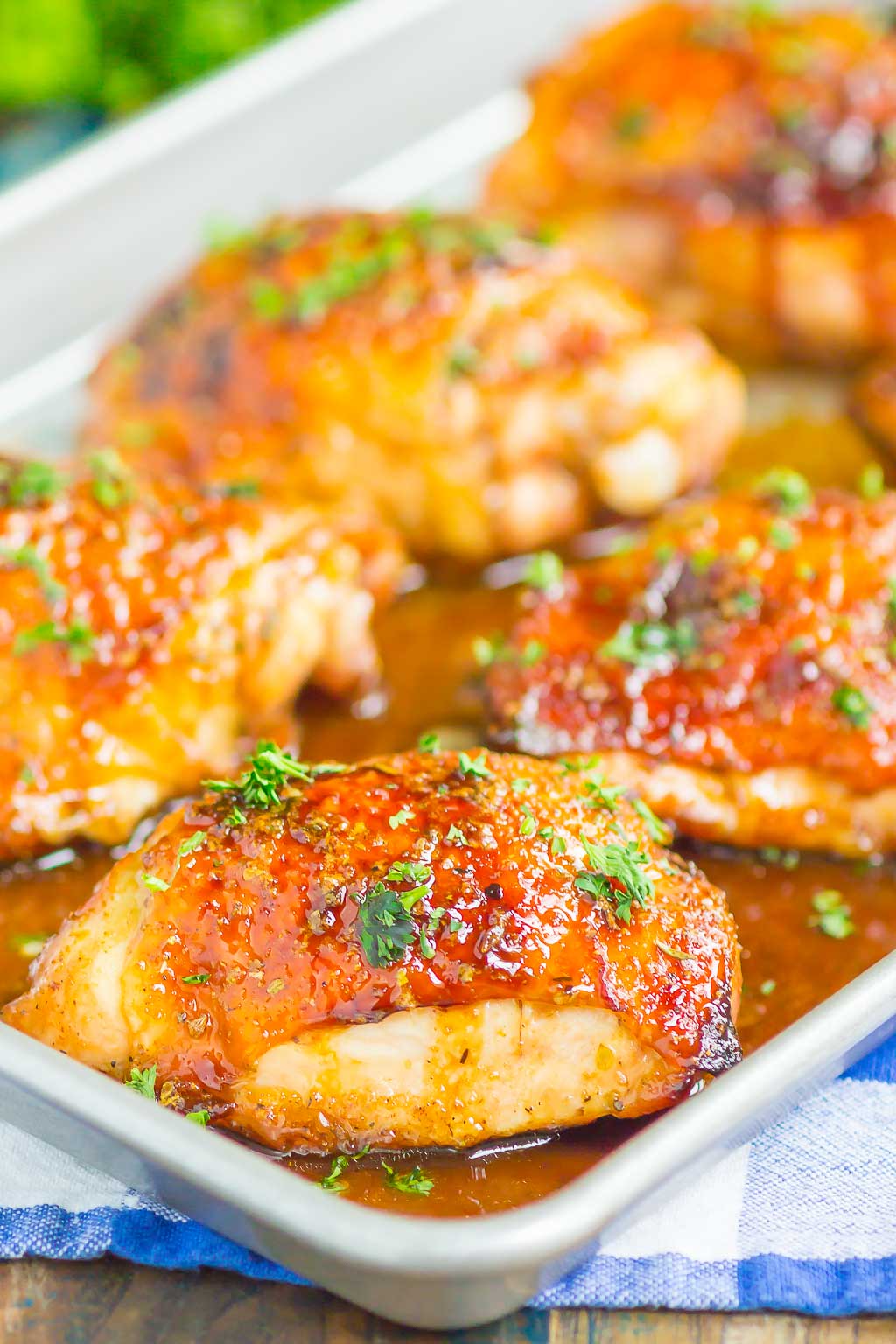 How to make Honey Balsamic Chicken:
This chicken thigh recipe was made for busy weeknights, as you can have this prepped and ready to be devoured in less than 45 minutes.
To start, season bone-in, skin-on chicken thighs with salt and pepper. Place the chicken on a large baking pan lined with parchment paper for easy cleanup.
In a small bowl, whisk together the honey balsamic chicken marinade: balsamic vinegar, honey, brown sugar, and seasonings.
Brush about half of the marinade over the chicken thighs and bake for about 20 minutes. Remove from the chicken from the oven and brush the rest of the marinade over chicken, and then bake for an additional 10-15 minutes, or until chicken is cooked through.
For extra flavor, broil the chicken for 3-4 minutes under high heat to get that skin nice and crispy. This is completely optional, but an easy way to get even better results.
How do I know when chicken thighs are done?
The easiest (and best way) is to use a meat thermometer to check the temperature of the chicken. You want the internet temperature to reach 165°F. And a helpful tip, when you insert the thermometer, you don't want to touch the bone of the chicken, as that will skew the reading.
If you don't have a meat thermometer, gently cut into the middle of the chicken to check for doneness. The chicken should be tender, with little pink, and the juices should run clear.
Can chicken be slightly pink?
Yes! The USDA says that as long as all parts of the chicken are cooked to an internal temperature of 165°F, it is safe to eat. The color does not necessarily indicate doneness, so some parts of the chicken may still be pink.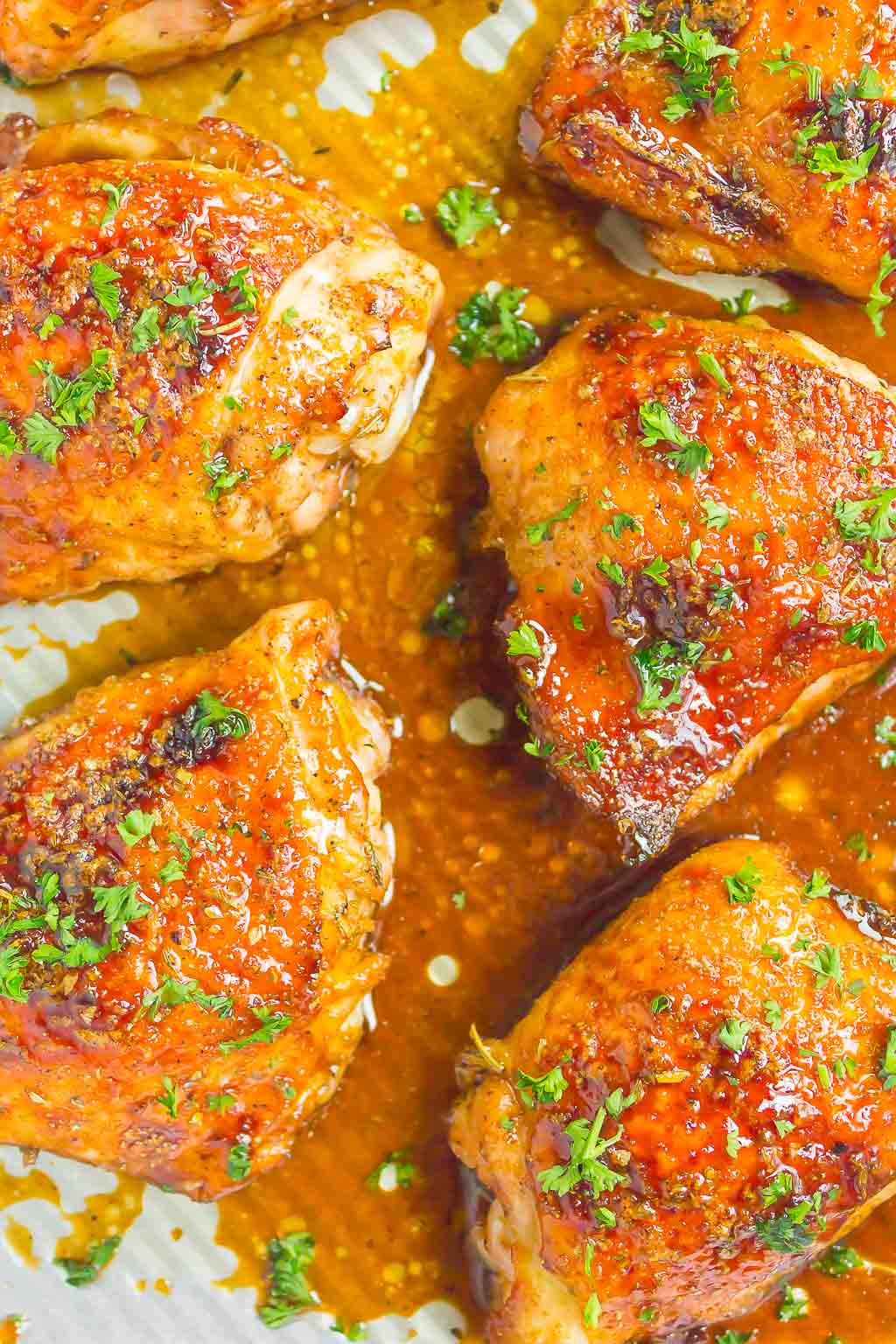 Can you overcook chicken thighs?
While you can overcook them a bit, chicken thighs are much more forgiving than chicken breasts. They hold their juices and tenderness better, and can easily take more heat.
And this honey balsamic chicken recipe is extra tender and extra juicy, I promise!
What to serve with Honey Balsamic Chicken thighs?
Potatoes! These garlic parmesan smashed potatoes, those parmesan roasted sweet potatoes, or these garlic herb sweet potato wedges would be a delicious side.
More roasted veggies! This roasted cauliflower, these carrots, or asparagus would make an easy dish.
This garlic herb rice or these creamy skillet noodles are a breeze to whip up.
These crispy baked chicken thighs are not only easy to prepare, but it will have you coming back for more! Balsamic chicken is loaded with flavor and makes this chicken oh-so tasty!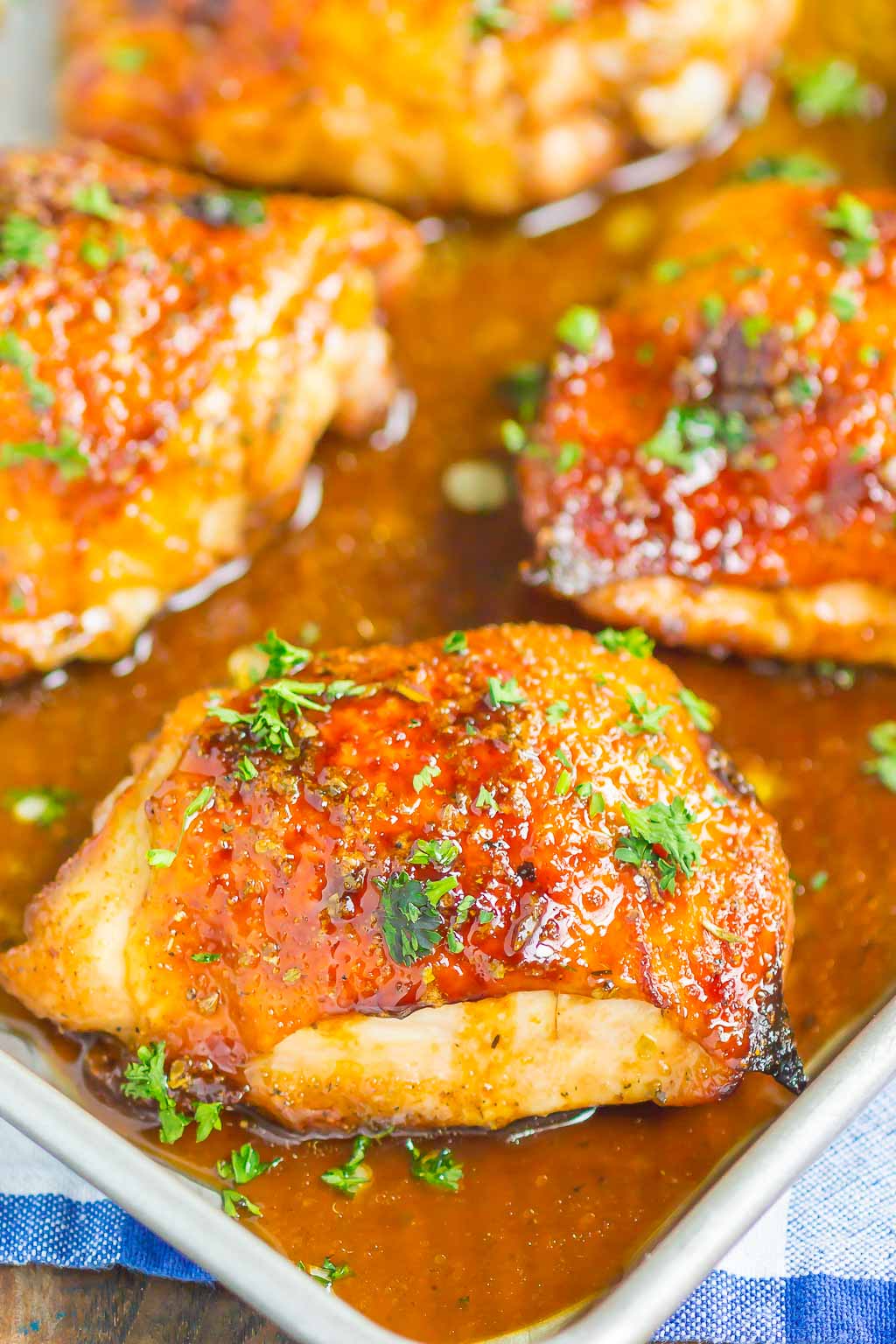 Looking for more easy chicken recipes? I've got you covered!
Honey Balsamic Chicken
Honey Balsamic Chicken is an easy dish that's loaded with flavor. A simple marinade makes a delicious glaze for chicken thighs that's tangy, sweet, and oh-so delicious!
Ingredients
6

bone-in, skin-on chicken thighs

Salt and pepper

to taste
Glaze
⅓

cup

honey

¼

cup

balsamic vinegar

2

tablespoons

packed light brown sugar

1

teaspoon

garlic powder

1

teaspoon

Italian seasoning

¼

teaspoon

salt
Instructions
Preheat oven to 425°F. Line a large baking pan with parchment paper or grease with cooking spray. Place chicken thighs on pan and season with salt and pepper on both sides. Set aside.

In a small bowl, whisk honey, balsamic vinegar, brown sugar, garlic powder, Italian seasoning, and salt until combined. Brush half of mixture over chicken.

Bake for 20 minutes, then remove chicken from oven and brush remaining glaze over chicken. Bake for an additional 10-15 minutes, or until cooked through and reaches an internal temperature of 165°F. If desired, broil chicken under high heat for 2-4 minutes to get the skins extra crisp. Serve immediately.
Notes
This recipe can be made with boneless, skinless chicken breasts, but cooking times will vary.
See my tips and tricks for making Honey Balsamic Chicken above recipe box.
Nutrition
Serving:
1
serving
|
Calories:
401
kcal
|
Carbohydrates:
22
g
|
Protein:
24
g
|
Fat:
24
g
|
Saturated Fat:
6
g
|
Cholesterol:
142
mg
|
Sodium:
213
mg
|
Potassium:
324
mg
|
Fiber:
1
g
|
Sugar:
21
g
|
Vitamin A:
113
IU
|
Calcium:
23
mg
|
Iron:
1
mg