Easy Baked Spaghetti
This Easy Baked Spaghetti is a simple meal that's perfect for busy weeknights. With no need to boil the spaghetti and an easy meat sauce that's full of flavor, this hearty dish is the perfect comfort food!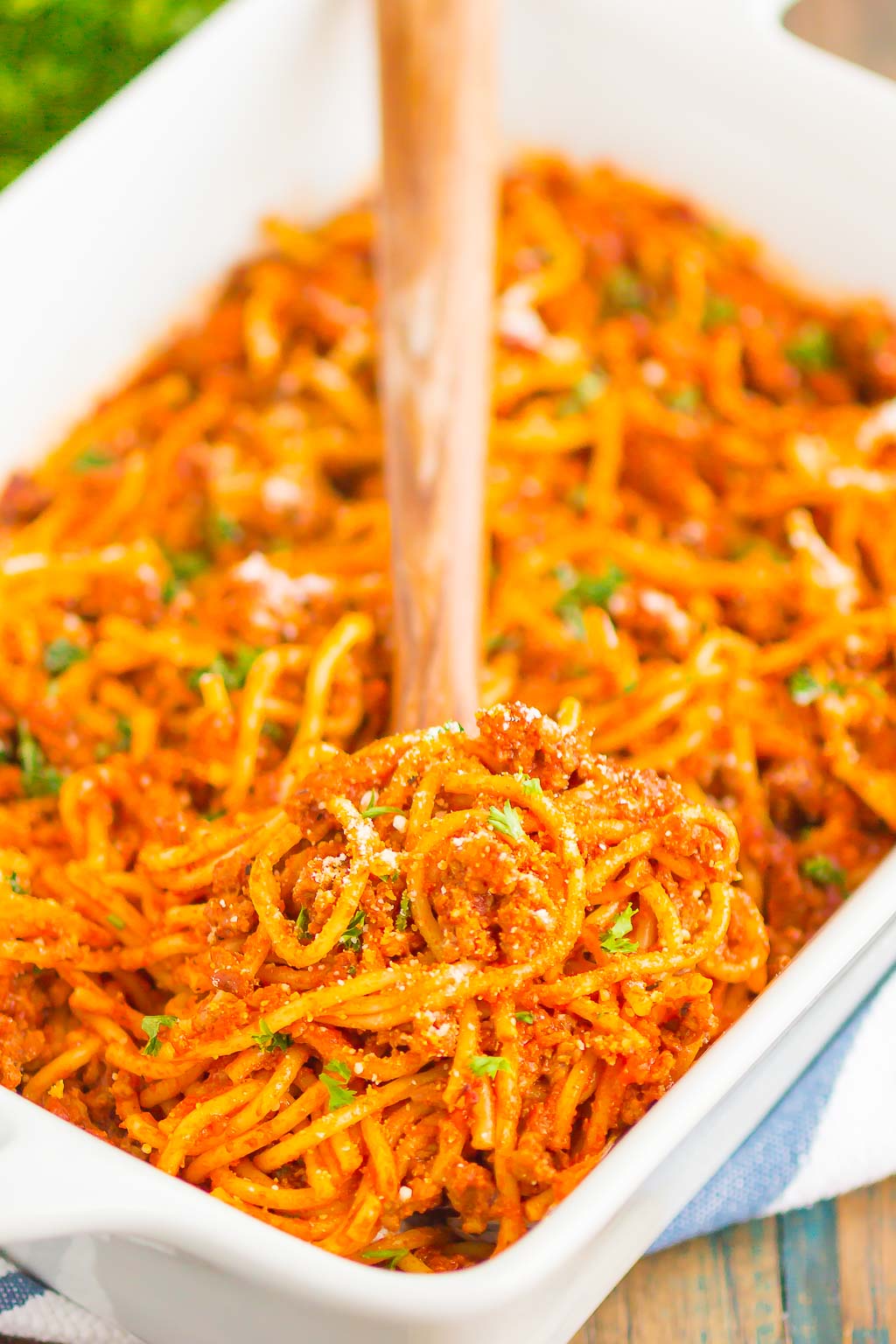 This comforting baked spaghetti casserole with plenty of melted mozzarella is the perfect dish for family gatherings or a weeknight quick dinner.
This recipe involves a quick homemade meat sauce, which is combined with your favorite pasta sauce and spaghetti, then everything is topped generously with delicious cheese. And lastly, it's baked in the oven until hot and bubbly.
Ingredients in Easy Baked Spaghetti
This simple spagetti bake calls for fewer than 10 ingredients. That's a dinner win in my book! Here's what you'll need for this oven baked spaghetti:
Ground beef
Onion
Spaghetti sauce
Water
Italian seasoning
Garlic powder
Spaghetti noodles
Shredded mozzarella cheese
Grated Parmesan cheese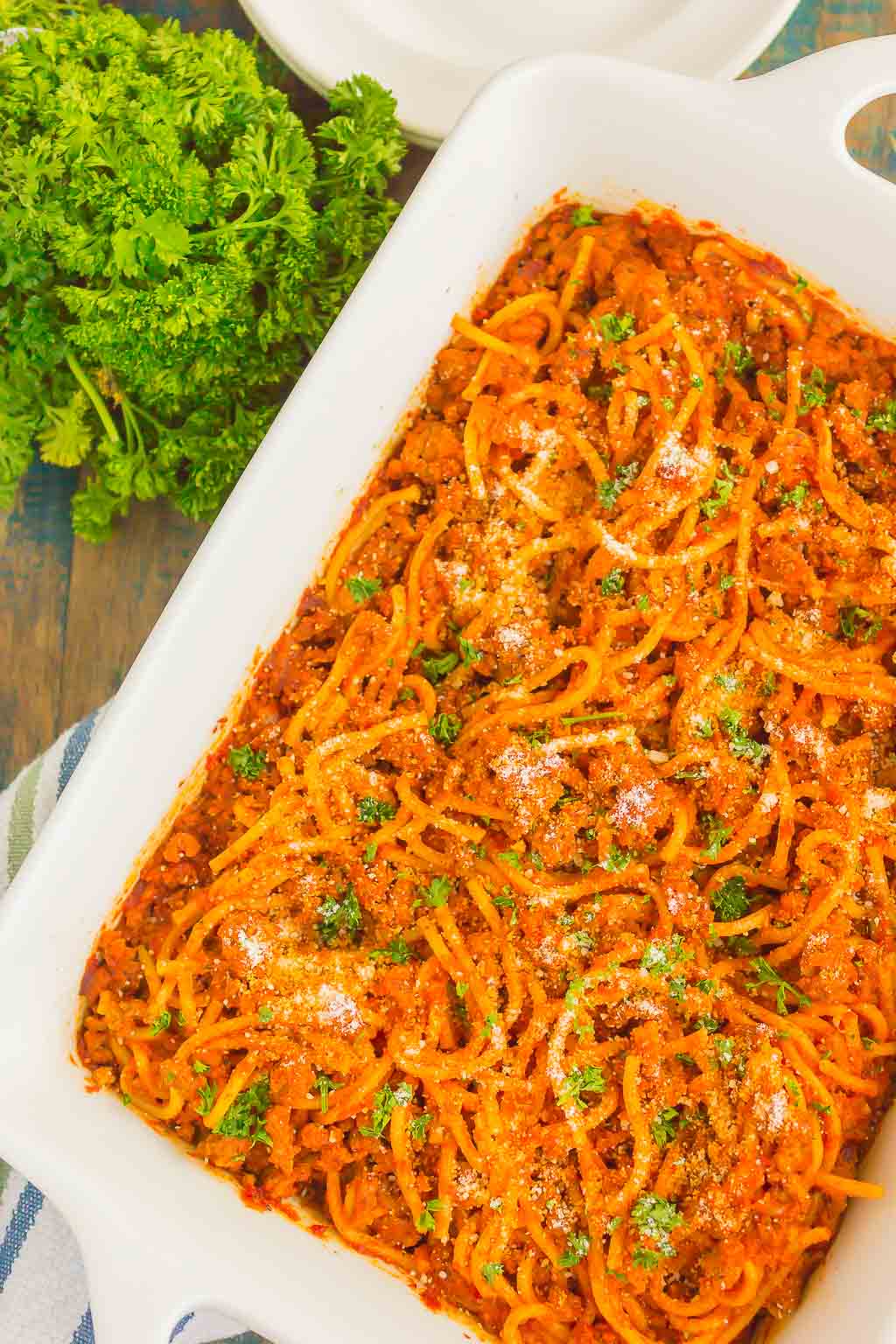 How to Make Oven Baked Spaghetti
This simple baked spaghetti is so easy to make! Simply prepare the meat sauce, toss with spaghetti, add the cheese and bake until bubbly.
First, you need to brown the meat and onions. Then add the spices and the pasta sauce and simmer.
Stir in the spaghetti and place in a baking dish.
Top generously with cheese and bake until the cheese on top gets golden and crusty.
How Long Do You Bake Spaghetti?
This easy baked spaghetti needs to bake, covered, for 40 minutes. Then, remove the foil and bake an additional 10 minutes.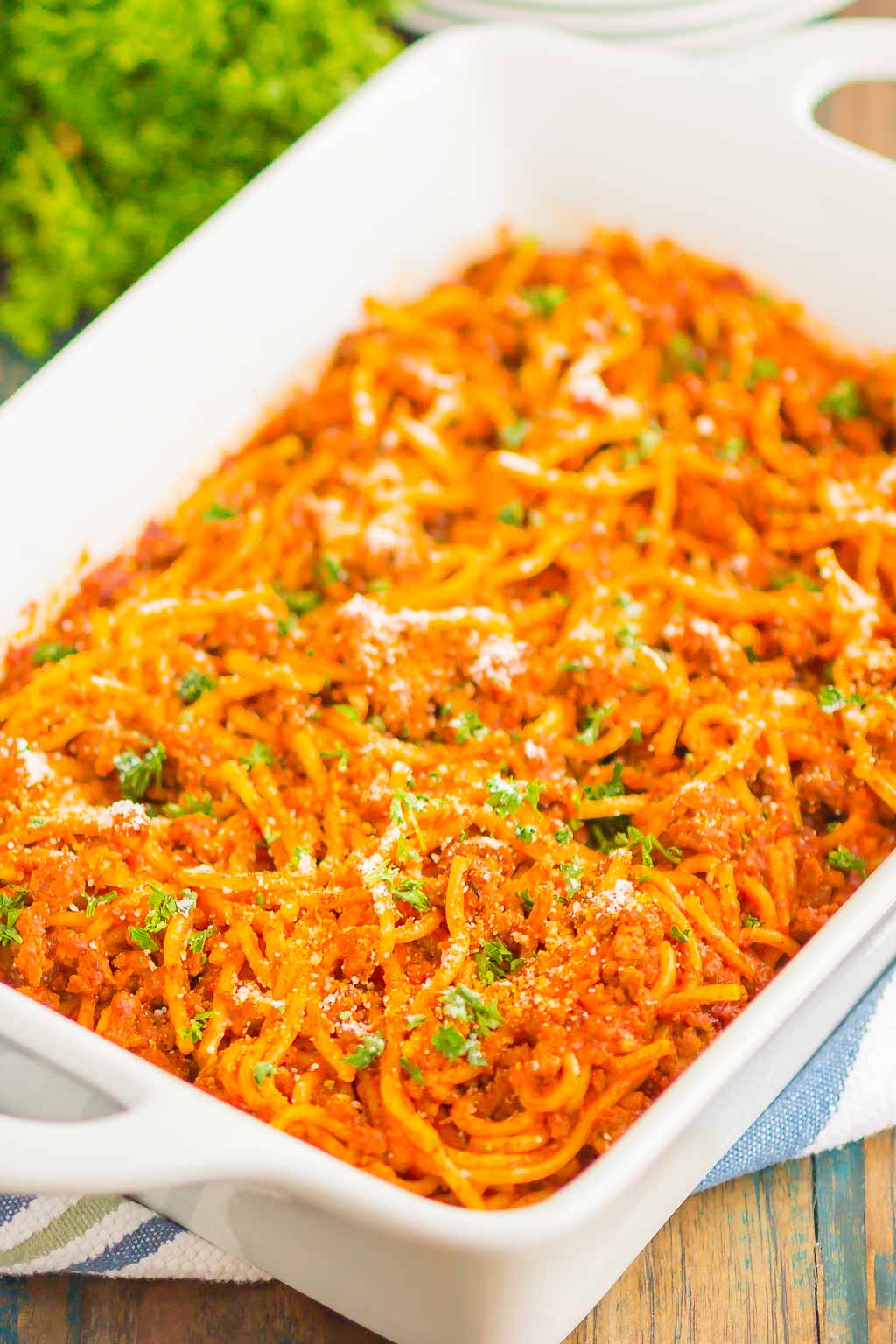 What to Serve with Baked Spaghetti
You can serve this recipe with a nice fresh, crisp leafy green salad or with these nice Caprese Bites.
You can also indulge a little bit and make this easy Cheesy Garlic Bread which will go amazing with the pasta dish. Or you can eat it on its own with lots of grated parmesan cheese sprinkled on top.
Can I Prep This Recipe in Advance?
Yes! You can prepare this dish the night before and then bake it before serving.
Can you freeze Baked Spaghetti?
Yes, you totally can! One of the things that I love about this baked spaghetti is how well it freezes. You can either make this dish in square foil pans and freeze it for a ready-made dinner on a busy weeknight. Or you can freeze any leftovers for later. Just warm it up in the oven or microwave when you're ready for it.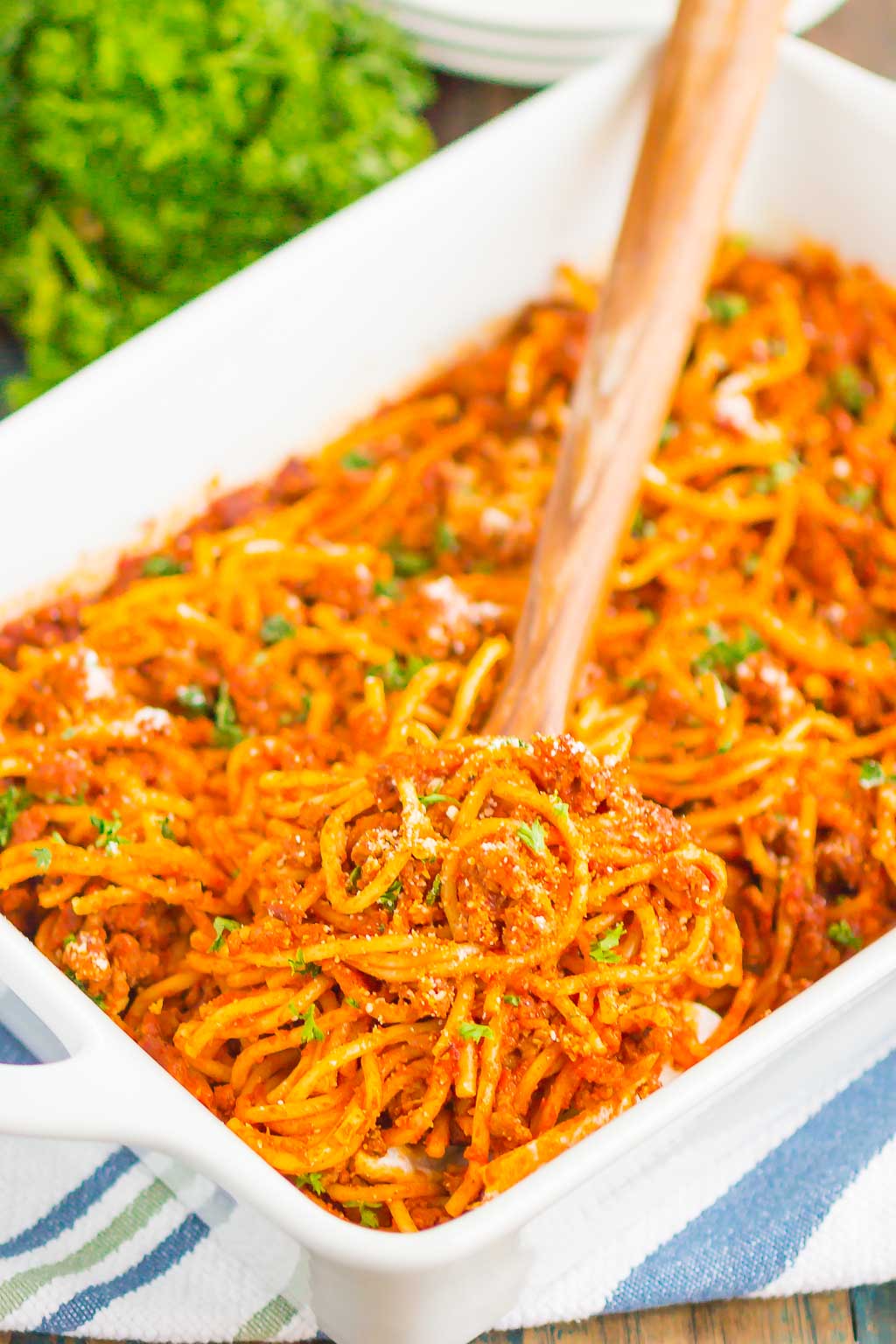 Tips for Making This Spaghetti Bake
You can use your favorite pasta sauce. Think: tomato and basil sauce, classic marinara and so on.
For a leaner option, opt for ground chicken or ground turkey. For more flavor, you can even use crumbled Italian sausage.

Make sure your spaghetti is cooked al dente, as the pasta tends to cook a little bit more in the oven and you don't want them to get mushy.
You can also add veggies to this spaghetti pasta bake, like mushrooms, green bell peppers, diced zucchini or whatever you feel like it.
Looking for more easy pasta dinners? I've got you covered!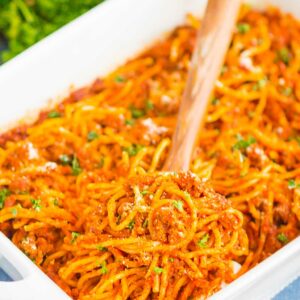 Easy Baked Spaghetti
Easy Baked Spaghetti is a simple meal that's perfect for busy weeknights. With no need to boil the spaghetti and an easy meat sauce that's full of flavor, this hearty dish is the perfect comfort food!
Ingredients
1 pound lean ground beef
1 small onion, chopped
1 jar (24 ounce) spaghetti sauce, (any kind)
1½ cups water, divided
2 teaspoons Italian seasoning
2 teaspoons garlic powder
1½ teaspoons salt
1 teaspoon black pepper
8 ounces uncooked spaghetti noodles
¾ cup shredded mozzarella cheese
¼ cup grated Parmesan cheese
Instructions
In a large skillet, cook and crumble ground beef and onion over medium heat until beef is no longer pink. Drain and return to skillet. Wipe skillet if needed.

To the ground beef, add spaghetti sauce, 1 cup water, Italian seasoning, garlic powder, salt, and pepper. Stir and bring mixture to a boil. Reduce heat to low and simmer for 5 minutes, stirring occasionally.

While meat sauce is simmering, preheat oven to 350°F. Lightly spray a 9x13-inch baking dish with cooking spray. Break spaghetti noodles into thirds and place onto bottom of dish. Pour remaining ½ cup water over noodles.

Spread meat mixture over noodles. Tightly cover dish with aluminum foil and bake for 40 minutes. Uncover dish, sprinkle with mozzarella and Parmesan cheese and bake for an additional 10 minutes, uncovered, until cheese as melted.

Remove from oven and toss before serving. Garnish with additional cheese, if desired.
Notes
The meat sauce may seem too watered down, but it should be like that, as it will need the extra liquid to cook the noodles once in the oven.
See my tips and tricks for making this Easy Baked Spaghetti above the recipe box.
Serving: 1serving, Calories: 516kcal, Carbohydrates: 57g, Protein: 42g, Fat: 13g, Saturated Fat: 7g, Cholesterol: 92mg, Sodium: 2075mg, Potassium: 1168mg, Fiber: 6g, Sugar: 10g, Vitamin A: 949IU, Vitamin C: 14mg, Calcium: 245mg, Iron: 6mg