Easy Salisbury Steak
Easy Salisbury Steak with mushroom gravy is ready in just 30 minutes. It's the perfect comfort dish that your whole family will love!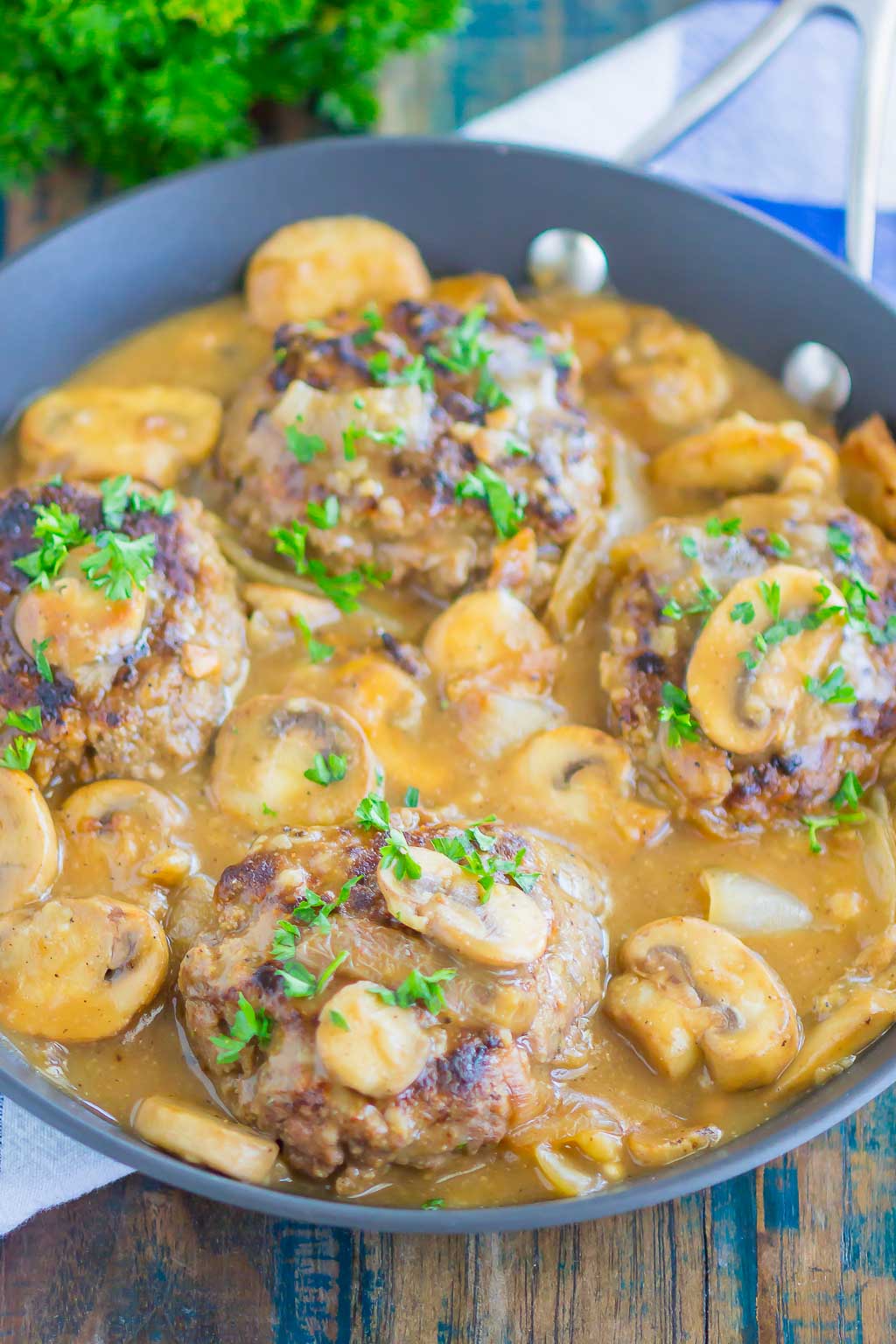 Easy Salisbury Steak
If you're looking for another easy ground beef recipe, I've got the perfect one for you! Not only is this salisbury steak recipe ready in just a half hour, but it's loaded with flavor. One that both you and the kiddos will enjoy.
Just like this creamy ground beef pasta and this cheesy beef tortellini skillet, this dish features ground beef, simple ingredients, and a hearty taste. It's perfect for busy weeknights or lazy weekends.
Since I've been craving all of the comfort foods lately, you can add this easy ground beef salisbury steak to the list. It checks all of my favorite boxes (easy, fast, mushrooms, and flavor) and has been on repeat around here. Tender, juicy, and with the most delicious mushroom onion gravy. Mmm mmm good!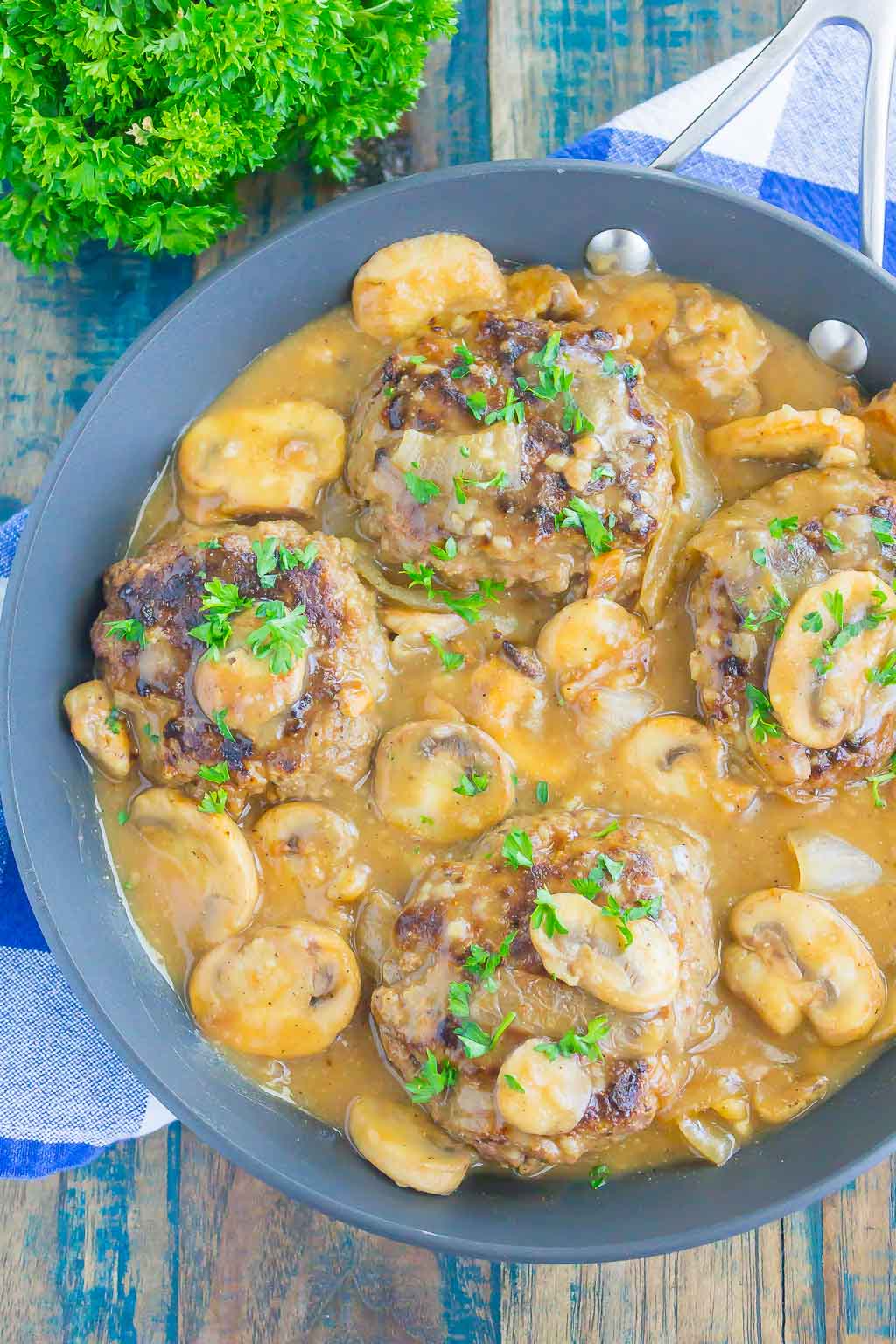 What is the difference between Salisbury steak and hamburger steak?
Hamburger steak should only contain meat and no fillers, such a breadcrumbs. Salisbury steak usually includes different ingredients, like bread crumbs, onions, and eggs.
Why is Salisbury steak called salisbury?
Salisbury steak is known as a fancy hamburger and is named after James Henry Sailsbury, a doctor know for his comments on diets and nutrition.
How to make Salisbury Steak:
Grab those ingredients and get ready to be wowed, friends!
Mix together the ground beef, bread crumbs, eggs, and seasonings. Shape into oval patties, cook and brown in a large skillet until cooked through, and then move to a separate plate.
To make the mushroom gravy, in the same skillet, sauté the onions and mushrooms until tender. Add in some flour to thicken the gravy, followed by beef stock.
Once the mixture is slightly thickened, add the rest of the broth and seasonings. Stir and bring to a simmer to thicken.
Return patties to skillet and cook for a few minutes, or until warmed.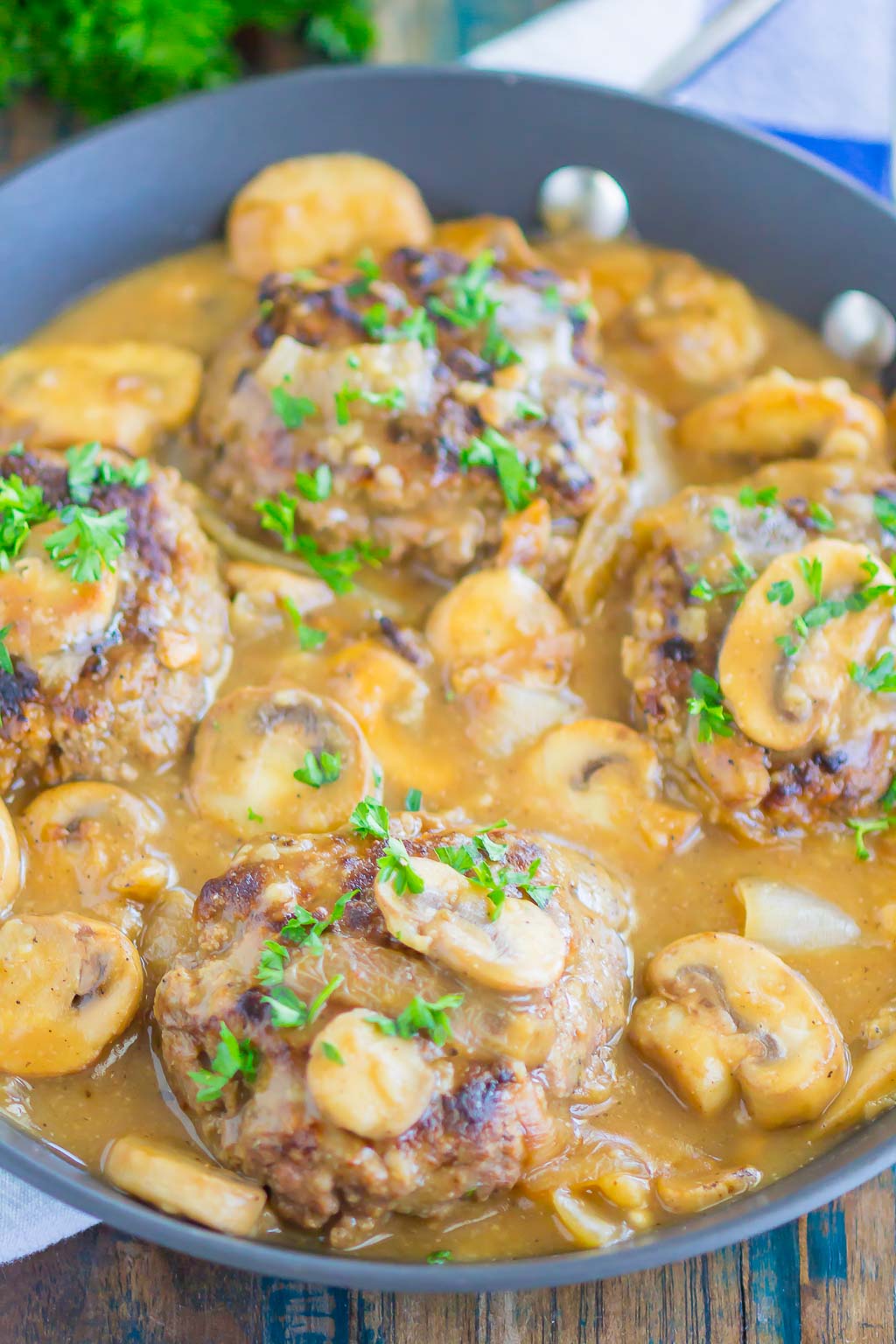 Is Salisbury steak healthy for you?
Homemade salisbury steak is better than the store-bought kind, as you can control exactly what goes in it. However, it is not the healthiest, due to the breadcrumbs, buttery, and gravy.
What are good sides to serve with easy salisbury steak?
I like to make some egg noodles or mashed potatoes to go alongside the steak, as it's a great way to sop up that gravy! You could also serve this with some roasted broccoli, carrots, or peas.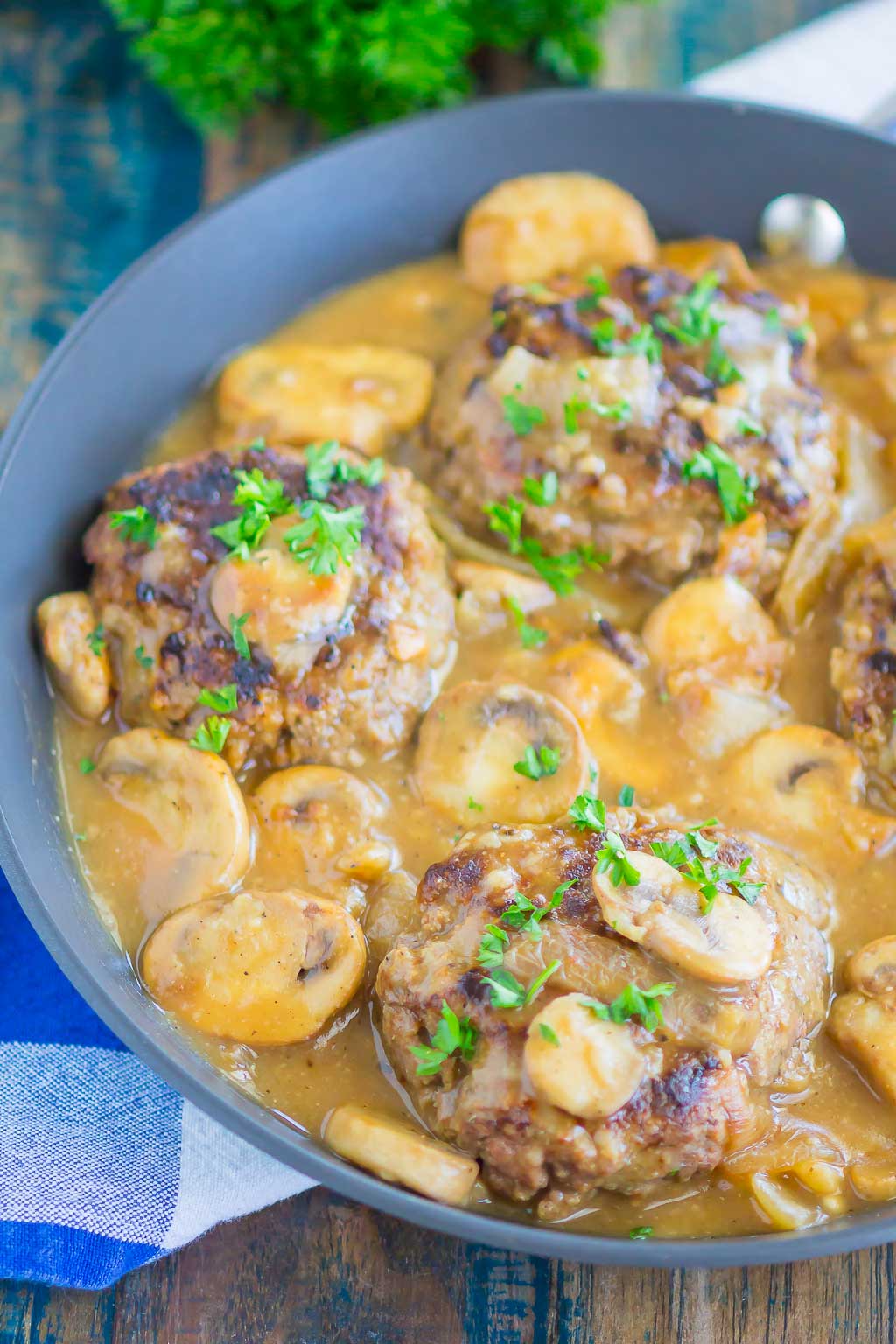 Looking for more 30 minute meals? I've got you covered!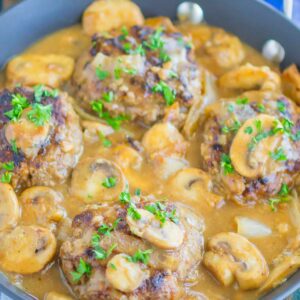 Easy Salisbury Steak
Easy Salisbury Steak with mushroom gravy is ready in just 30 minutes. It's the perfect comfort dish that your whole family will love!
Ingredients
1 pound ground beef
¼ cup breadcrumbs
1 egg
2 tablespoons Worcestershire sauce
2 teaspoons onion powder
1 teaspoon garlic powder
1 teaspoon Italian seasoning
½ teaspoon salt
½ teaspoon black pepper
1 tablespoon olive oil
Mushroom Gravy
2 tablespoons unsalted butter
1 small onion, sliced
8 ounces baby bella mushrooms, sliced
3 tablespoons all-purpose flour
2 cups beef broth
1 teaspoon Worcestershire sauce
1 teaspoon garlic powder
Salt and pepper, to taste
Instructions
In a medium bow, combine the ground beef, breadcrumbs, egg, Worcestershire sauce, onion powder, garlic powder, Italian seasoning, salt and pepper. Shape into four oval patties. You want the patties to be roughly the same side and not too big, otherwise the cooking time will be longer.

In a large skillet, heat olive oil over medium heat and then cook patties on both sides until browned and cooked through, about 5-6  minutes per side. Remove patties to a separate plate.

In the same skillet, add unsalted butter and melt. Add onions and cook for 3-4 minutes, or until softened. Add mushrooms and sauté for about 3-4 minutes.

Sprinkle flour over onions and mushrooms and stir, then add ½ cup beef broth and stir until slightly thickened, about 1-2 minutes.

Add rest of beef broth, Worcestershire sauce, garlic powder, salt, and pepper. Stir and bring mixture to a boil. Reduce heat to low and simmer until thickened.

Return patties to pan, spoon gravy over patties, and heat for 1-2 minutes, or until patties are warmed. Serve with mashed potatoes or egg noodles, if desired.
Notes
See my tips and tricks for making this Easy Salisbury Steak above the recipe box
Serving: 1g, Calories: 482kcal, Carbohydrates: 19g, Protein: 26g, Fat: 34g, Saturated Fat: 13g, Cholesterol: 136mg, Sodium: 983mg, Potassium: 801mg, Fiber: 2g, Sugar: 4g, Vitamin A: 234IU, Vitamin C: 3mg, Calcium: 84mg, Iron: 4mg